Sponsor Information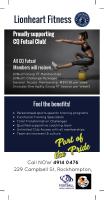 Lionheart Fitness
http://www.lionheartfitness.com.au/
What an amazing deal that
Lionheart Fitness
has offered all current registered players of outdoor and also new players to
CQ Futsal Club
!
BUT why stop at just players?!

Lionheart

have gone one better- and it's now on offer to all immediate family members of players as well!!
So stay fit by playing Futsal with us during the week, train at

Lionheart

and take advantage of the bonus group PT session that is included in the offer!!!! This PT session will be specific training for Futsal and outdoor.
THANKS
Lionheart Fitness
!!!