AAM Advisory League (ATL) Season 2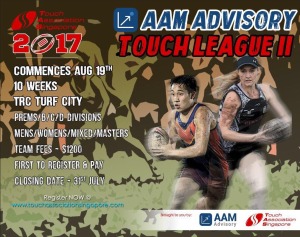 The TAS AAM Advisory league (ATL) Season 2 will commence Saturday 19 August 2017. As with previous leagues, it is very popular and with the continued growth of Touch in Singapore we expect the capacity of 70 teams to fill up quickly.
The league will be based on a 10 week format with the semi finals and grand finals to be played on Saturday 28th October 2017.
More information will be updated here over the next week or so.
This season we have 11 categories including the introduction of the Masters Men's following the success the of the category at the Singapore International Touch Knockout.
COSTS
SGD$1200
Click on "REGISTER NOW" at the top right corner of the page.
Registrations will close Monday 31st July 2017