Junior Information Christmas 2017 / January 18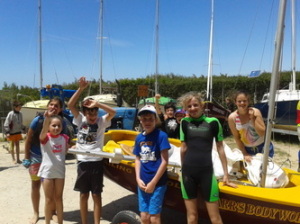 Junior sailing program - December/January Holidays
The summer break's almost on us again, and Merricks Beach will once again come alive again to the sound of holidaying families and kids. And once again, we have a busy program of sailing events for sailors young and less young, from novices to experienced competitors.
Here's a brief overview of the key events for our junior sailors and family members.
Try Sailing Day – Saturday, 6 January
We are hosting our Try Sailing Day on the afternoon following the MBRA sand modelling competition and BBQ. This event is open for members and non-members alike. We'll have a variety of boats and experienced skippers available to offer rides to all comers. Feel free to bring your own life jacket, and we'll have plenty of club life jackets available for use.
Mid-week race series – Thurs 28 December, Wed 3 January, Thurs 11 January and Wed 17 & 24 January
The Mid-week Series is designed to offer an accessible and fun introduction to racing for our junior and less experienced sailors (of all ages) on short, inshore courses, followed by bbq lunch in the clubhouse. This series will run separately from the club's summer series races (which run on Saturdays) – but it's always a highlight of the season to see our junior and novice sailors gaining enough confidence to step up into "senior" club racing over the Australia Day regatta at the end of January.
We'll aim to get as many of our 420s, Pacers, Lasers, Sparrows and Optis onto the water, and to get as many of our junior and novice sailing members going around the buoys. Members who don't have a boat but who want to join in should pre-notify their interest to juniorsailing@merricks.org or on the white board below the clubhouse, and we'll organise you either into our Club boats or as additional crew on member-owned boats.
We encourage all our interested juniors and adults to join in - the emphasis is on participation, building confidence and having fun …!
(A $5 race fee applies, to cover post-race sausages and drink.)
Pacer teams racing – Friday, 5 January @ Westernport Yacht Club
This is a great fun event which has established itself firmly as a highlight of the January sailing calendar. The 3-on-3 teams racing format makes for close, tactical and exciting racing. As in previous years, we're looking to enter multiple junior teams and at least one adult team. Remember to swot up on your rules and team tactics beforehand!
Round French Island Cruise – Monday 8 – Tuesday 9 January
Once again, we're running the French Island Cruise in early January, to include families and juniors, together with some of our experienced old-salt cruisers. It's BYO camping gear, provisions, songs, stories and insect repellent. Please note that juniors will need to be accompanied by a parent or responsible adult.
Westernport Youth Regatta – Sunday, 14 January @ Somers Yacht Club
The Westernport Youth Regatta is a fantastic event for all intermediate and advanced junior sailors to participate in with off- and on-water coaching across a morning and afternoon of solid racing. Coming after the Westernport Challenge at Westernport YC on Saturday, 13th January, it rounds out a huge weekend of sailing for our juniors.
We look forward to seeing lots of young and new faces on the water over summer! Any queries, please contact Tom Clarke on juniorsailing@merricks.org, or 0437 527 548.