Pathway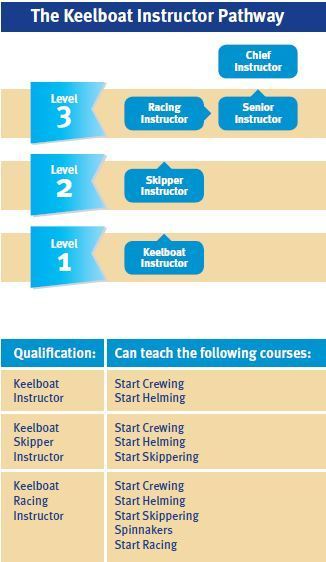 Why Be Qualified
People looking to become involved in any new sport are increasingly looking for qualified instructors to teach them the basic skills in a safe and controlled environment.
Teaching people to sail in a small keelboat is a challenging prospect, and those who are qualified have undergone an important training process to ensure that they have skills necessary to manage safety and quickly develop skills in an ever changing environment.
There are 2 main benefits – the qualification itself, of which the advantages are summarised below, and the personal development as part of the training required to be a keelboat instructor. The elements of First Aid, and the instructor course itself, will give you a skill set to perform to your best ability as an instructor.
Qualified Keelboat instructors are more confident and proficient, not because of the qualification itself, but the training they have done to achieve it.
Those who have taught the National Yacht Cruising Scheme in the past, will find benefit learning new skills and ideas for teaching on small sports boats. As well as familiarity with the syllabus, which directly targets the skills to participate in club racing around the country