Pathway
Dinghy Instructor Pathway
There is an increasing demand for qualified and skilled dinghy instructors at clubs throughout NSW. Instructor training focuses on instructors ability to teach effectively - communication, learning styles, creating a safe environment, and demonstration processes are all covered. This will give you the skills to ensure your participants learn at an accellerated pace, within a safe and fun environment.
Having a standardised, national program ensures that all students have the same experience during their introduction to sailing, with instructors teaching consistent techniques at all times. The national program qualifies instructors to work at any centre in Australia, and entitles you for professional indemnity insurance.
There are two levels of instructor qualification, outlined below:
The Assistant Instructor qualification requires the successful attendance and examination at a 1 day course run by Yachting NSW.

The Instructor qualification involves a number of stages to reach a minimum competency (outlined below)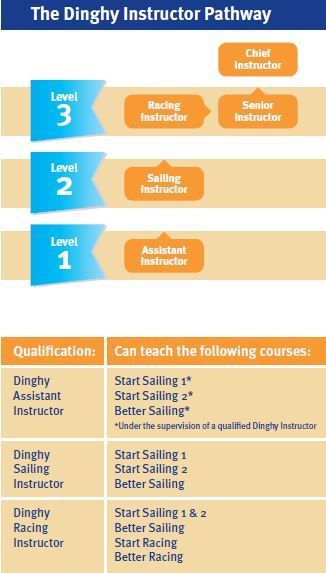 | | |
| --- | --- |
| Qualification: | Can teach the following courses: |
| Dinghy Assistant Instructor | *under the supervision of a qualified Dinghy Instructor |
| Dinghy Sailing Instructor | |
| Dinghy Racing Instructor | |
Prerequisites
Before enrolling in a Dinghy Instructor course you must have completed or attained the steps outlined below:
Step 1 - NSW Maritime Boat License

This license is the basic requirement for operating a powerboat in NSW.

Complete this before attending the Power Boat Handling Course.

Step 2 - First Aid Certificate

Yachting NSW members are entitled to a discounted rate for Surf Life Saving Australia Courses.

This course will equip you with first aid skills that are essential to safely manage a group of Learn to Sail Participants.

Step 3 - Powerboat Handling Certiciate

Yachting NSW can deliver the PBH courses directly to clubs, provided there are a minimum of 4 participants.

Over this 2 day course you will learn the necessary powerboat handling and maintenance skills to safely run on water dinghy training.

Step 4 - Instructor Training

Having completed the other 3 components you will be eligible to enrol in this final stage of the process.

Yachting NSW can deliver this course to clubs based on a minimum of 6 participants.

This 3 day course involves 1 day of theory and 2 days of practical instructing.

You will leave with advanced knowledge of learning styles and presentation techniques, as well as the ability to run safe, fun training.

Step 5 - Yachting Australia Accreditation

The final step is annual accreditation with Yachting Australia.

This fee will provide you with essential professional indemnity insurance, along with listing as a qualified instructor on the YA website.

This is an essential part of maintaining a current database of all the skilled and qualified instructors in Australia.

The accreditation fee provides the professional indemnity insurance that you need to run training in Australia.