Instructor Pathway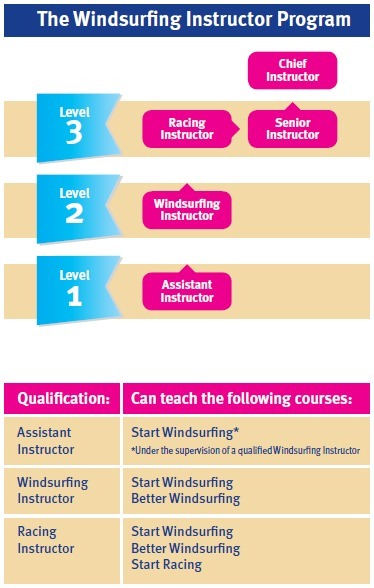 Why be Qualified?
The Windsurfing program has just been re-launched in NSW. Using the Discover Sailing Framework, we are aiming to substantially grow windsurfing as a fun, fast, accessible element of the sailing pathway. The intention is to over time, develop windsurfing as an everyday part of regular club sailing around NSW. In order to achieve this, it is essential that we have highly skilled Windsurf Instructors introducing people to sport.
People looking to become involved in any new sport are increasingly looking for qualified instructors to teach them the basic skills in a safe and controlled environment. Teaching people to sail a windsurfer is a challenging prospect, and those who are qualified have undergone an important training process to ensure that they have skills necessary to manage safety and quickly develop skills in an ever changing environment.
There are 2 main benefits – the qualification itself which unlocks YA Professional liability insurance, and the personal development as part of the training along the instructor pathway. The elements of First Aid, Powerboat Handling, and the instructor course itself, will give you a skill set to perform to your best ability as an instructor. Qualified windsurf instructors are more confident and proficient, not because of the qualification itself, but the training they have done to achieve it.
Those who have taught windsurfing in the past, of which there are many in NSW, will find benefit learning new skills and ideas for teaching. The program builds off the lessons of the GEMBA report and recent developments in our understanding of participation in sport.