Comets Softball Club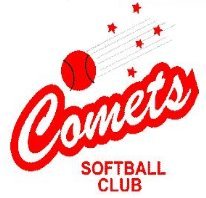 omets was established in 1984 by founding members Bruce and Kathy Butler, twins Lynette Wheeler (Robertson) and Lesley Walker (Armstrong) and their 8 daughters, Shirley Wheeler and Betty Armstrong.
The first CCSA softball competition Comets competed in was the 1984/85 season.
From the begining Comets have been a Family orientated club, encouraging each other, helping and trusting in each other. Over the years you find yourself an unbreakable friendship and bond.
Training Information
Wednesday Bateau Bay Sportsground, Passage Rd, Bateau Bay
Contact Information
Club Contact: Cassie Wheeler
Phone: 0411 885 312
Email: comets.softball@yahoo.com.au
Mailing: C/- 3 Strand Avenue, Narara, NSW 2250
Facebook Page: Comets Softball Club
Club Colours
Life Members

Leslie Walker (Armstrong)
Lyn Salmon
Sharon Cheer (Jabba)
Lynette Wheeler (Robertson)
Sherilyn Meier
2018/19 Committee Members
President Cassie Wheeler 0411885312
Secretary Melissa Towell
Treasurer Bonita McNally