Senior Competition Information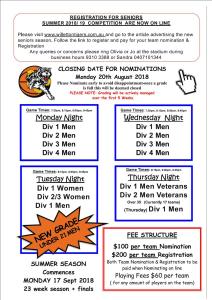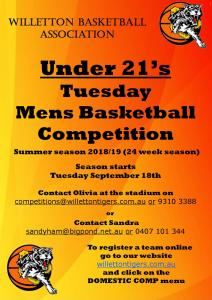 Our Senior competitions are run for all ages for both males and females.
Competitions are played between individually nominated teams
Monday-Thursday nights.
DAY

GENDER

GRADE

Monday

Men

Div 1

Div 2

Div 3

Div 4

Tuesday

Women

Div 1

Div 2

Div 3

Tuesday

Men

21's and under

Wednesday

Men

Div 1

Div 2

Div 3

Div 4

Thursday

Men

*Vets 1

*Vets 2

Men Div 1
*35+ minimum age to participate
Nomination fees are required to secure a place in the competition. This is refunded if unsuccessful.
Nomination fee is $300 per 2 term season when you nominate your team.
Game fees are $60 per team, per week.
Seasons run Winter and Summer, with nominations for the coming seasons opening in February and August each year. The best way to get involved in our seniors competition is to get a group of friends together and nominate a whole team. Individuals looking to join our competition can either call the stadium on 9310 3388 or email on competitions@willettontigers.com.au
2018 winter registrations are CLOSED
2018/19 Summer senior registrations
are open!
To register, click on the below day that you wish to enter a team, this will take you to the correct registration form.
The Summer season starts Monday 17 September 2018
To enter a team into
- Tuesday Womens competition, or
- Tuesday Mens under 21's
please email
competitions@willettontigers.com.au
Monday competitions - FULL
Wednesday competition - FULL
Thursday competition - FULL
This link will be closed until you have spoken to the office staff
All our players in both Junior and Senior competitions are expected to abide by the Willetton Code of Conduct, the Willetton Way. You can find the Code here.

Please ensure you are up to date with our seniors by-laws which inlcudes interpretation of rules, forfeit inforamtion and fines, finals eligibilty and more. The senior by-laws are can be found here

For more information contact Olivia at the stadium
9310 3388 or email competitions@willettontigers.com.au