2017 Mirror State Championship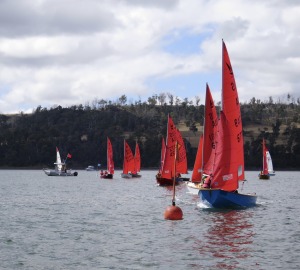 DSC hosted the 2017 Mirror State Championships over the 18th-19th March 2017. It was a weekend of beautiful weather and top sailing with challenging light and shifty winds at times). Congratulations to all the sailors who participated and thank you to all our volunteers who made the weekend such a success. Full results are available here.
Seven of the Mirrors were Deviot boats, which was an excellent turn out. After some very close sailing, Hobart boats took out the top three places, but Andrew and Caitlin Clippingdale sailed Hunny well to take out fourth place overall. Xcel-erate (Erica and Zayden Deegan) came in fifth, and Amber Tiller and Erin Giles came in 7th in Comet, as well as first youth and also first traditional mirror. YaYa Mackeddie and Sophie collected 9th position, but had a few moments of greatness with an excellent start and first beat in one of the races. Tru Blu was next with Shaun Gaynor, followed by Dual Force with Johanna Cameron and Clare Broomby, and Slim Jim (Gabby, Everette and Mark Dewsbury) collecting the rookie prize in the final position.
We also held a Sabre regatta in conjuction with the Mirror States. Tony Fist in Weekend Warrior got off to a great start with four firsts on the first day, but wasn't as successful on the second day with fifth and two fourths. This was enough to win overall from Nick Savva in Chief, and Tristan Henderson a close third. Gordon sailed very well on Sunday with a third, second and a first, and took out the handicap win. It was great to have Ben King visiting from PDYC with Rumblefish. Ben is clearly a sailing fanatic, and has done a great job restoring his sabre. Full results are available here.