BECOME AN UMPIRE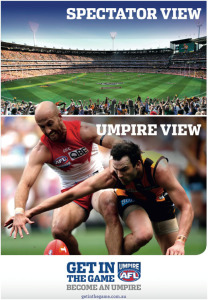 Umpires play an important role in AFL
Australian Rules Football is a sport that continues to grow in the NSW / ACT region. The continued involvement of the GWS Giants in Canberra and growth of the game provides a great opportunity for new umpires to join in our great game.
Male or female, young or old!
It doesn't matter who you are, if you want to be involved in football, then Umpiring can be a very rewarding experience. Female Umpires are apart of the AFL Canberra, NEAFL and AFL umpiring panels! There are many opportunities at all levels of football, to become an Umpire!
Be Part of a Team
Whether you want to be a Field Umpire, Boundary Umpire or a Goal Umpire, all Umpires are part of a Team. At AFL Canberra we have a strong coaching and mentoring program that involves AFL mentors, qualified coaches and experienced umpires to help you get started at every level of football. You can make a decision to be a Field Umpire, Boundary Umpire or Goal Umpire.
Get Paid to Get Fit
Imagine how much easier it would be to be paid to be fit and healthy, with Umpiring, you can! The AFL Canberra Umpiring group has regular, structured training sessions, while they even have dedicated fitness coaches and medical staff to keep them in top shape. Umpiring rates vary across the divisions, however imagine being paid to watch the game!! And when you think that you can be paid up to $90,000 a year as an AFL Umpire.
Have Fun!!
Finally, but most importantly, Umpiring can be great fun! You make lots of friends, have fantastic experiences and meet lots of new people. They all Umpire because it is a heap of fun. After all, you get to have the best seat in the house for the greatest game of all!
If you have ever thought about umpiring then now is the time to start! No experience is necessary, and you can even play and umpire! Past players or coaches are also encouraged to join the ranks!
2015 Umpire Recruitment
• No Experience Necessary
• FREE coaching and mentoring
• Earn $15 - $65 per game, each weekend April to September.
• Must be 13 years of age.
• Umpire a game in the morning before you play.
• Develop confidence, leadership and decision making skills.
• Boundary and Goal umpiring opportunities also available through senior football.
Are you interested in Umpiring in 2015?? Want more information??
Please provide your Name, DOB, Club (if applicable), Email and Phone number to cameron.black@aflnswact.com.au and he will be able to provide you with all necessary information.
OR