So, you want to Sail!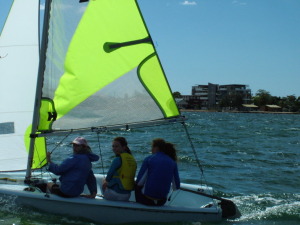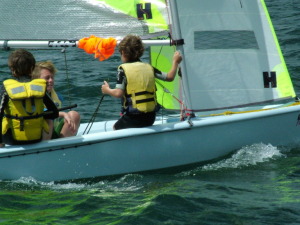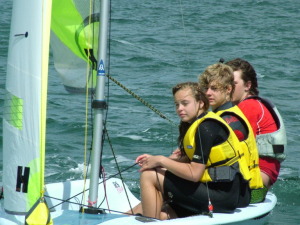 You are one of thousands of people of all ages who learn to sail each year in all types of craft. Our courses are delivered by instructors trained to give you the fantastic opportunity to learn and enjoy this sport as much as you want to, regardless of your starting point.
Sailing builds a sense of adventure, confidence, a strong mental ability, is a healthy physical activity and best of all . . . . builds great friendships amongst your new sailing friends.
We offer courses for children aged 6 - 17 years, 21 participants in a group and you do not need any previous experience.
Our instructors and assistant instructors will target the program to the abilities, ages and levels of confidence within the group of children.
We supply the boats, seven RS Feva's, all the sailing equipment as well as lifejackets. The children will all receive a certificate upon completion of the course.
As a course particpant you should bring/wear swimmers, boardshorts, a long sleeve t-shirt/rash shirt, a hat & suncream and an old pair of sandshoes or wetsuit material wet-shoes to protect your feet. If you happen to have a wetsuit or wetsuit shorts they would be useful (however not required).
The course fee includes the use of club equipment including FEVA boats and lifejackets.
$140.00 per participant
Course Dates
Monday 22 to 25 January 2018
You can book via this link -
ALL CLASSES FULL
Should you have any questions, please contact Danny or Bron in the Sailing Office on d.anderson@16s.com.au; b.telford@16s.com.au or 49 45 08 88 (Danny) 49 45 77 22 (Bron)
Club Membership
Please be aware that Belmont 16ft Sailing Club sailing equipment can only be used by Club members [as required by The Maritime Safety National Law Act 2012]. It is therefore a requirement that a parent/legal guardian must be a full financial member of the Belmont 16ft Sailing Club and EACH course participant must be a Junior Member of the Club.