2017 - Musto Australia - 48th International Contender National Titles - Lake Illawarra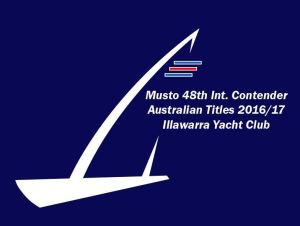 The NSW/ ACT Contender Association, in conjunction with with Musto Australia, CST Composites and Whitworths Marine and Leaisure wish to thank the Illawarra Yacht Club, its officials, support staff and race volunteers for running the 2017 - 48th Australian Contender Championships.
www.musto.com.au
Final Race Results are below.

Congratulations to Mark Bulka from McCrae Yacht Club in Victoria for winninig the regatta.
2nd - Jason Beebe, RQYS Queensland
3rd - Matt Mulder, Balmoral Sailing Club Sydney.
4th - Simon Barwood, RFBYC Perth
5th - Craig Davidson, Canberra Yacht Club
Junior - Thomas Young, Canberra Yacht Club
Masters - Simon Barwood, RFBYC Perth
Grandmasters - Derek Milligan, Canberra Yacht Club
Handicap - Craig Davidson, Canberra Yacht Club