INSPIRE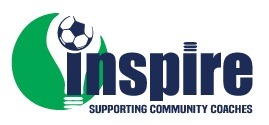 Inspire Coaching
Inspire coaching will provide coaches of all levels access to a platform that will host coaching resources, video content and discussion forums to assist coaches in their season-long journey. Our mission is to better the footballing experience of both the coach and players by providing relevant, progressive and easy to digest content.
InspireLIBRARY – InspireLIBRARY will be the database of session content spanning across each phase of development; Discovery Phase, Skill Training Phase, Game Training Phase and Performance Phase. Users will be able to search through the InspireLibrary to discover the Inspire-Curriculum sessions which are available for print and in video format.
InspireTV – InspireTV will be hosted on a video platform – youtube– and contain various playlists housing content for coaches and players to digest. Inspire TV will have various playlists including:
Skillzone – Skill of the week video. Utilising local talent with the potential to develop two videos; Under 6-8 video, Under 9-13 video.

Coaching tips – Weekly coaching tip video's to assist grassroots coaches in their delivery of training and match day duties. Short 30-60 second videos revisiting key messages delivered during community coaching courses.

Session content – Filmed Inspire-Curriculum content

Other – Inspire human interest stories and other videos of importance (RESPECT campaign, Welcome to football video etc.
InspireDISCUSS – InspireDISCUSS will provide coaches the opportunity to engage with the coaching community in sharing content, gathering feedback and discussing scenarios during their coaching experiences to assist others and gain advice. An Inspire representative will moderate InspireDISCUSS.
InspireREAD – InspireREAD will be a social media (facebook) hosted platform that will be used to share relevant articles, news stories, video content and session of the week content amongst other things. InspireREAD will have page on the website with the most recent and important shared articles.
InspireBLOG – Contribution to InspireBLOG by peers of Inspire Coaching to provide relevant discussion, information sharing and the promotion of activities via Inspire.
The INSPIRE program will be launched in late-April and will initially consist of weekly newsletters containing the above mentioned resources.
To register yourself on the mailing list please visit the following link:
Inspire Program Registration link
Download the INSPIRE program flyer here.