National Equipment Auditors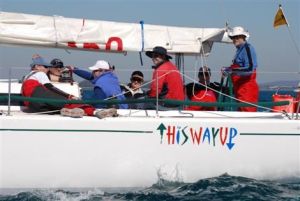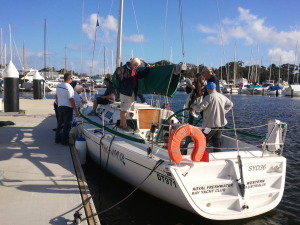 Welcome to the information on the West Australian National Equipment Auditors. Manfred Speicher is the appointed Senior National Equipment Auditor for Western Australia (SNEA). In addition to Manfred there are other qualified NEA's in WA clubs who can assist boat owners in matters of safety on their boats.
Clubs sailing off the beach boats (unbalasted dinghies) can access the of the beach form in the link below. If a club does not have a National Equipment Auditor in their club the boat owner/skipper can complete the audit and provide it to the club under any safety audits currently in pace at the club.
http://websites.sportstg.com/get_file.cgi?id=36297338
Clubs or boat owneres shoudl approach their clubs NEA or seek assitance form any of the listed NEAs below on matters of safety equipment & audits.
Should you have any questions on matters regarding the NEA scheme please contact your clubs NEA or if your club does not have a NEA please contact one of the listed NEAs below or contact Manfred Speicher on 0416 018 407 or email: manfred@ysi.net.au
| | | | | |
| --- | --- | --- | --- | --- |
| Last Name | First Name | Email | Clubs Endorsments | Cat endorsed |
| Ball | Ian | ian.ball@retraite.com.au | RPYC | (Cat 1-7) |
| Berkhout | Fons | fons@berkhout.com.au | RPYC, SoPYC | (Cat 1-7) |
| Brown | Graeme | gb2wrk@gmail.com | SoPYC | (Cat 1-7) |
| Burbidge | William | wands@arach.net.au | FSC, SoPYC | (Cat 1-7) |
| Cole | Graeme | g.cole@murdoch.edu.au | FSC, SoPYC | (Cat 1-7) |
| Dawson | Andrew | adawson1@bigpond.net.au | SoPYC | (Cat 1-7) |
| Erasmus | Warren | womeclr@live.com | SoPYC, FSC | (Cat 1-7) |
| Finlayson | Peter | finlayson.pete@gmail.com | RFBYC, SoPYC | (Cat 1-7) |
| Hancock | Adam | Adam.Hancock@au.knightfrank.com | RFBYC, SoPYC | (Cat 1-7) |
| Kelly | Chris | chris@hillarysyachtclub.com.au | HYC, SoPYC | (Cat 1-7) |
| Kennington | Peter | kennop@bigpond.com | FSC, SoPYC | (Cat 1-7) |
| Kenny | David | cptkenny@me.com | EFYC, SoPYC and FSC | (Cat 1-7) |
| Lloyd | Ben | ben.lloyd@gpswa.com.au | SoPYC | (Cat 3-7) |
| McDonald | Robert | robert.mcdonald@westernpower.com.au | RPYC, SoPYC | (Cat 1-7) |
| Miller | Bruce | bjmiller@iinet.net.au | SoPYC | (Cat 1-7) |
| Otness | Ole | otness@iprimus.com.au | FSC, SoPYC | (Cat 1-7) |
| Speicher | Manfred | manfred@ysi.net.au | RFBYC, SoPYC& Senior NEA WA | (Cat 1-7) |
| Suffield | Jennifer | jennsuffield@bigpond.com | RFBYC, SoPYC | (cat 3-7) |
| Truman | Phillip | trumanceilings@bigpond.com | KBSC, SoPYC | (Cat 1-7) |
| Vlaar | Petrus | peter.sophiavlaar@bigpond.com | SoPYC | (Cat 1-7) |
| Wilkinson | Bruce | brucenwilkinson@hotmail.com | EFYC, SoPYC | (cat 3-7) |
| Wilson | Robbie | rakkwilson@gmail.com | FSC, SoPYC | (Cat 1-7) |
| Speicher | Manfred | manfred@ysi.net.au | Senior NEA (WA) | Cat 1-7 |
| Mark | Taylor | Mark@automark.com.au | HYC | (Cat 1-7) |
| Greg | Shakeshaft | gregshakeshaft@gmail.com | HYC | (Cat 1-7) |
| Vince | Rodgers | fhs@iprimus.com.au | Ocean Reef Sea Sports Club | (Cat 3-7) |
| Simon | Plunkett | simon.plunkett@vianet.net.au | RPYC | (Cat 3-7) |
| Douglas | LAWLER | twistandshout@bigpond.com.au | GBYC | (Cat 1-7) |
| Nick | Clayton | claytons1@aapt.net.au | NYC | (Cat 1-7) |
| Richard | Horan-Goldsmith | richardgoldsmith@iinet.net.au | RPYC | (Cat 1-7) |
Click here to find out more on the NEA scheme and to access the resources and forms