Awards
The 2015 Tasmanian Hall of Fame and Yachting Achievement Awards
The 2015 YT Annual Awards and Hall of Fame induction was held on Sunday 28th June at DSS. About 70 people attended to recognise the special contributions Tasmanians have made to the sport.
Congratulations to our award winners and Hall of Fame inductees!
All photos courtesy of Dane Lojek unless otherwise specified.
Male Sailor of the Year - Matt Bugg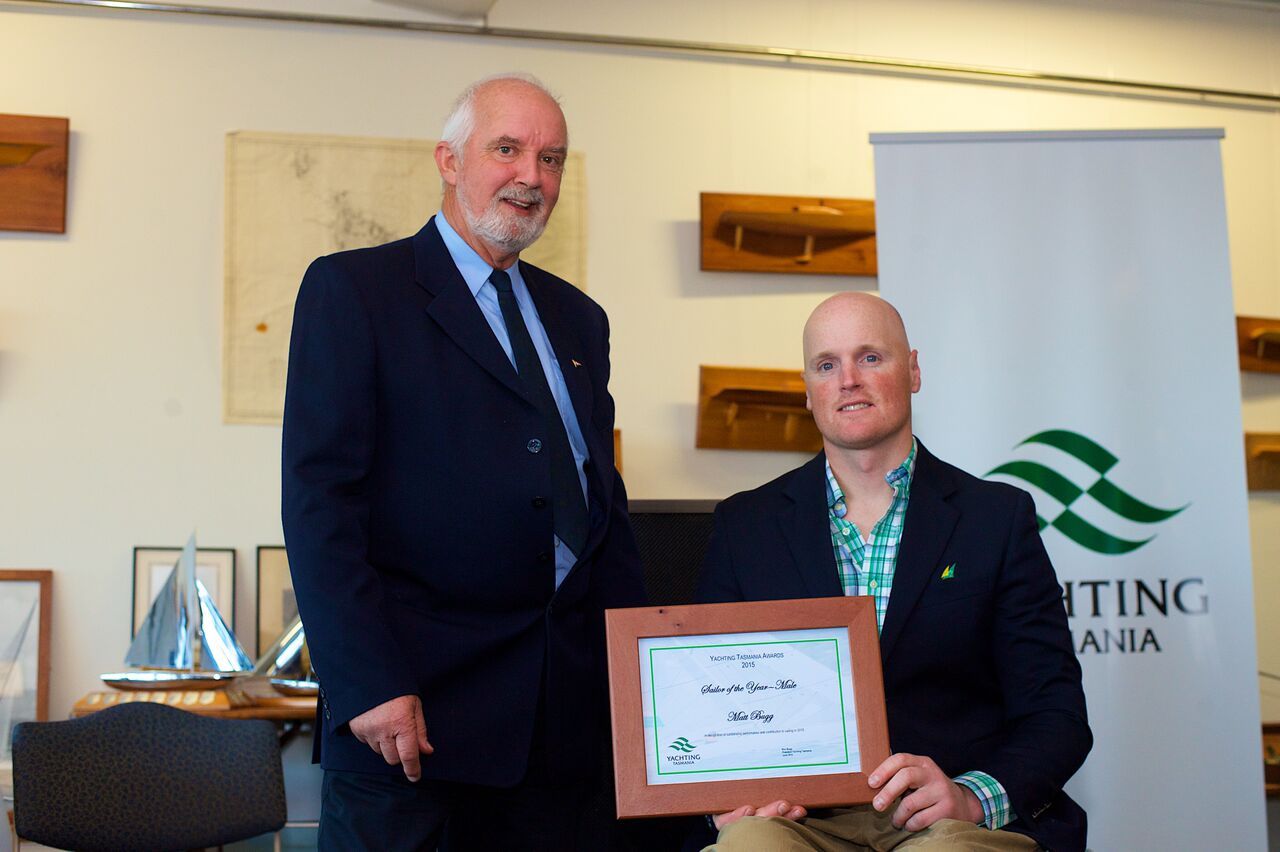 Matt Bugg is the 2015 Male sailor of the Year and has had an outstanding year. He consistently performs at the highest level in the International 2.4m class and is a current member of the Australian Sailing Team. Some highlights from his results from the past 12 months include 1st at Sail Melbourne – the first stop of the ISAF World Cup, 1st at the Australian National Championships and 2nd and 3rd respectively at ISAF World Cup rounds in Hyeres, France and Medemblik, The Netherlands . He is currently ranked 4th in the world in the International 2.4m class.
Female Sailor of the Year - Amelia Catt
Photo: Tom Thou
Amelia Catt is the winner of Female Sailor of the year and has had yet another great year competing internationally. She is part of the Australian Sailing Squad, racing in the 470class. She has competed in ISAF World Cup rounds in Melbourne, Hyeres, France and Weymouth, UK, Winning the Melbourne round. The pair also wonthe 470 Womens' class at Sail Sydney in December. They are currently ranked 15th in the worldwide ISAF womens' 470 rankings.
Club of the Year - Wynyard Yacht Club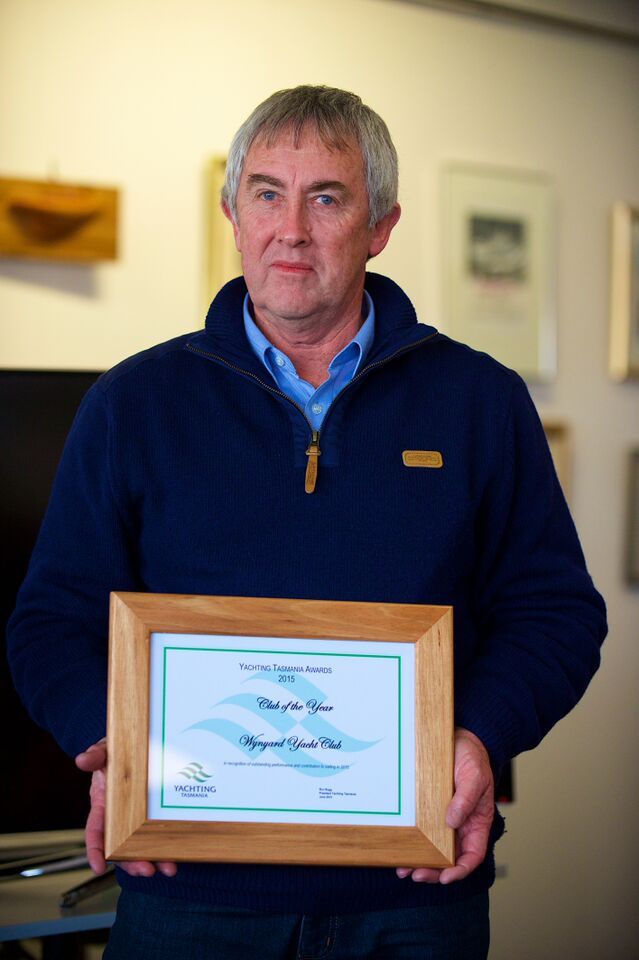 Steve Walker accepting on behalf of Wynyard Yacht Club
The club of the year award once again went to Wynyard Yacht Club. In 2014 and 2015 Wynyard could well have rested on their laurels after experiencing a stunning revival and growth during the previous year. However, the team of volunteers at the club have outdone themselves and have continued to build upon their previous successes, winning a number of awards, including the Yachting Australia Club of the Year, Robin Hood Human Rights Sports Award, the Medibank Active Premier's Physical Activity Silver award and the Australian Institute of Sport's Community Club of the Year – beating clubs from many different sports. They continue to build upon their relationships with the local community by working with a number of schools, community groups and other sporting organisations. During all of this time they continue to develop a huge number of sailors through training programs and their regular racing events.
Volunteer of the Year - Mike Darby, Tom Bain, Michael Vincent
This year we had three outstanding candidates for Volunteer of the Year and we were unable to separate them.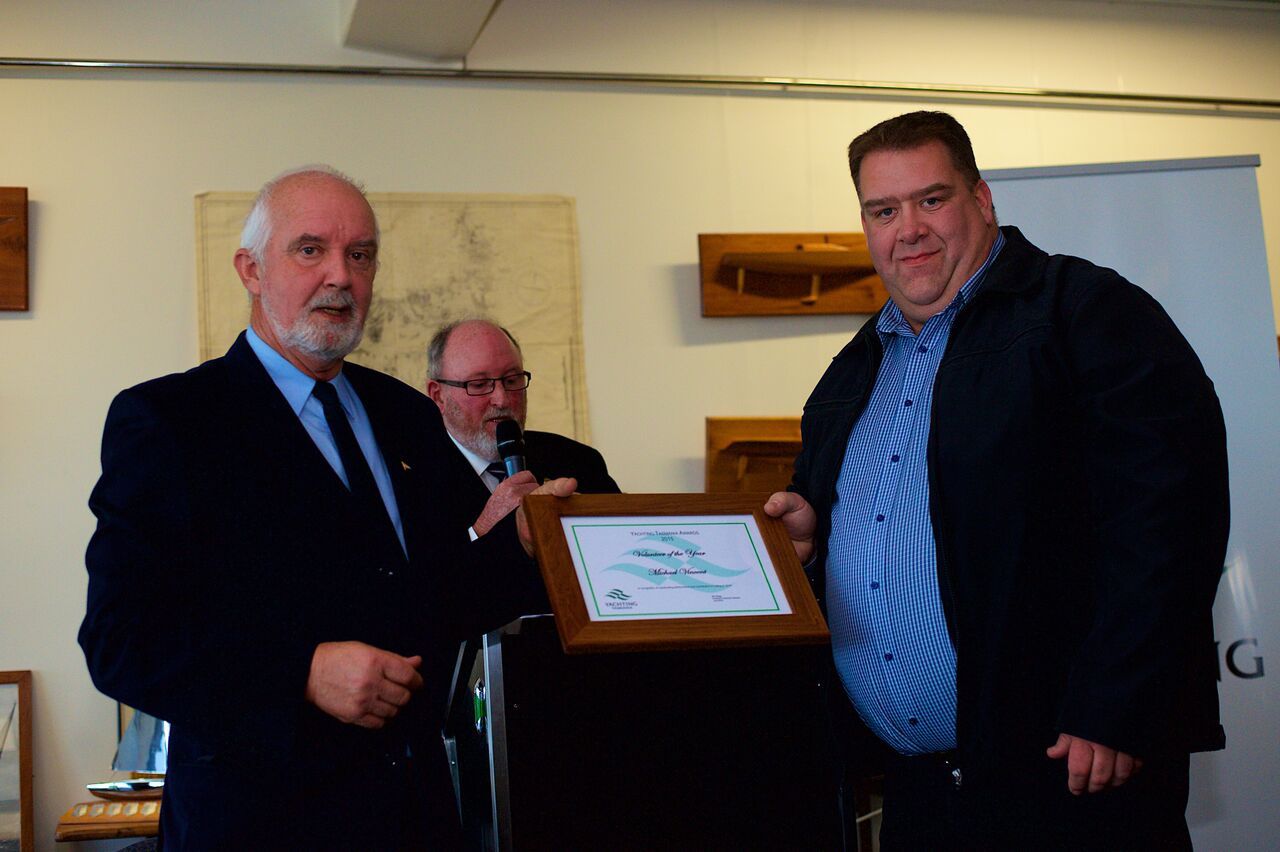 Michael Vincent
The first Volunteer of the Year award went to Michael Vincent of the Royal Yacht Club of Tasmania. Michael works tirelessly in his leadership of the RYCT Off The Beach program and, as with both of our previous winners, Michael is the first to arrive at the club every week and the last to leave, ensuring that everything goes smoothly on the day. He is not only involved with the Off The Beach Program though, but also dedicates endless hours ensuring that on the water activities run smoothly for the keelboat and SB20 racing on the Derwent by laying marks, assisting with race management duties and ongoing maintenance of club boats and equipment.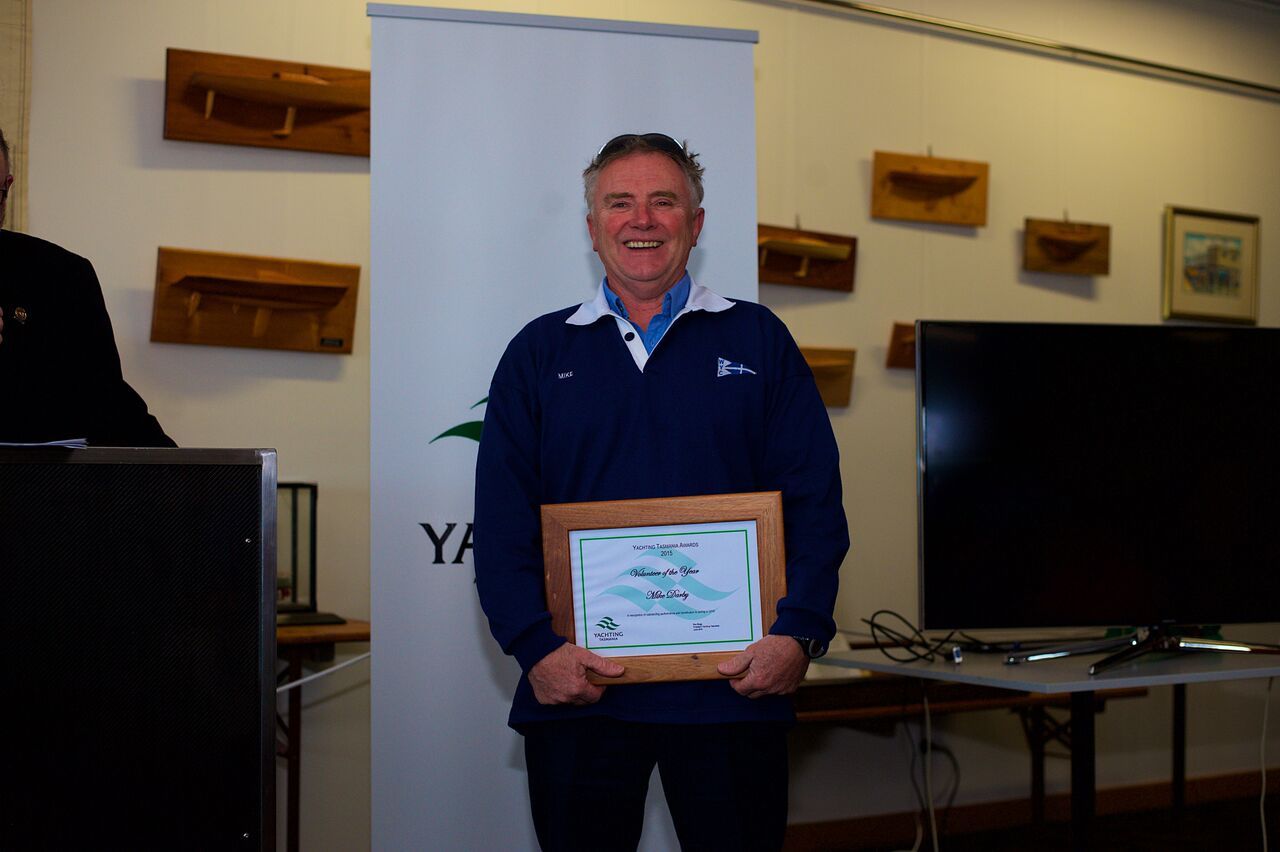 Mike Darby
Mike has been an integral part of Wynyard Yacht Club's well documented renaissance. During 2014/15 sailing season he has volunteered more than 160 hours of his time to deliver training to over 150 students. He is always the first to arrive and last to leave the club ensuring that everything is properly prepared at the beginning of the day and correctly packed away at the end. He is also involved with local schools to develop sailing programs and growing participation in the sport through the national Sporting Schools initiative. He is not only involved in formal training programs, but also coached and managed a local school team for the Tasmanian Schools Teams Racing Championship. His work on the management committee at Wynyard Yacht Club is also to be commended.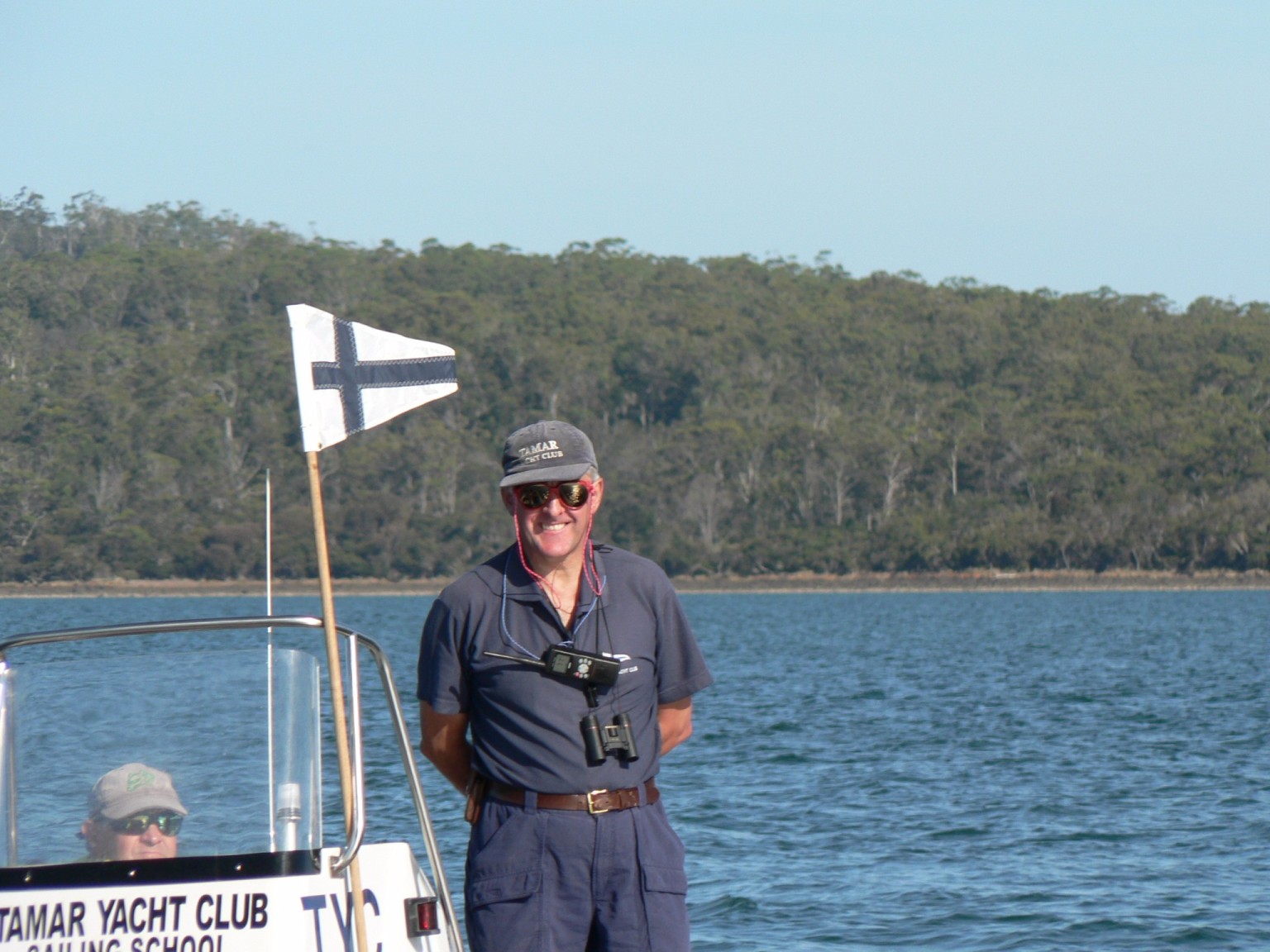 Photo: Bill Cromarty
Tom Bain

The final volunteer of the year award goes to Mr Tom Bain from Tamar Yacht Club. Tom is considered a legend within the Tamar Yacht Club and has received accolades from the numerous yachting associations he has worked with. Every Saturday during the sailing season Tom devotes his entire day arriving early to assist the preparation of boats and equipment for the day's events and acting as PRO for the racing. He usually stays at the club afterwards until the rescue boats have been tidied up and stored away. He is an active member of the club's committees as well as attending every working bee at the club. While he has a long history of being a talented PRO for dinghy championships held on the Tamar, this year he volunteered his time to act as PRO for the Stonehaven Cup raced in traditional Cadet Dinghies on King Island.
Outstanding Youth Achievement - Jock Calvert
Photo: Edgar Audri
Jock Calvert is the winner of this year's Outstanding Youth Achievement was a member of the 2014 Australian Youth Sailing Team at the ISAF Youth Worlds and looks to repeat the performance after winning the first selection trial in Fremantle in January. He is also currently ranked in the top 100 in the world in the senior RS:X windsurfer class, despite still only being 17. He has experienced international class racing at the ISAF World Cups in Melbourne (where he came 5th) Tarifa in Portugal and Miami, USA as well as being National Techno 293 Australian Youth windsurfing champion.
Disabled Sailor of the Year - Chris Symonds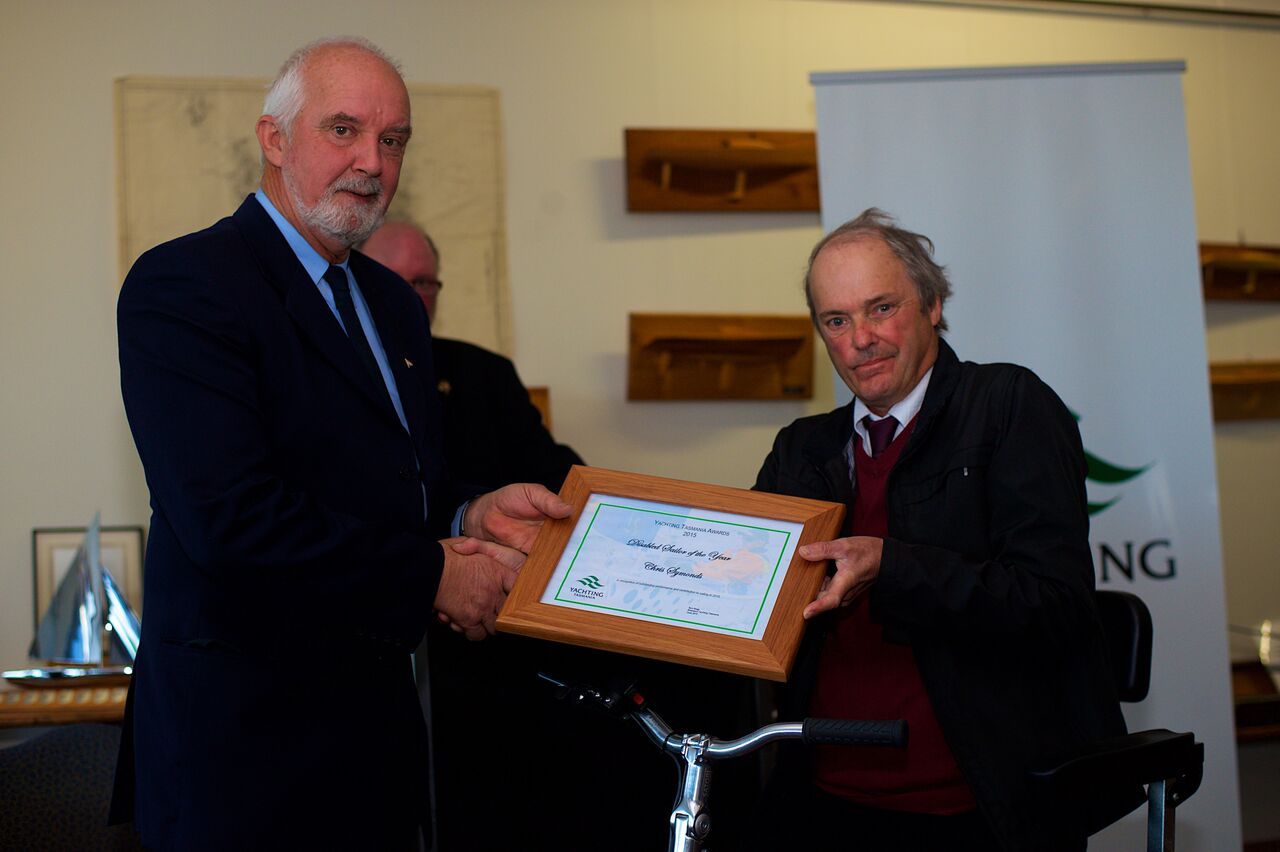 Chris Symonds is this year's winner of the Disabled Sailor of the Year award. Chris not only achieves at the top level in his chosen class of boat, but who has also dedicated years of service to the sport. This year he won the Australian Hansa 303 National championships, both in the individual division and the two- handed division. He has also contributed greatly to the disabled sailors by developing unique lifting system that can launch the Hansa Access boats from boat ramps that were previously thought to be inaccessible for this class of boat. This invention has gained national recognition for bringing these boats into areas previously thought impossible, consequently opening the sport up to even more people with disabilities preventing from easily accessing water sports such as sailing. His devotion to the sport has also helped Wynyard Yacht Club gain a number of state and national awards over the past 12 months and he has been integral in the negotiations between local schools and Wynyard Yacht Club. His selfless modelling of how to overcome adversity with innovation and coping with a debilitating condition with bravery and grace brings an important exposure to young people in his community.
Yachting Personality of the Year - Greg Rowlings
Photo: Sam Tiedemann
The Yachting Personality of Year this year needs little introduction. As the outgoing Executive Officer of Yachting Tasmania Greg has performed well above and beyond the outlined position. He has made himself well known to the majority of club committee members in all corners of the state and to an enormous number of sailors through his work training instructors around the state, introducing people to the sport with Sandy Bay Sailing Club's Tackers program, assisting with the weekly Teams Racing rosters and the State championships and through regular contact with clubs, both as a whole and individually. The time and dedication he provides to the sport is exemplified by his regular radio program on ABC most Saturday mornings and at other times when commentary on the sport is required.
Benetto Medal for Offshore Sailing - Duncan Hine and Phillip Turner
Phil Turner and Duncan Hine, winners of this year's Bennetto Medal, have had a stellar year after recently purchasing their new boat. They have raced the boat in the majority of offshore races and regattas up the East Coast of Australia achieving some outstanding results along the way. Highlights from their results include the trifecta of Line Honours, 1st IRC and Race Record in the Melbourne to Vanuatu Race, the handicap trifecta of 1st IRC, 1st ORCi and 1st PHRF in the Brisbane to Gladstone, they won IRC at Sail Paradise, 2nd in IRC division 1 at Hamilton Island Race Week and Line Honours in the King of the Derwent. They also achieved 6th boat over the line and 6th in IRC division 0 in the Sydney to Hobart.
Administrator of the Year - Michael Denney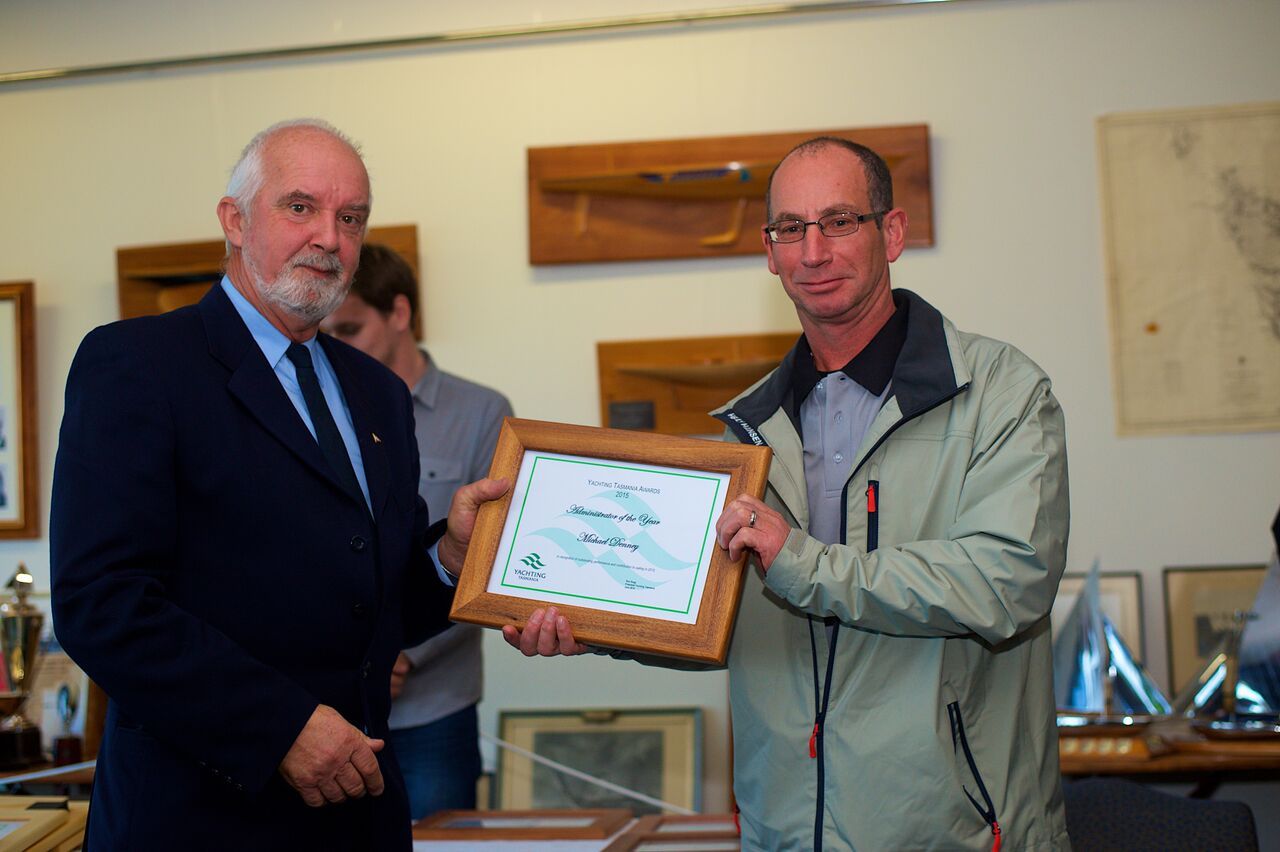 The Administrator of the Year for 2015 is Michael Denney, the Sailing Manager at the Derwent Sailing Squadron. Michael has worked tirelessly to ensure the DSS runs sailing programs of the highest standard. Events of note from this year include the Launceston to Hobart Yacht Race, The Hansa Class National Titles and the SB20 State and National Titles. Each of these events has been run with the skill and professionalism that Michael has become known for in his time at the DSS. He foregoes many sailing events himself and puts in many more hours of effort than his position outlines to ensure that races continue to run smoothly from onshore. He is also involved in the combined clubs working committee to coordinate keelboat racing between the three biggest clubs on the Derwent.
Hall of Fame Inductees:
Chris Symonds
Chris's more recent accomplishments have already been outlined in his Sailing award, but as was alluded to, he has dedicated a lifetime to the sport. After originally learning to sail at Wynyard Yacht Club he has had a string of successes in his personal sailing including, Tasmanian P-Class champion in 1972, Cherub state champion and 2nd in the nationals in 1980-1981, state 470 champion in 1989, state trailerable yacht champion in 1996 as well as his recent achievements in the Hansa class – National title holder for two-years running in the individual 303 and 2nd in the double handed in 2014 before winning the double handed in 2015.
Chris's achievements on the water are all the more notable given his outstanding contribution to the sport off the water. As mentioned previously Chris has been a driving force behind Wynyard Yacht Club's recent renaissance. Despite having a very rare affliction in Kennedy's disease which is a very slow acting Motor Neurone Disease and has severely affected his mobility, he has become more and more involved in sailing administration at Wynyard YachtClub and through Sailability.
Chris has long held administrative positions for various class associations, Yachting Tasmania and at Wynyard Yacht Club. His drive and dedication to adopting change has helped Wynyard Yacht Club turnaround from very lean times 5 years ago to now being one of the fastest growing clubs in the state and it has been quoted that he is the main reason that Wynyard Yacht Club has been recognized as both the YA and YT Club of the year and the AIS Community Club of the Year.
Chris continues to be active in the sport of sailing and embraces change to welcome people at all levels into the sport, both through training and competition at every level.
David Rees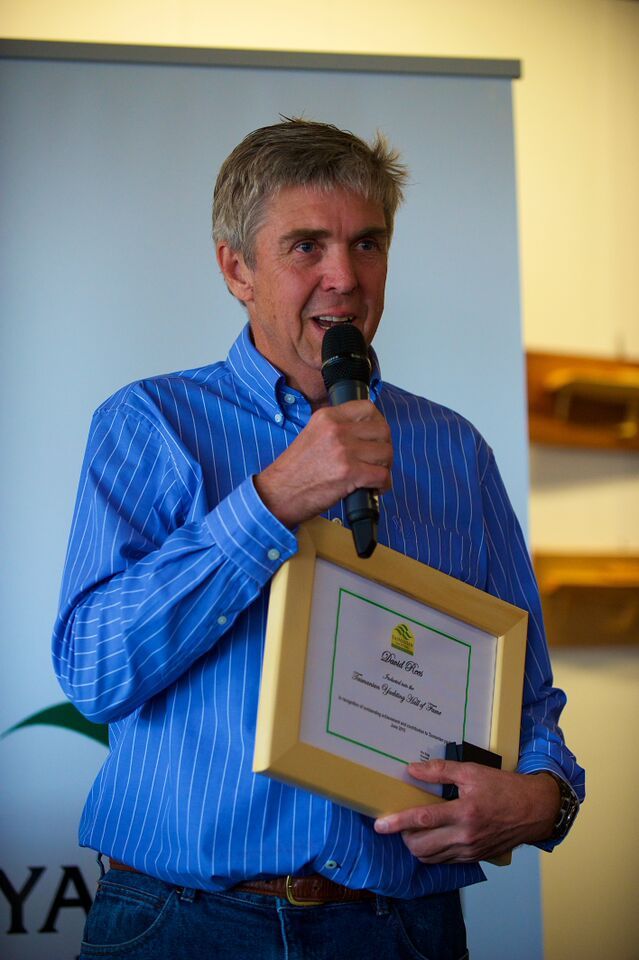 David Rees has long been a respected figure in Tasmanian Sailing. David's List of results reads as good as any other sailor to represent our State & Country. David was the 1st Tasmanian and only the 2nd Australian to win the International Cadet Class World Championship. This achievement also made him the first Tasmanian to win a world championship in any sport. David has competed in:
16 Sydney to Hobart's
7 Australian 3 Peaks Races
2 British 3 Peaks Races
3 Melbourne to Hobart's (2x WC 1x EC)
1 Launceston to Hobart
David's Youth was spent sailing at the Sandy Bay Sailing Club racing International Cadet's with his brothers Nick & Jon before taking the helm of Red Barron with his crew Grant Maddock taking out the 1977 World Championships in Glenelg, South Australia.
David undertook an apprenticeship at North sails under the tutelage of John Bertrand and it was from this positions that he was asked to join the 1983 Australia II Americas cup team as a sail maker and followed up again in the 1987 defence with Kookaburra.
David was a sought after offshore crew member and spent many years racing offshore on Bruce Taylors Chutzpah's, he could always be seen stepping on board with his trusty "Tool Kit". He has also crewed on several other successful yacht, including Erotic Bear when it won Cowes Week and Comte de Flandre when they won the Quarter Tonner world championship in Denmark.
He has had numerous other successes in dinghy classes such as Sharpies and 49ers and other offshore events including the Fastnet Race.
Between 2005 & 2013 David successfully skippered Whistler in an extensive offshore campaign including 14 major offshore races ranging from 3 peaks, Sydney to Hobart, Melbourne to Hobart and Launceston to Hobart as well as several Maria Island, Bruny Island & Mewstone Rock races. This period saw Whistler as arguably the best performed Tasmanian offshore yacht for almost 10 years. The key to David's success was his willingness to nurture new talent and coach and mentor them into successful offshore sailors.
Nick Connor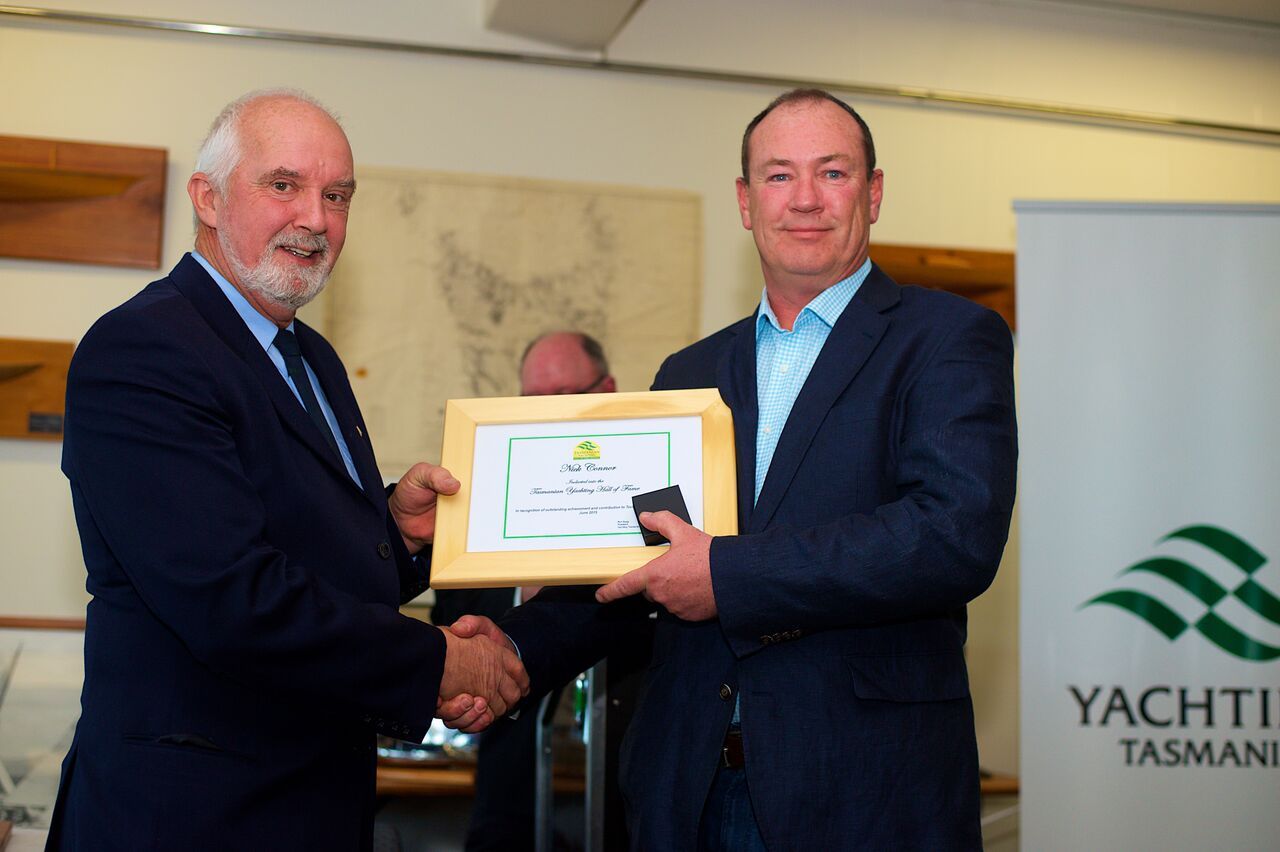 Nick has contributed at the highest level of our sport in both competition and sports administration. As Immediate Past Commodore of Sandy Bay Sailing Club, Nick has been the driving force behind the revitalization of the club, transitioning it into a more professionally run club without losing sight of the importance of volunteers. As a committee member for the last 7 years Nick's vision and business acumen has allowed Sandy Bay Sailing Club to grow and prosper at a time when many clubs are struggling. Nick has demonstrated commitment to our sport, not just the clubs he has been involved with. Notable of the many roles he has done over 30 years include committee member at Sandy Bay Sailing Club for 6 years, board member at the Royal Yacht Club of Tasmania whilst in his mid 20s and is currently a board member at Yachting Tasmania. Nick's commitment to yachting is also demonstrated by his willingness to give his time and knowledge to other clubs, as he is currently assisting two other clubs with strategic advice and assistance.
As one of Tasmania's World Champions, Nick's successful sailing background covers both Off the Beach classes and Blue Water classics, including the Sydney-Hobart, Melbourne to Hobart West-Coaster and the Admirals Cup on Intrigue. Nick Achieved what few have in sailing with Gary Smith in the Fireball class, winning the Australian Championship in 1983, followed by the North American and World Championships in 1984.
He has competed in 6 Sydney to Hobarts, including on board Solandra when they came second overall in 1981 and Nick won the coveted Navigators award at just 21 years of age. Nick was also navigator on Solandra when they won the Melbourne to Hobart the following year.
Stephen Boyes
Sam Boyes accepting the award on Stephen's behalf
Stephen has achieved at the highest level of our sport, performing at a consistently high level in the Dragon class, Farr 40's and other keel classes over a number of years.
The highlights of his career include winning the Prince Phillip Cup in 1986, as well as winning the Sayonara Cup for match racing in 1987 and 1988. In 1991 he won the North American Dragon Championships in Krystal and followed that up by winning the Dragon Worlds in Toronto in 1991.
Stephen has been in the top echelon of keelboat skippers in Tasmania over the past thirty years many of them are already Hall of Famers. I believe that the late Ediss and Stephen Boyes are the first father/son inductees in to the Tasmanian Yachting Hall of Fame
Andrew Hunn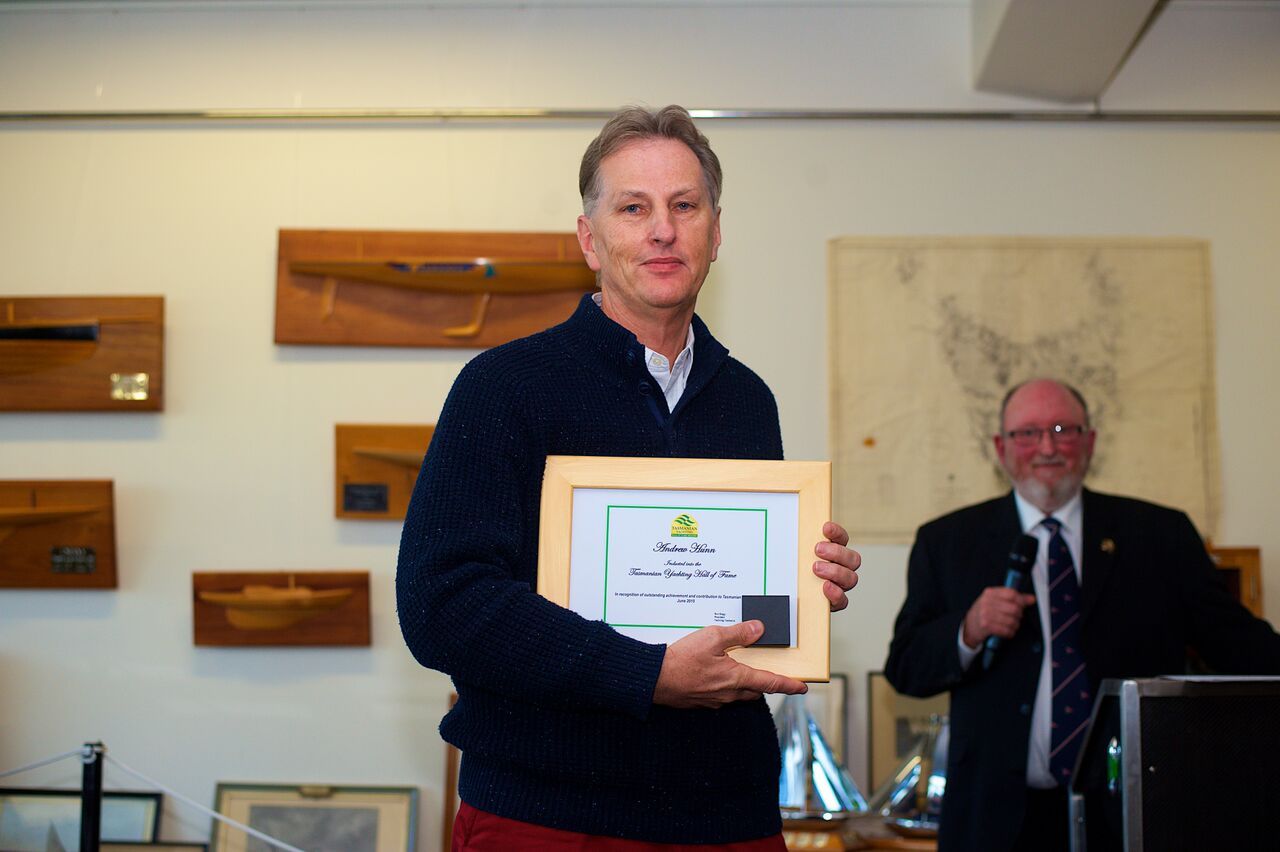 Andrew Hunn holds one of Australia's most impressive Sailing CVs and has been described as the best one-design helmsman in Australia. He started sailing at Sandy Bay Sailing Club in International Cadets at age 12 and subsequently graduated to Fireballs, and then 470's, Lasers and Sharpies.
Andrew has sailed Olympic class boats, as well as one-design keelboats, relishing the technical aspects of boat tuning and set-up. His attention to detail in preparations has stood him in good stead and has been at least as valuable as his considerable helming skills.
He has won a number of National titles, missed out on others by the narrowest of margins and also has had many notable successes on the world stage. Classes he has won or placed second in nationally include Sharpies, J24s, Etchells, Fireballs, Flying Dutchman, stars and more recently he has won the national titles in the keelboat classes, MC38s, Melges 32s and Farr 40s.
He has also been part of many Australian representative teams, including the 1989 Admirals Cup team on True Blue when they came 4th and the pre-olympic team in the Flying Dutchman (1987), Soling (1999) and Star (2006).
He has also owned and campaigned offshore boats with notable success in the Launceston to Hobart, Maria Island, Brisbane to Gladstone and Sydney to Southport races.
Julian Freeman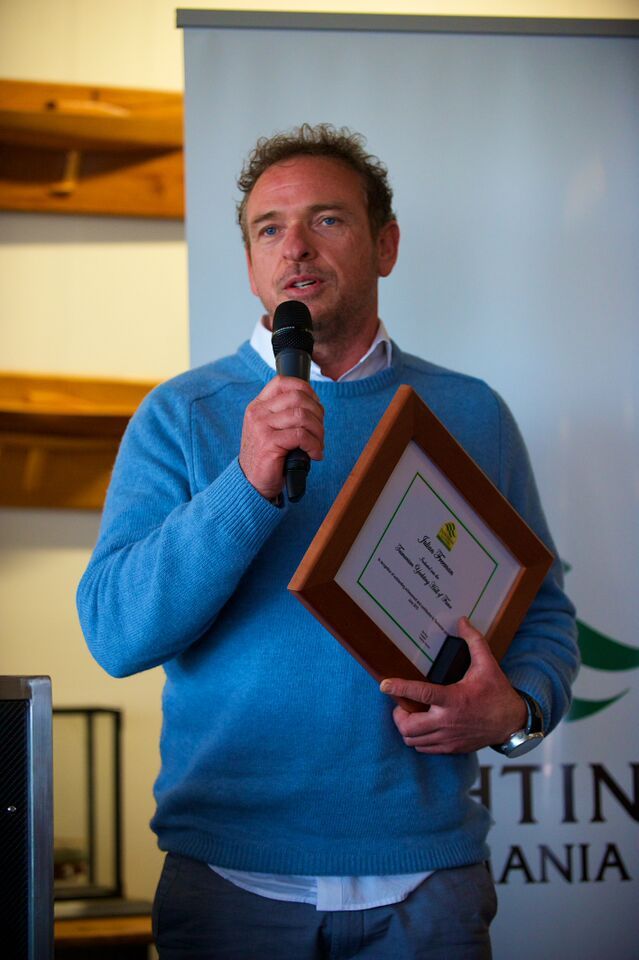 Julian Freeman's sailing resume reads like a who's who of international offshore races. After starting in Sabots at the Derwent Sailing Squadron he won the1980 International Cadet Nationals in Geelong.
He was involved in the completion of the construction of the Americas Cup yacht Challenge 12 sailing on board in trials in Australia and Rhode Island. He has sailed in Asia, America, Japan, England as well as extensively throughout Australia. Julian has sailed on maxis Kialoa, Windward Passage, Condor, Ondine, Congere and Tasmania. Julian's highlight was the three years on Kialoa sailing with Jim Kilroy and Dennis Connor and serving as 2IC on the boat.
In 1993 Julian was awarded the "Australian yachting crewman of the year" which was recognition of his enormous talent and achievements on the local and international yachting scene.
Julian has sailed in 27 Sydney to Hobart yacht races being first home twice in Condor and Tasmania and winning on handicap twice on Yendys and Secret Mens Business.
Last Modified on 09/07/2015 11:32