Due to this increase in numbers, Darling Point Sailing Squadron was selected as the venue to host the 21st year of the awards and there were an amazing 42 nominations overall, celebrating the highest achievements of volunteers, competitors and Queensland Clubs. The 2017 event also saw our first group nomination, from the Royal Queensland Yacht Squadron, with 8 youth coaches being nominated for our Coach of the Year award. Yachting Queensland Board Members & Australian Sailing staff were in attendance to guide the night to its success.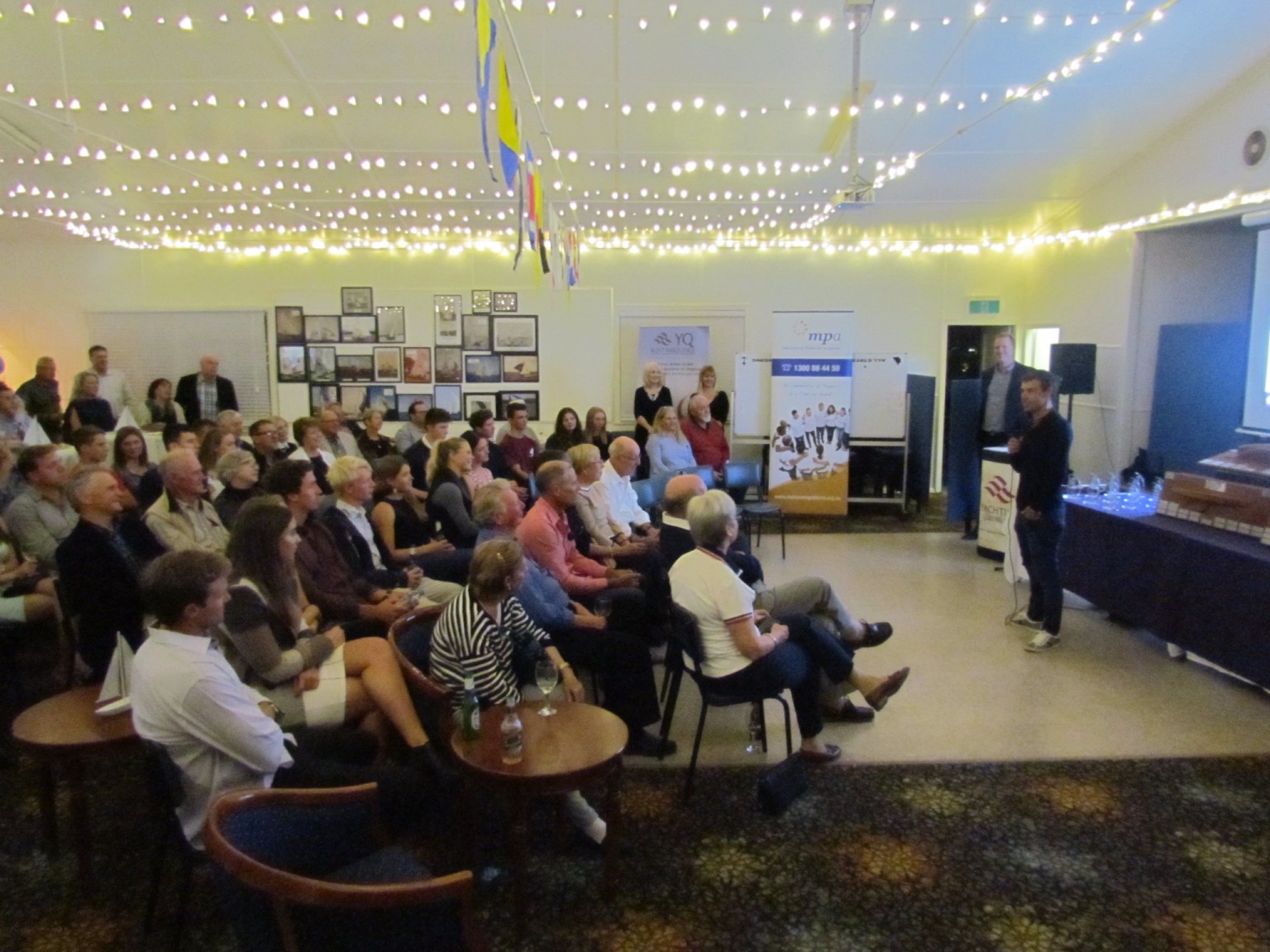 Great venue at Darling Point Sailing Squadron (also used by Multihull Yacht Club Qld & others)
Yachting Queensland Board Member, Matthew Johnson was our excellent MC for the evening and President, Ken Hurling, presented the winners and nominees with their awards.
To kick start the evening we had the honour of dual-Olympian, Matthew Belcher, conducting an informal Q&A session which provided some interesting insights into the life of a successful athlete and sailor. Mat showed his experience in handling questions well as he responded to enquiries. One example was a question from a Southport Yacht Club member, who asked if the sailors at the Rio Olympics were provided with sufficient support? Mat's positive reply surprised the audience, as the Olympic sailing team receive a huge range of support, from physical & mental well being through to tactical & meteorological information, totalling over 30 advisors. We all appreciated Mat spending his precious time to add to this event and congratulate him on his achievements so far.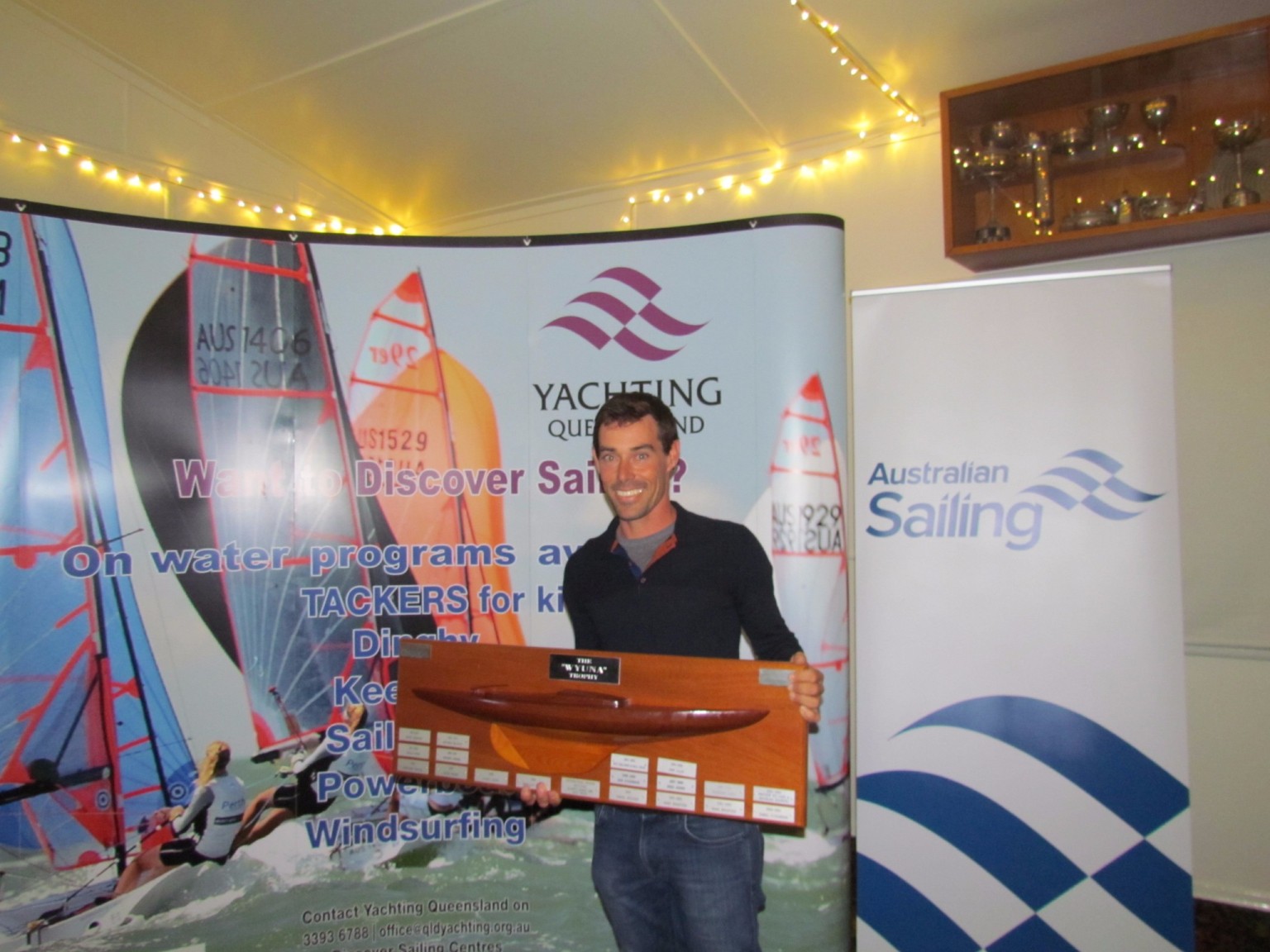 Guest speaker and jont winner of the Wyuna Trophy - Qld Male Sailor of the Year Mat Belcher
The list of nominees & winners for the 2017 Queensland Sailing Awards is shown below. Six perpetual trophies were highly contested, and winners were given a small trophy to take home, but their name will always be remembered, forever etched into the plaques on the perpetual trophies hanging in the Australian Sailing Queensland Regional Office.
| | |
| --- | --- |
| Simba Trophy (Qld Junior Sailor) | Barrenjoey Trophy (Qld Youth Sailor) |
| Talia Bulstrode - winner | James Hodgson - winner |
| Angus Sherring | Ashleigh Swadling |
| Travis Wadley | Kristen Wadley |
| | Melanie Watson |
| Jenny VI Trophy (Qld Female Sailor) | Wyuna Trophy (Qld Male Sailor) |
| Jaime Ryan – joint winner | Mat Belcher/ Will Ryan- joint winner |
| Ashley Stoddart – joint winner | Jake Lilley |
| Stephanie Kerin | James Hodgson |
| Wistari Trophy (Qld Offshore Sailor) | Solo Trophy (Outstanding Services) |
| Mark Hipgrave - winner | Scott Davis |
| Bob Robertson | Nigel Statham |
| Steven Czapp | Tracey Johnstone - winner |
| | Kerry Waraker |
| | Geoff Cruse |
The general awards for the year; Official, Instructor, Coach and Club also attracted a high number of nominees.
| | |
| --- | --- |
| Official of the Year | Instructor of the Year |
| Ray McMahon - winner | Gary Bruce - winner |
| Nigel Statham | Peter Gould |
| | Shari O'Brien |
| | Lara O'Brien |
| Coach of the Year | Club of the Year |
| Danny Fuller - winner | Mooloolaba Yacht Club- winner |
| RQ Youth Squad Junior Coaches: Nat Dutton, Tom Needham, Annie Eastgate, Matt Rogers, Alex Watson, Josh Sloman, Simone Wood, Samantha Simmonds | Queensland Cruising Yacht Club |
| Joel Turner | Royal Queensland Yacht Squadron |
Although there were some absent nominees, due to being overseas & committed to other events, the presentations went smoothly. Finalists received a medallion & certificate each and everyone showed acknowledgement to this group of very worthy recipients. All of the award winners will be nominated for the relevant National Awards.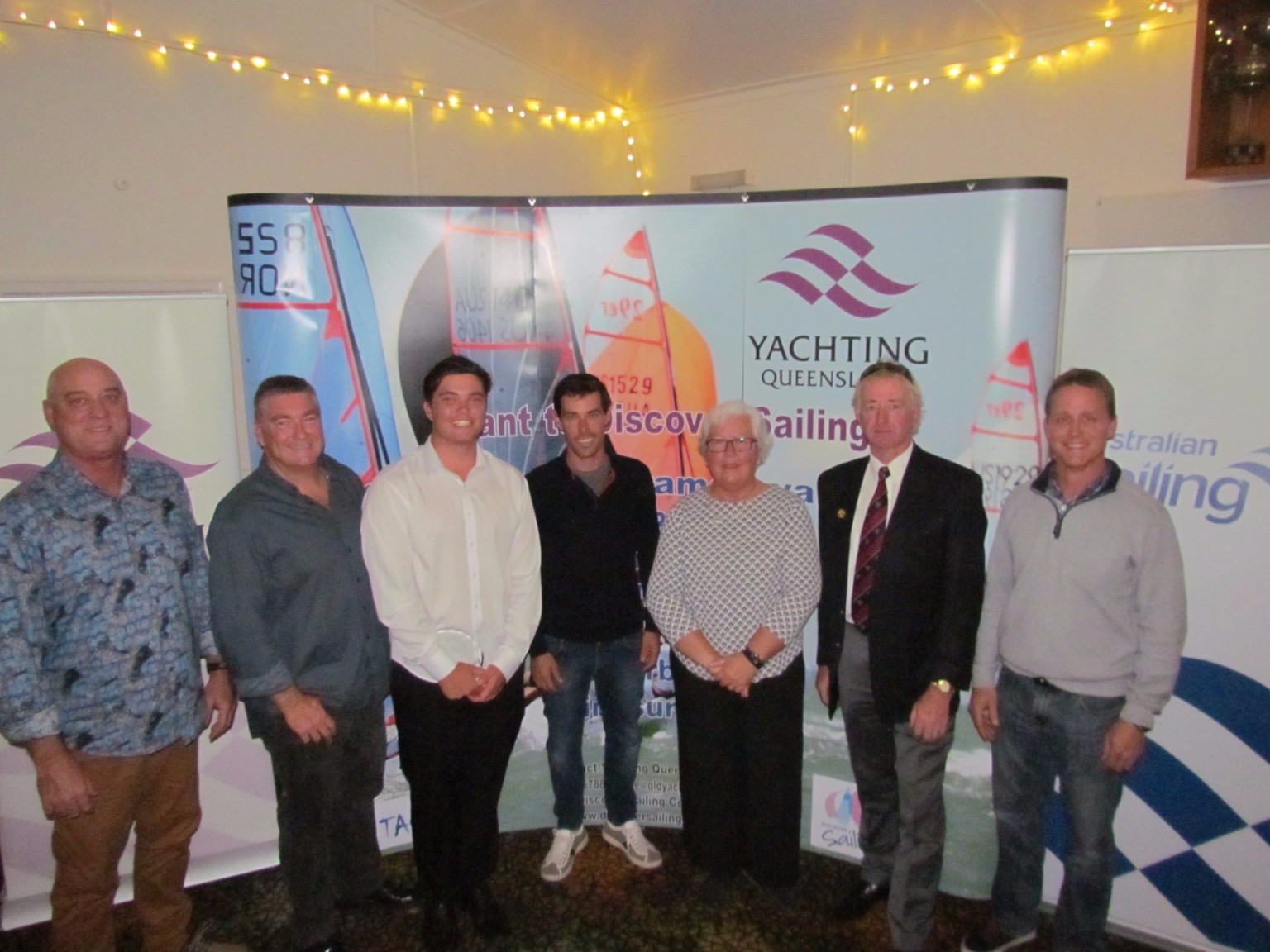 Winners present on the night left to right: Gary Bruce, Mike Hodgson, James Hodgson, Mat Belcher, Tracey Johnstone, Ray McMahon & Danny Fuller
Instructor of the Year finalist, Lara O'Brien, commented, "it was really enjoyable to experience everyone from different sections of sailing and celebrate their successes while enjoying everyone's company."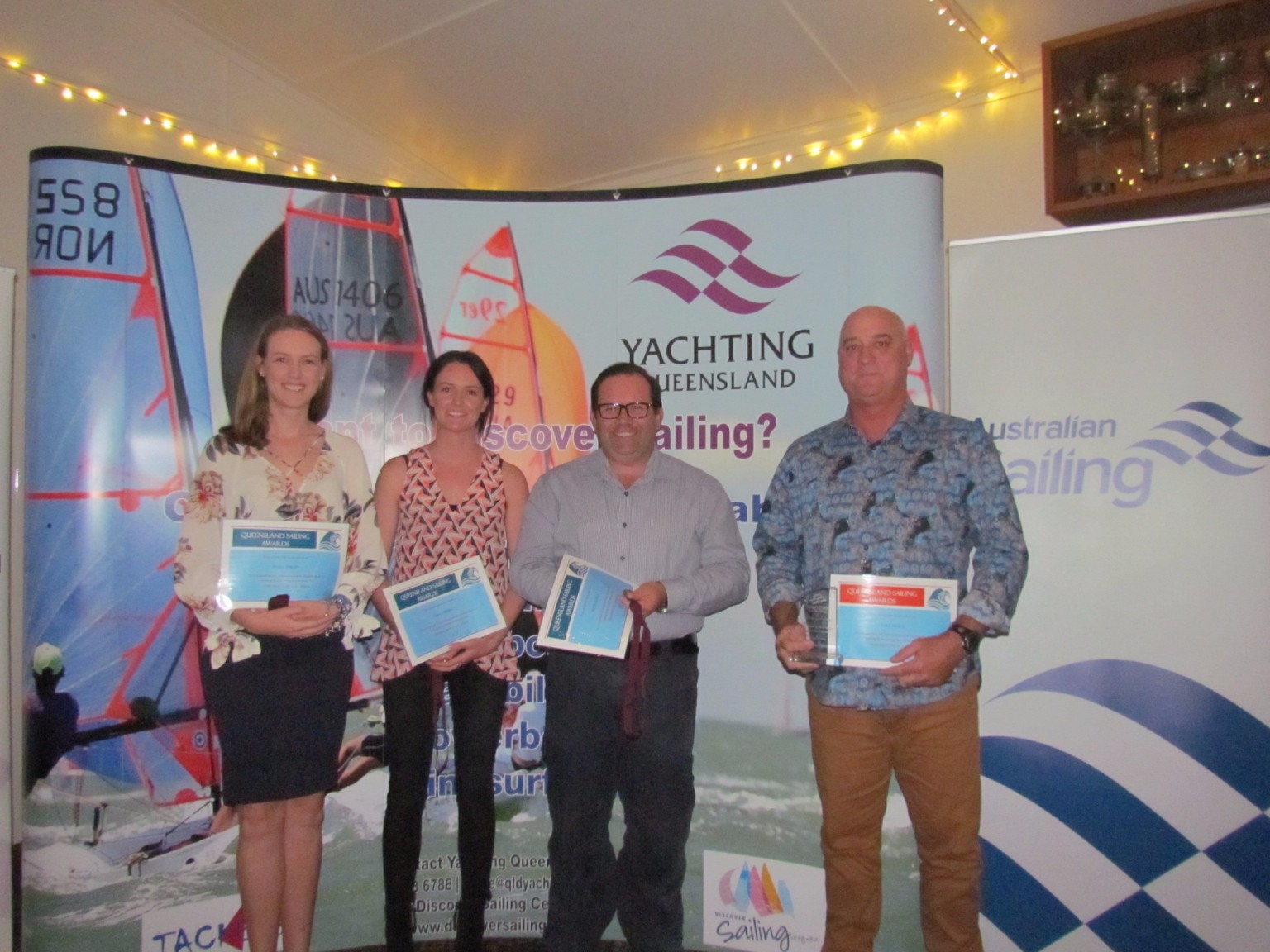 Nominees for Instructor of the Year left to right: Shari O'Brien, Lara O'Brien, Peter Gould & (winner) Gary Bruce
Simone Wood, a finalist for Coach of the Year, mentioned that, "it was good to see sailing from other people's perspectives. We don't get to mix with big boat people and the volunteers as much as we would like, so it is good to see everyone in the same room celebrating together. "
Danny Fuller, winner of the Coach of the Year award, expressed that he was, "a bit surprised to win to be honest. It is nice to receive recognition, but as a coach you don't do it to get the awards - it's just a nice little bonus." He, among others, loved the atmosphere of the evening and he went on to say, "I think the most important part is being in this room with all these sailors!"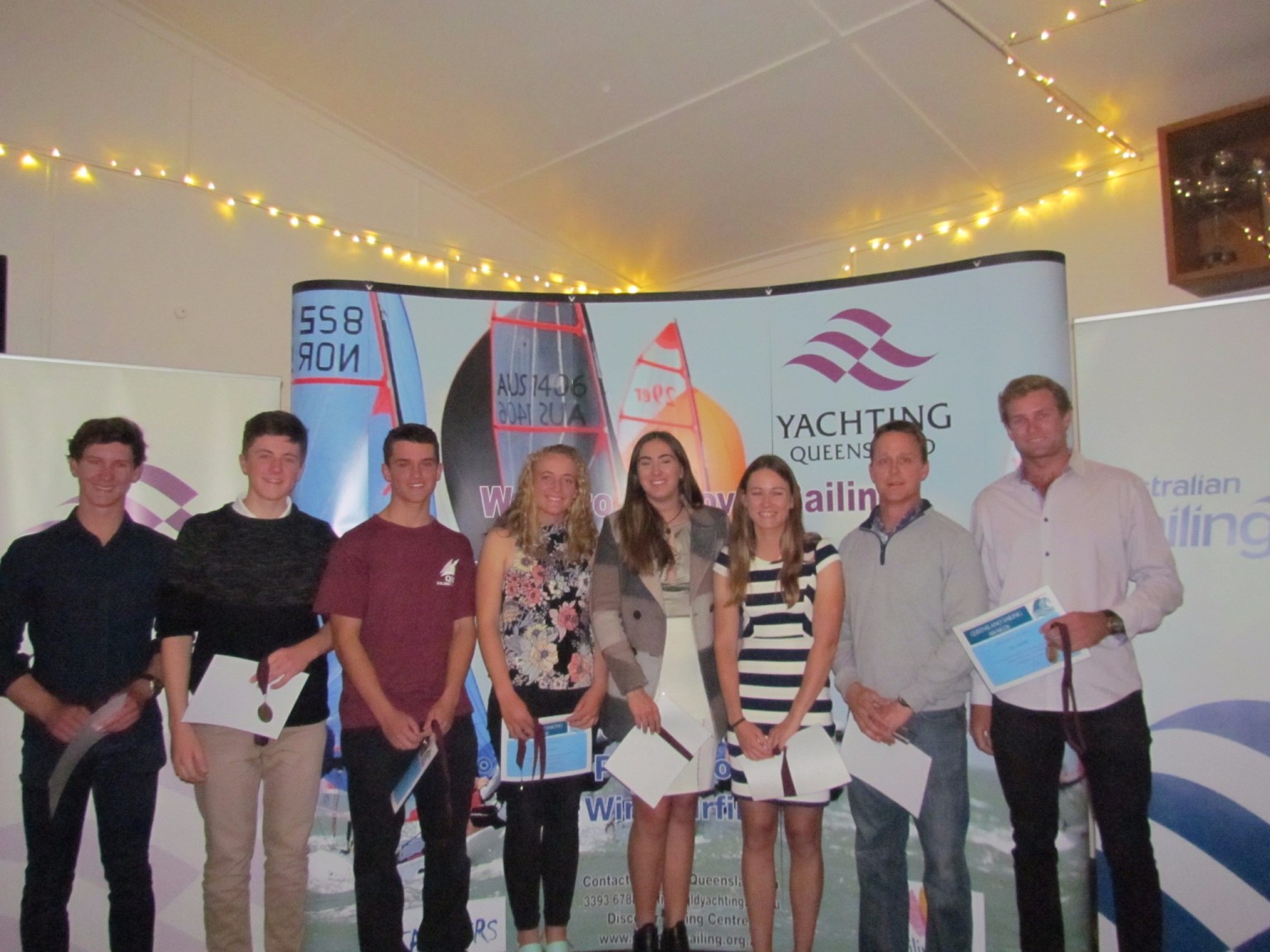 Nominees for Coach of the Year (some absent): Nat Dutton, Tom Needham, Matt Rogers, Alex Watson, Josh Sloman, Annie Eastgate, Simone Wood, Sam Simmonds, (winner) Danny Fuller and Joel Turner
Mat Belcher was pleased to win the Male Sailor of the Year award and was happy to accept on behalf of himself and Will Ryan. Mat said, "It was really great to see the up and coming future sailors who are heading into the Olympic programs and the other various categories of our sport." He also mentioned, "It was great to touch base for me, spending a lot of time away from Australia it is nice to come back to where it all began. It is great to see an increase in numbers from last year, especially kids, and to celebrate the mix of high calibre performance sailing, the work of our volunteers and successful club programs."
Mat ended by saying that it was a great evening and that seeing everyone's success "is exciting for Queensland Sailing moving forward."
The winner of the Barrenjoey trophy, James Hodgson, showed his appreciation by saying, "thanks to Australian Sailing and Yachting Queensland for putting on such a great night. A big thankyou to everyone who has helped me thus far, mainly Mooloolaba Yacht Club and my parents for supporting me along the way."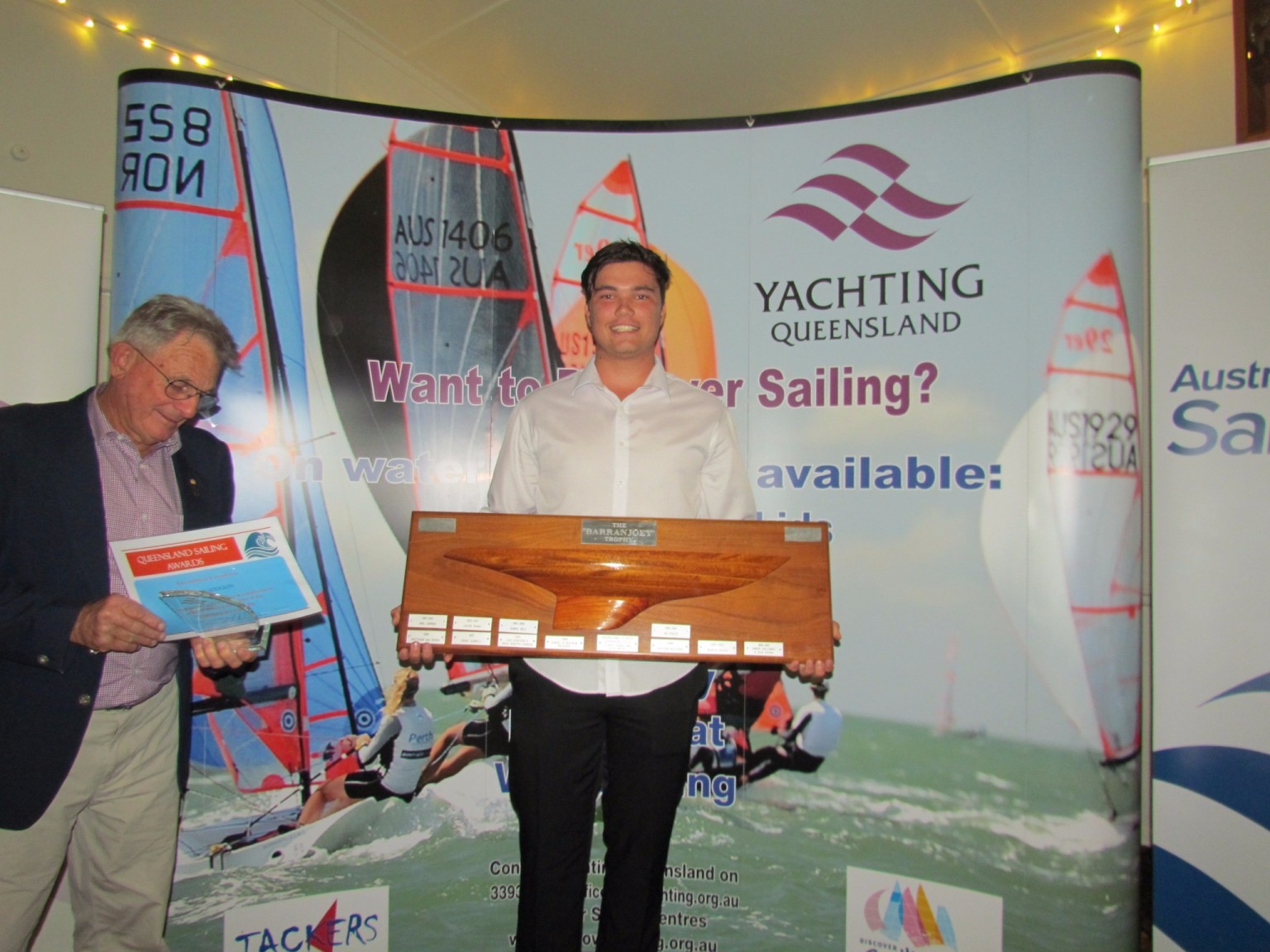 Winner of the Barrenjoey Trophy, Qld Youth Sailor of the Year - James Hodgson
The general feedback received by staff and Board members was very positive with everyone enjoying the friendly, happy atmosphere. Working together in the sailing community we can continue to enjoy functions and awards night like this and celebrate the sailing community spirit and sailors achievements!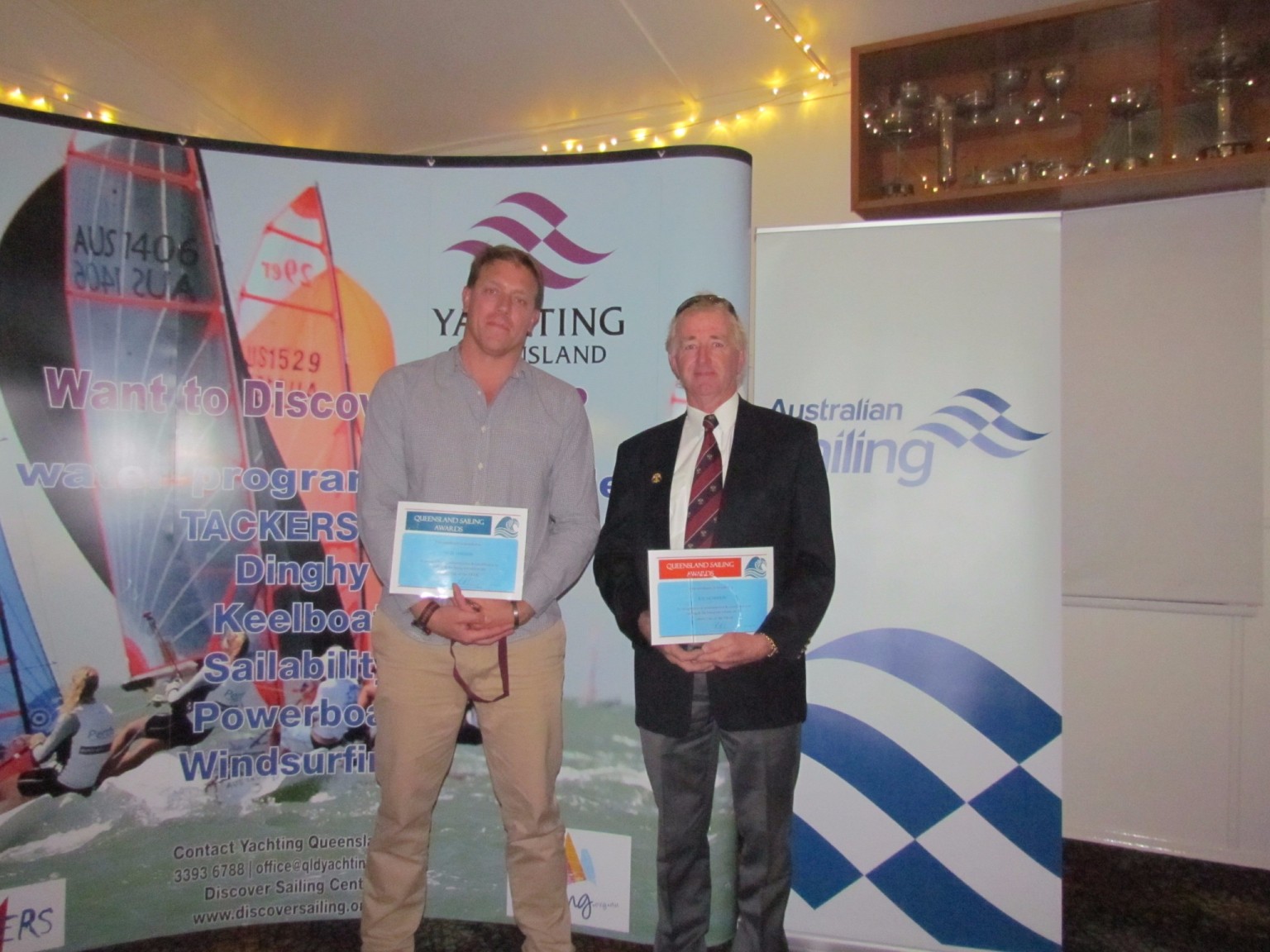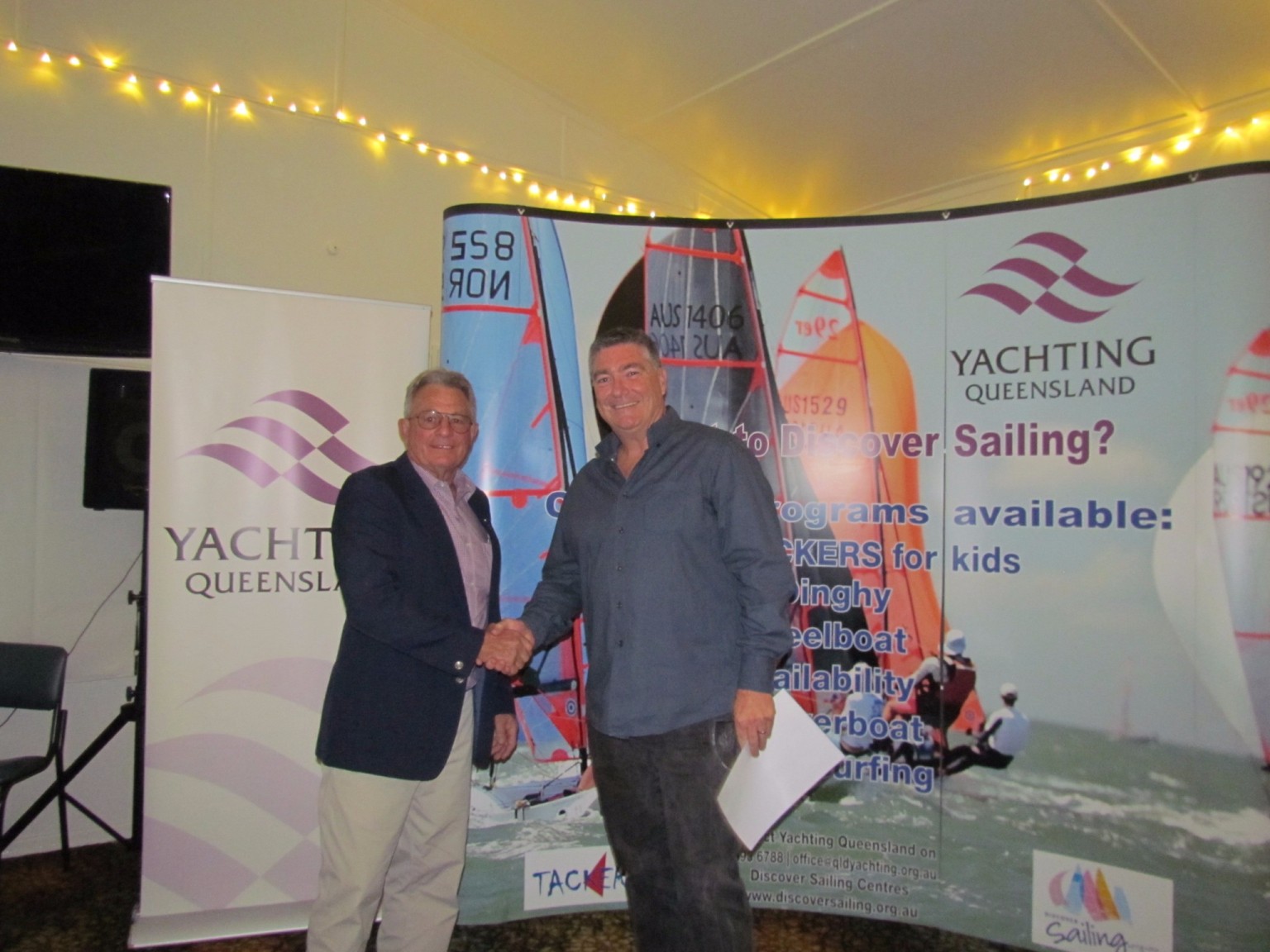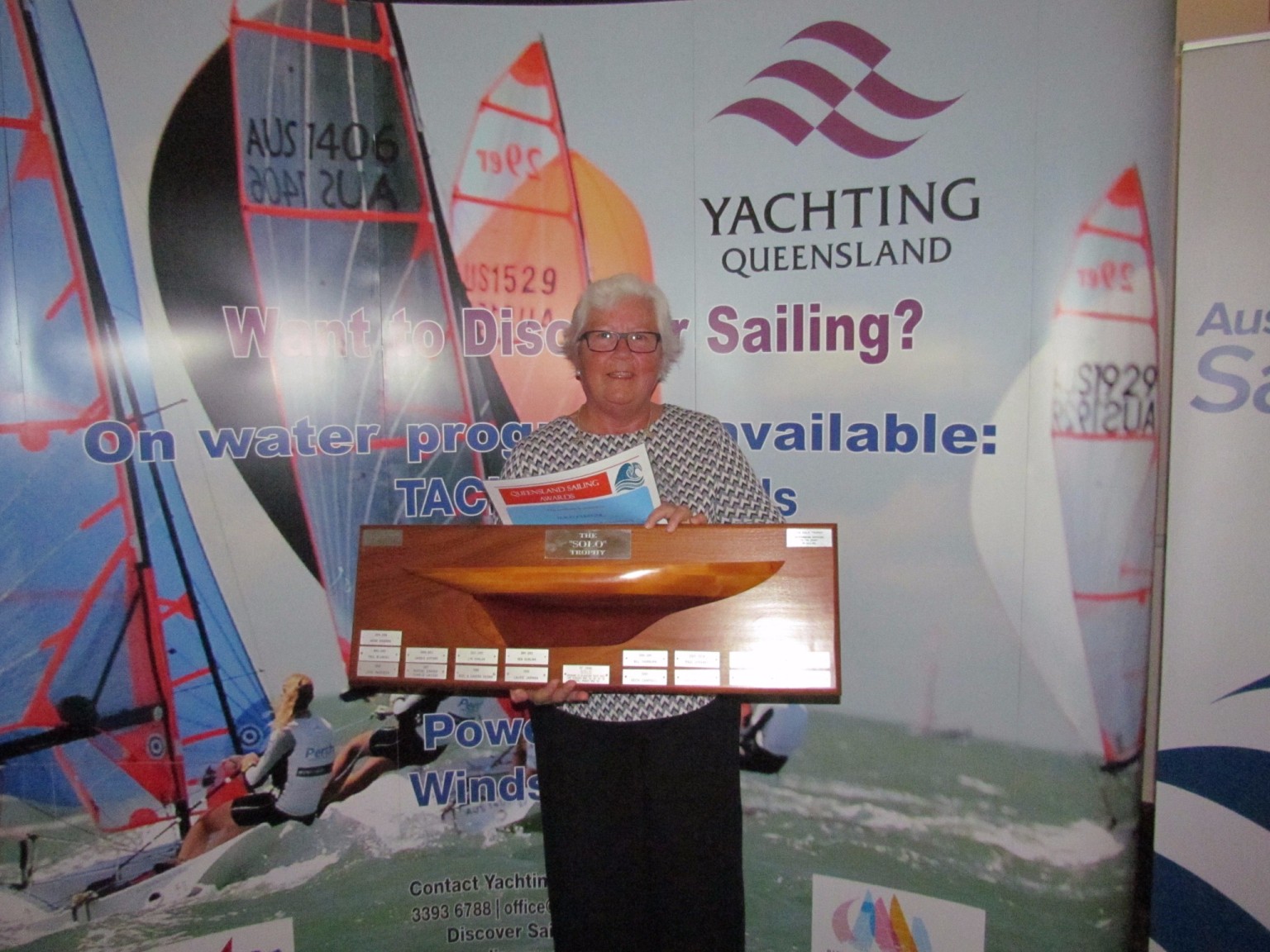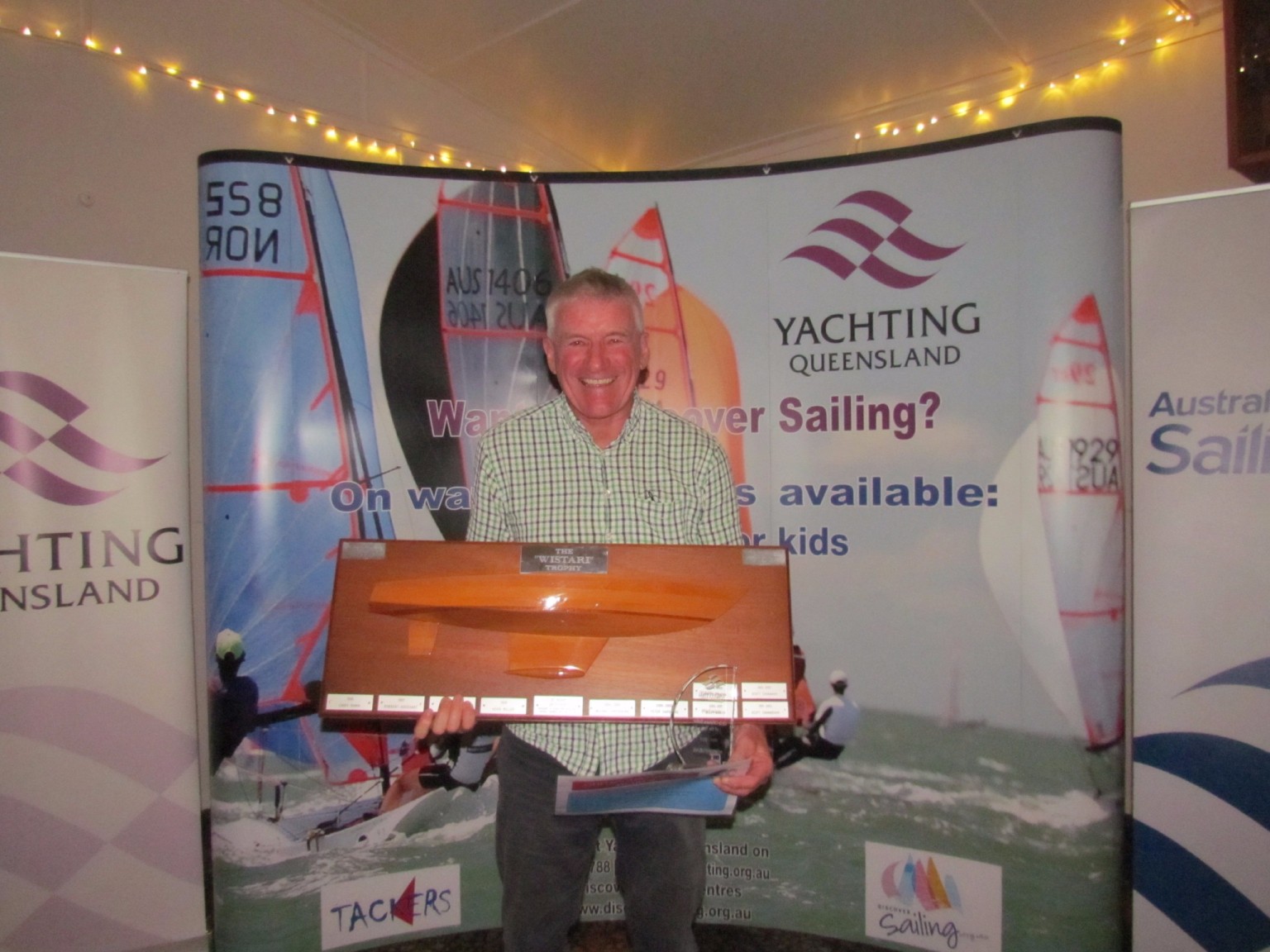 Nominees Official of the Year Winner Club of the Year Winner Solo Trophy Winner Wistari Trophy
Nigel Statham Mooloolaba Yacht Club Tracey Johnstone Mark Hipgrave
Ray McMahon Mike Hodgson