Why Choose Sailing?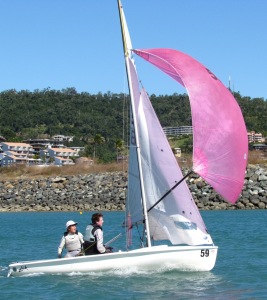 Sailing is a fun, safe, accessible and affordable sport that welcomes participation from people of all backgrounds, ages and abilities. There are many ways to get started in sailing through Discover Sailing and a range of opportunities for you to continue sailing at clubs as you develop your skills, experience and confidence.
Sailing clubs can be found on the coast, rivers and inland lakes in some spectacular locations around the country. There are nearly 400 sailing clubs around Australia with more than 60,000 registered club members and 100,000 people regularly participating in the sport.
You don't need to own a boat to enjoy sailing. There are clubs that provide boats and boat owners looking for crew. You don't need to be a member to get started in sailing because all the Discover Sailing Programs are accessible for people who are not members of clubs.
---
Different types of sailing
There are many different types of sailing to choose from:
Social sailing – Non-competitive participation that involves just going for a sail.
Cruising – A form of social sailing where a destination to sail to is selected.
Racing – A number of boats going round a course in a competitive structure. There are different levels of competition, from more social or introductory racing through to serious national and international regattas.
Ocean racing – A form of competitive sailing that takes place off-shore. One of the most famous ocean racing events in the world is the Rolex Sydney to Hobart Yacht Race.
---
Your First Time Sailing
First time sailing?
Visit the Your First Time Sailing section for everything you need to know to make your first sail enjoyable.
---

All About Boats
Having some knowledge of the different types of boats available will help you decide what type of sailing best suits you.
There are many different designs of sailing boats, from children's dinghies that cost only a few hundred dollars, to maxi yachts and ocean cruisers worth millions. Some clubs will specialise in one type and some will offer a variety. In general, sailing boats fall into three broad categories – Dinghies, Keelboats and Powerboats – but there are hundreds of different types of boat within each – called classes.
Read the Types of Boats section to find out more about the different types of boats.
Browse our online Sailing Shop if you are looking to buy a new or used sailing boat.
---
Sailing Terminology
Sailors use traditional nautical terms for the parts of or directions on a vessel: starboard (right), port (left), forward or fore (front), aft or abaft (rearward), bow (forward part of the hull), stern (aft part of the hull), and beam (the widest part).
Read our Sailing Terminology section to learn more about the terminology.
---
The Sailing Pathway
Like many sports, sailing offers a pathway for new participants to use as a guide to building experience, skills and confidence.
The Sailing Pathway has 10 steps and is applicable to participants of all backgrounds, ages and abilities, in different types of boats. The first few levels introduce new participants to the sport, the intermediate levels are for people who want to race at their club and achieve results locally, and beyond that there are a range of further options including high performance and international competition.
Read the Sailing Pathway section to find out more.
Safety
Safety plays an important part in all sports, none more so than sailing.
Read the Safety section to find out more.
---
Boating Weather
Weather is an important factor of sailing, not so much the temperature or how sunny it will be, but the wind strength and direction.
For more information on how wind and weather play a major role in sailing, read the boating weather page
---
Explanation of Racing

The challenge of racing other boats is what appeals to many sailors.
Read the Explanation of Racing section for more information.