Looking for crew/ available to crew?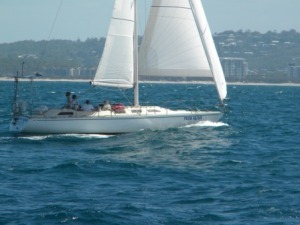 Please email (sunshinecoastyachtclub@outlook.com) us if you are looking for crew, or if you are available to crew so we can post your need/ availability as soon as possible. However if you find you are able to race at short notice please just show up to our clubroom (to the left of "The Yacht Club" restaurant building at Mooloolaba Marina, 33 Parkyn Parade) at the below times. See the downloadable pdf map at the end of this page.(Please also let us know if your need has been met so we can remove your post)
All are welcome –guys & gals, young & old, who have absolutely no experience to the very experienced. Most days you will be back at the Yachtie by 3.30-4pm, but it may be as late as 5.30pm.
If looking for a CREW position could you please provide brief information about yourself including details of experience e.g. beginner/inexperienced, moderate experience, experienced, so as to be able to find the most suitable position for you?
A Social Membership fee of $30- entitles you to three introductory sailing days after which you are welcome to upgrade to a full sailing membership by paying the difference in membership fee. For Membership detail please click Membership.
Remember to bring a drink, sunscreen, wet weather gear (if you have), closed in non-marking shoes with good grip and food (if you think you will get hungry) & get ready for some fun!
WAMS (Wednesday afternoon) races are a staggered start format with the first boat starting at 12.30pm.
Please meet at the clubroom between 11.30-12noon. *
SAMS (Sunday afternoon) races have 2 start times- 11.30am & 12noon.
Please meet at clubroom between 10.30-11am (or come for BBQ - 10am)*
*all crew need to sign on in the clubroom prior to sailing. Skippers may either sign on in the clubroom or over the radio- channel VHF69.
Crew Wanted

There are crew places available almost every Sunday and Wednesday. Just come to the Sunshine Coast Yacht Club clubroom at the times above. (see pdf map link below)
The yacht "Mustang" is looking for regular crew - Sundays & Wednesdays.
Just come to the Club (at 33 Parkyn Pde, Mooloolaba) at the above times and ask for the skipper - Harry Smith.
Crew Available
Put your notice here by emailing the Club.