Home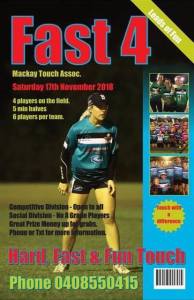 Welcome to the Mackay Touch Football Association
USE OF FIELDS
Anyone wanting to use the fields must ring to book, especially after rain. Please contact Mackay Touch on 0409050554 for more information on the use of fields.
---
CONDITIONS OF ENTRY
As part of entering a team into any Mackay Touch Association competition, every player must abide by our conditions of entry. Before registering a team or registering to a team as an individual please make sure you have read and understood the Conditions of Entry.
---
For any information about Touch Football Mackay
CONTACT MACKAY TOUCH ON:
0409 050 554 OR EMAIL admin@mackaytouch.com.au
Information for Junior Touch Football Contact Junior Touch on 0409 050 711 or email juniorco@mackaytouch.com.au
---
For all referee information and queries please go to www.mackaytouchreferees.sportingpulse.net
---
FAST 4 IS ON AGAIN. FOLLOW THE LINK TO OBTAIN A REGISTRATION FORM.
GET YOUR TEAM READY NOW.
See flyer below for details.