Women's Footy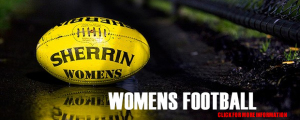 Women's Australian rules football (also known as Women's Aussie Rules, Women's footy, Women's AFL or in areas where it is popular, simply football) is a fast growing sport played at senior level in Australia, United States, England, New Zealand, Canada and Japan.
Although it is a contact sport, women's Australian rules is sometimes played with modified rules for women from the men's game. It is less brutal on the body than Women's American football, Women's rugby league or women's rugby union and offers more physicality than Women's soccer, as well as requiring both hand and foot co-ordination. It is a fast-paced team sport and is played by women of all shapes and sizes.

Canada boasts one senior women's football league and clubs nationwide. Youth girls development programs are established in Alberta, British Columbia and Ontario.
The national team, formed in 2007, is known as the "Northern Lights" and they first competed in two matches against the USA Freedom in 2007.
Current women's football teams in Ontario include:
Central Blues

Hamilton Wildcats

Etobicoke Lady Roos

High Park Demons