British Columbia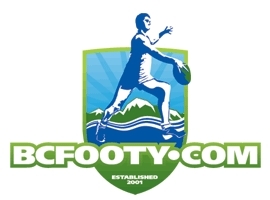 League: British Columbia Australian Football League (BCAFL)
Province: British Columbia (BC)
Website: www.bcfooty.com
Club founders James Lay and Stuart Grills had played Australian Football for the Seattle Cats throughout 2000. Large numbers of Australians visiting Vancouver annually, as well as numbers of non-Australians that had shown an interest in the sport, prompted investigations into founding a club in BC in 2001.

In December 2000, Lay and Grills officially formed the first team in the province of British Columbia; the Vancouver Cougars, the Cougars played their first game on March 17, 2001; an exhibition game of Gaelic Football against the Vancouver Irish Sporting Social Club - men and women. It was a huge success and, even though the Irish won convincingly, it developed a great relationship with their organisation and is now scheduled as the first event of every season, becoming a Vancouver Cougars tradition.

The Cougars slowly helped the development of a second Vancouver area team, the Burnaby Eagles. In 2007 the Burnaby Eagles became their own entity and call Burnaby Lakes Rugby Club their home. The BAFC have grown their numbers and now have a large group of footballers.

The numbers attracted to the fast paced sport helped the Vancouver Cougars split yet again in 2008. This was the birth of the West Coast Saints, coached by former Vancouver Cougars premiership coach Scott Sheen.

There are now four teams located in Vancouver, British Columbia. With the creation of the North Delta Bayhawks in 2009.