Gala Days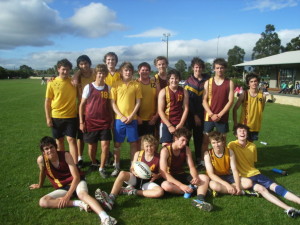 For Information on Upcoming Gala Days, please visit the 'News' section of the Tas Touch website.
Gala Days are a great opportunity for students of all ages and abilities to compete in a fun and motivating setting. Gala days provide opportunities for students to learn the skills and concepts involved with the exciting sport and socialise with their peers in an enjoyable environment.
Gala Days begin in the morning with teams participating in a number of drills and training exercises that focus on developing the basic skills of Touch Football, including the rules, catching and passing, roll ball and rucking and scoring a touchdown. Then later in the afternoon teams will come together to put what they have learnt into practice by participating in a round robin to conclude the day.
Gala Days can be run within individual schools or we can conduct a program that caters for several schools in close proximity.
If you would like to find out more information or to make a booking please contact us.