National Touch League 2018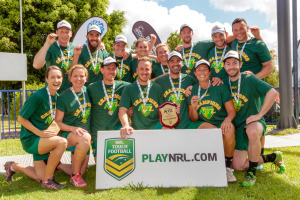 *NTL 2019 dates- Wednesday 13th March to Saturday 16th March*
The National Touch League (NTL) was created in 1997 and is held in March each year in Australia. The premier event is used to showcase representative Touch Football to the nation across Open, Youth and Senior divisions, allowing the nation's best Touch Footballers a chance to compete with and against each other.
In 2018, the tournament ran from the 7-11th March. In a thrilling Grand Final, the Tassie team beat the Brisbane City Cobras 10-6, and were announced NTL Champions. All the players received medals, the Champion T-Shirts (#operationtshirt) and the team took home the NTL Champions 2018 trophy.
Katie Bessell from Launceston and Ryan Smyth from Hobart both received player of the final awards.
Most Valuble Player (MVP) - Ryan Smyth.
Players Player (male)- Simon Sullivan.
Players Player (female)- Chante Ellerton .
Congratulations to the Senior Mixed team, who trained hard and played harder. Such a deserving win to a fantastic Team. Thank you also to Toby Burgess and Peter Hampson, who put their heart and soul into this team. Look out NTL2019!
The Tasmanian Senior Mixed team comprised of:
Toby Burgess- Coach
Peter Hampson- Assistant Coach
Scott Schnitzerling- Captain
Chante Ellerton- Vice Captain
Chris Nason
Jade Polanowski
Jo Brumby
Jon Harmey
Josh Bessell
Katie Bessell
Scott Webb
Simon Sullivan
Stacey Howard
Teena Ryan