Home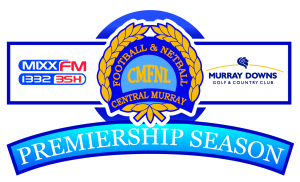 Central Murray Football Netball League
Major Sponsors
WELCOME TO SEASON 2019




The Central Murray Football & Netball League
The CMFNL is led by a Board of Management, with the day-to-day operations being managed by the AFL Vic Country Central Murray Regional Administration Centre.
The CMFL came into existence in 1997, with the merger of the Mid-Murray Football League and the Northern & Echuca Football League. Geographically the league adjoins the Murray River with Swan Hill and Kerang being the two largest and most central towns. The CMFNL is bounded by Balranald in the north and its most southern club, Cohuna Kangas. The league and its clubs draw players from a very large broad acre farming and irrigation horticultural region on both sides of the Murray River.
At the conclusion of the 2009 season the Board in consultation with senior umpires established a new umpiring group, whose members were employees of the Board and not an independent association. This innovative structure, one of the first in Victoria, provided the Board with the capability of re-invigorating umpiring and setting out a new strategic plan, aligned with the goals of the League.
In 2013 the CMFNL merged with its associated netball league; having already merged with the junior football league in 2008.
The CMFNL is strategic, future oriented and focussed on fulfilling its vision;
>> CMFNL, providing a quality sporting environment <<
Affiliated Clubs:
> Balranald
> Tooleybuc-Manangatang
> Nyah Nyah-West United
> Woorinen
> Swan Hill
> Tyntynder
> Lake Boga
> Mallee Eagles
> Kerang
> Koondrook-Barham
> Cohuna Kangas

---
CMFNL Board Chairman:
John Brookshaw
Ph. 0418 342 343
Email: johnbrookshaw@bigpond.com
CMFNL Board Deputy Chair:
Gavin Hore
Ph. 0429 199 016
Email: g.hore@cfa.vic.gov.au
---
Regional Administration Centre Manager: (AFL Central Murray)
Sheridan Harrop
Ph. 0408 807 325
Email: gm@aflcm.com.au
---
League Contact Details:
Central Murray Football & Netball League
PO Box 376
Swan Hill 3585
---
See our Facebook Page:
http://www.facebook.com/#!/pages/Central-Murray-Football-Netball-League/200970580027440
---
Follow us on Twitter: @OfficialCMFNL

---