Fight on the Beaches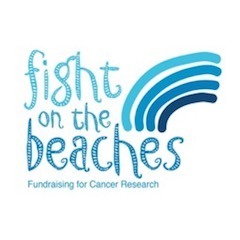 Fight on the Beaches is a Northern Beaches based fundraising group whose aim is to fund Australian cancer researchers in the lab. Over the past 5 years, thanks to the support of the local community, Fight on the Beaches has raised in excess of $1.5 million through its annual 'Christmas in July' Charity Ball held at Miramare Gardens in Terrey Hills. In 2019 the Ball will be held on 5th July 2019 and we will celebrate 6 years of 'Fighting for a Cure.'
Over the past 5 years, Fight on the Beaches has funded 10 cancer researchers which has equated to 10 years of cancer research that would not have happened without the support of the Northern Beaches community.
Julie Randall - Patient 71, a long time Manly Touch member and the subject of a Channel 9 Sixty Minutes episode which told of her fight to survive Stage 4 Melanoma is an Ambassador for Fight on the Beaches.
Manly Touch recently presented a cheque for $1500 to Fight on the Beaches. Thanks to the generosity of our Manly Touch players at 2017 Senior State Cup in Port Macquarie, this $1500 will fund a cancer researcher, in their lab working to find a cancer cure, for a week!
Fight on the Beaches is Manly Touch's community partner and primary charity of choice.
For more information please view the Fight on the Beaches website or their Facebook page.