Play By The Rules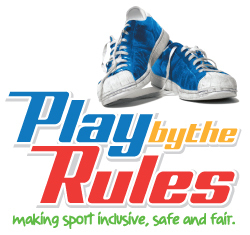 PLAY BY THE RULES
As from December, 2009 the Representative Coaching Policy from NSWTA requires that ALL Affiliate (MWTA) Representative Team Coaches, Assistant Coaches & Managers complete the "Play By The Rules" FREE online training. Please go to the web site for the "free" online training. It is simple to use. You will also find interactive scenarios on the web site. See below link.
Visit http://www.playbytherules.net.au/interactive-scenarios/free-online-training and complete the courses –
1. Child Protection & 2. Harassment and Discrimination. These are 2 new modules which were launched 1st December, 2011. Please give yourself plenty of time to complete.
When you have completed the online training please remember to print out your Certificate. It is also recommended that you save a copy of the Certificate to your computer.
SOME BACKGROUND INFORMATION ON "PLAY BY THE RULES":
Play By The Rules (www.playbytherules.net.au) is a free website which offers online training, information and resources for clubs and sporting organisations to ensure everyone involved in sport can do so in enjoyable, safe environments, free from discrimination or harassment.
Sporting, child protection and anti-discrimination agencies around the country have joined sporting leaders such as John Eales, Layne Beachley and Petria Thomas to encourage community sport and recreation bodies to use the Play by the Rules website, to raise awareness of their responsibilities under legislation and sport law to keep Australian sport inclusive, safe and fair.
The online training takes less than two hours and provides essential information on legal responsibilities for a range of volunteers and members of sporting clubs and organizations.
"Volunteer coaches, spectators and parents also need to understand their responsibilities in giving everyone a fair go in sport" said Burgess. "Respect, constant encouragement , equal opportunity for all regardless of their abilities or gender – these are sporting fundamentals that are also protected by law".
Play by the Rules is a unique partnership between the Australian Sports Commission, Australian Human Rights Commission, all state and territory sport and recreation and anti-discrimination agencies and the Queensland Commission for Children, Young People and Child Guardian.