Delete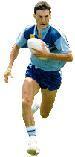 Touch Football – History of the Game:
The first official game of touch was held in the traditionally strong rugby league area of South Sydney. The South Sydney Touch football Association was founded in 1968 and ran a competition in that year.
The New South Wales Touch Association was Constituted in 1972 and at that point there were six competitions and approximately 1500 players.
The matches were held at the aptly named Pioneer Park. Very soon after this, other associations were formed and an inter-district competition began in 1978.
In 1979 the Queensland Touch Association was formed with the four initial districts of North Queensland, Central Queensland, South East Queensland and Wide Bay. The game soon blossomed in New South Wales as well and in 1980 the inaugural National Championships were held. Only three divisions were contested in that year, being the Men's and Women's Open, and the Men's Over 35's. By 2005 the National Touch League (NTL) catered for Open, Under 20's and Senior Divisions.
Touch Football is one of the fastest growing sports in Australia for both Juniors and Seniors. It is already one of the largest participant sports in Australia. The real appeal of the sport is that it is a "minimal contact" sport and it covers both genders, all ages and is a "family" oriented sport (fathers, sons, mothers and daughters).
As at 2010 the number of registered players across New South Wales has reached over 110,000 with over 170 affiliated competitions.
There are currently 250,000 registered players and 500,000 school children playing the sport in Australia. The game has also expanded overseas with International events attracting teams from New Zealand, South Africa, England, Wales, Scotland, USA, Japan, Samoa, Fiji, Cook Islands, Lebanon and Papua New Guinea amongst others.