Little Lightning Squad Information / How to Apply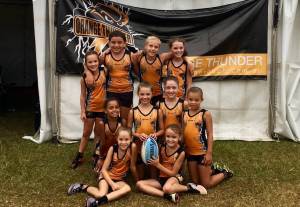 The Orange Thunder 'Little Lightning Squad' will provide skill development opportunities to junior touch football players, who are not yet eligible to be part of the Junior Touch Academy.
The main goal of this squad is to teach correct technique with fundamental touch football skills, which will improve the players touch skills as well as assist in players having an easy transition into the Junior Touch Academy in future years. Please note that participation in this squad does not guarentee future inclusion into the Junior Touch Academy.
This squad will consist of various skills specifically tailored to Touch Football, with coaching provided by fully qualified local coaches.
The squad will meet on Sunday 17 September and Saturday 23 September for training sessions. Time and venue TBA.
Preferred Criteria for Applicants:
Prior to nominating your child for this squad, please ensure they satisfy the following criteria.
- Be a fully financial player who was registered in the 2016-2017 City of Orange Touch Association summer competition, or will be registered in the 2017-2018 City of Orange Touch Association summer competition.
- Be born on or between 2005 and 2007 - both boys and girls can apply.
- Have an interest in the sport of Touch Football and be interested in improving your skills in the sport.
The Academy will be limited to approx 10 male and 10 female junior touch players. There is no positional preferences for application to this squad.
Cost:
There will be no cost for this squad.
How To Apply:
To apply for a position in the Orange Thunder Little Lightning Squad, please go to https://www.surveymonkey.com/r/MRYT3PM and complete the short application form.

Applications for the Orange Thunder Junior Touch Academy close on Thursday 31st August 2017.
Once all applications have been received, all contact parents of players will be contacted to inform them on their successful/unsuccessful application. The squad will also be posted on this website and our club Facebook page.

All enquiries in relation to this squad can be directed to our association by email orangejuniortouch@yahoo.com.au