Junior Touch Academy Information / How to Apply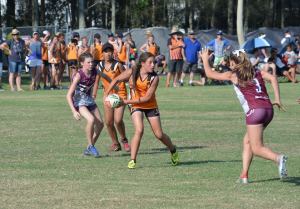 ARE YOU A JUNIOR PLAYER WANTING TO DEVELOP YOUR TOUCH FOOTBALL SKILLS TO THAT NEXT LEVEL?
ARE YOU WANTING TO OBTAIN HIGHER REPRESENTATIVE ACHIEVEMENTS IN TOUCH FOOTBALL?
IF YOU ANSWERED YES TO THESE QUESTIONS, PERHAPS THE ORANGE THUNDER JUNIOR TOUCH ACADEMY IS FOR YOU
The Orange Thunder Junior Touch Academy will provide skill development opportunities to aspiring young touch football players. The main goal of this Academy is to upskill talented players so they can gain higher representative touch football achievements and progress in the sport of touch football.
The Academy will consist of various skills, game sense and educational sessions specificially tailored to Touch Football, with coaching provided by fully qualified local and guest coaches. The Academy will conclude with matches against local and regional level representative teams.
Please see further information about the Academy listed below, as well as how to apply. All information relating to the proposed Academy session dates are located here - http://websites.sportstg.com/assoc_page.cgi?c=0-467-0-97131-0&sID=395450

Purpose:
To deliver a touch football relevant high performance training program to pre-elite, junior touch football players who are affiliated with the City of Orange Touch Association.
This program is designed to assist players in their progression along the Orange Thunder Representative Touch Pathway. This pathway can be viewed within the 'Rep Touch' section of our assocation's website.

Preferred Criteria for Applicants:
The targetted players for inclusion into this Academy would preferably satisfy the following criteria.
- Be a fully financial player who was registered in the 2016-2017 City of Orange Touch Association summer competition.
- Be a female born on or between 1999 and 2004, or a male born on or between 2001 and 2004.
- Be a current Regional, State or National touch football representative within either affiliate or school teams, OR be an experienced Orange Thunder junior representative touch player, OR be a player who is wishing to develop their touch skills to be able to obtain Regional, State or National touch football representative achievements.
The Academy will be limited to 14 male and 14 female junior touch players. There is no positional preferences for application to this Academy. Players who prefer to play middle, link, wing or as a utility, are all welcome to apply.
Cost:
The cost for successful applicants into the Academy will be $25 per player.
How To Apply:
To apply for a position in the Orange Thunder Junior Touch Academy, please go to https://www.surveymonkey.com/r/8KNK7HC and complete the short application form.

Applications for the Orange Thunder Junior Touch Academy close on Friday 16 June 2017.
Once all applications have been received, all players will be contacted to inform them on their successful/unsuccessful application. The confirmed Academy squad will also be posted on this website and our club Facebook page.

All enquiries in relation to this Academy can be directed to our association by email orangejuniortouch@yahoo.com.au