Come & Try Touch Clinics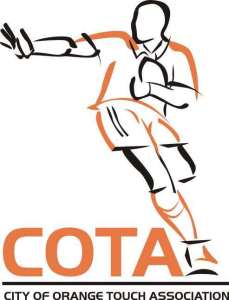 Welcome to the City of Orange Touch Association Online Registrations.
THIS OPTION IS NOW CLOSED. WE ARE NOT TAKING ANY MORE TEAMS ONLINE. PLEASE CONTACT THE ASSSOCITAIONS ADMINISTRATOR IF YOU HAVE ANY REGISTRATION ENQUIRIES ON 0431 393 240
This online registration process is designed to eliminate the needs for paper, and drastically cut down the time for teams to gather information. Not to mention the beauty of being able to register online 24/7.
If you register online, there is no need to hand a form in on our registration day as we will have it, however you still need to pay a minimum of 10 players to secure your team nomination. Teams and players do have the option of registering as normal on the registration day at the club if you wish. Players will still need to sign the original registration sheet prior to playing. (Please read the conditions of entry for registration information).
Once you have registered your team online you will receive a team code, this code must be passed on to your team members ONLY so that they may enter into your team online (Player to Team). Alternatively, when an individual registers, they can add up to ten players at one time into their team (Please have all of your contact details ready to enter into the online rego form)

Online Team Registrations for the 2012/2013 Summer Competition are
NOW OPEN!
---
2012/13 SENIOR COMPETITION:

What do you want to do?
REGISTER TEAM TO COMPETITION
---
2012/13 JUNIOR COMPETITION:

Online registrations are only open for the senior competition. To register in the junior competition, please fill out the forms available in the 'Registration Details' menu (under "More Menus"). OR contact our committee for more information.