Venue & Court Hire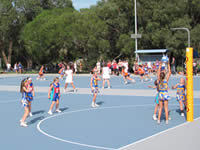 The Knox Regional Netball Centre plays host to many different types of sporting events and general functions including:
Victorian Netball League (VNL) state netball matches.
Netball tournaments including the Central East Zone Association Championships.
Netball clinics
Ready4Net junior netball program for 5-8 year olds.
Roller Derby
Mixed Martial Arts events.
Netball club tryouts and presentation nights.
Karate and martial arts tournaments and presentation nights.
Netball Opera, School concerts ... and more
Our main indoor netball stadium has two full-size netball courts with both permanent and moveable tiered seating making it ideal for sporting events, school functions, trade shows, conventions and school concerts.
We also have 18 outdoor netball courts with 4 netball courts that can be used under lights at night All 18 netball courts feature Rebound Ace netball surfaces.
To find out more about our indoor netball court hire, outdoor netball court hire or any of our meeting room hire on a casual or regular basis, please contact us on (03) 9758 7191 or email knox.netball@knox.vic.gov.au to discuss your requirements and prices.