N.E.A.T Program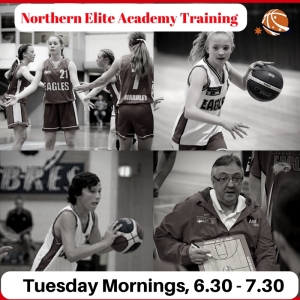 Two and a half hours is the time each Junior Athlete has with their current coach on a weekly basis. You need to put in extra work to ensure you become the best basketballer and athlete that you can be. This can be done by yourself but to benefit, the extra training you do needs to be of an excellent quality. The N.E.A.T. Program will identify aspects to your game that requires improvement and put a plan in place to assist your development. If you're looking to attend Eagles trials, and want to be prepared, this program is for you!
Common feedback we receive is that afternoon/evening development programs are difficult to attend due to other commitments such as sport trainings and school activities. This program is beneficial as it is before school which will reduce the chance of clashing with other commitments.
The head coach of this program, Alan McAughtry, is our Director of Coaching at Diamond Valley. Alan is one of the highest regarded coaches in the state, with plenty of National and International experience to his name. Having been at Diamond Valley for over 9 years now, Alan has been responsible for many of our junior Eagles making pathways into the National and American College systems. The opportunity to work under Alan is something not to be missed!
Venue – Diamond Valley Fitness & Leisure Center
U/12s to U/16's – Tues Morn @

6.30am – 7.30am
Coach:
Alan McAughtry
Director of Coaching – Diamond Valley

Program Includes
8 sessions of skill development – Footwork, Dribbling, Passing & Shooting

Agility development

Individual feedback throughout and at the completion of the 8 sessions

Suited to Rep Level Players
Cost - $120 + GST per person ($132.00 total)
Payment to be made in full

Call the DVBA office for more information on 9432 4720


The Program will start Tuesday 6th February 2018 until 27th March 2018
Places are limited. To register, please complete the Athlete Information Form and return to the Diamond Valley Basketball Office including payment.