Welcome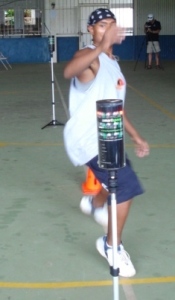 Welcome to the ONOC Development Web Site.
In this Site I hope to bring to you, information and news about the Sports Development Initiatives that are occurring around the Region. In sharing these Ideas and resources with you I hope to help keep you up to date with what is happening and provide you with the opportunity to try new ideas and methods.
There is something here for everybody, from Sports Administrator to Athlete, Coach to Official.
Check out the links to useful resource sites on the internet.
Share document templates for planning and management.
Share ideas for sports development around the Pacific Region.
If you have any questions about sport and sports development, send them through and a panel of experts will be called upon to provide you with the answers that you are looking for.
You are welcome to contribute to this site as well. Just E-mail your articles or photos through to
brian@onoc.org.fj
or let me know when you have put something up on your Web Site that you want to draw attention to. You can
also
contribute to our Poll or to the Forum Sections as well and help keep our feet on the ground when it comes to hearing about the realities facing you all in sport development.
Look forward to meeting you on the Web.
Brian Minikin
Manager - Regional Sports Development
Oceania National Olympic Committees