BBIC 2017-18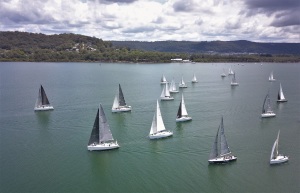 The Broken Bay Interclub Challenge.
Next Race - Pittwater Pursuit 10th March
Notice Of Race Here
Series Race Results. Here
Race Entry - Pay fees for 2017-18 Season to GSC click here unless GSC block entry already complete.
AND!! BBIC Race Entry into RMYC Top Yacht click Here
Important. Please enter into both systems.
About The Series-
The Broken Bay Interclub Challenge Series consists of 4 races between RMYC, Gosford Sailing Club, Avalon, Hawkesbury River, Palm Beach and Pittwater Aquatic Clubs. The races include the Gosford Gallop, Three Island Race, Brooklyn Bash and Pittwater Pursuit. Clubs compete against each other to hold the Broken Bay Interclub Challenge Trophy. Unless otherwise indicated Spinnakers and other 'extras' may be used but are not compulsory.
The rules, Boats are required to comply with Special Regulations Category 7 and must hold a current Safety Equipment Compliance Form.
Scoring, The Broken Bay Interclub Challenge Series winning club is the club with the lowest score calculated by adding together the scores of the three best boat handicap results of each club per race. Low Scoring system will apply. Scoring will be in accordance with RRS Appendix A – Low Point System Scoring and as amended by the Sailing Instructions. Handicapping will be in accordance with the handicap system of RMYC Sailing Division.
Prizes are awarded to the best performing yachts on handicap. Presentation of prizes and notification of results for each race of the Series will be approximately 1 hour after the conclusion of the races. Prizes not collected at that time will be forfeited to the next placed boat that is in attendance at the presentation.