Silver Fleet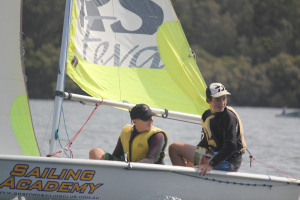 Level Three: The Silver Fleet
The next step for junior sailors who have completed both Level 1 Learn to Sail and Level 2 Start Racing is the Silver-Fleet, an eight week racing program.The Silver Fleet is the junior development division of the Gosford Sailing Club where sailors are introduced to Saturday afternoon competitive racing at Gosford Sailing Club before transitioning into the Junior Fleet.The course focuses on refining boat handling skills including speed, control and manoeuvres, and introducing basic racing tactics and strategies.Sailors are encouraged to sail their own personal dinghy (such as a Sabot, Optimist or PJ). If sailors do not own a boat, they are welcome to charter a club boat (Optimist, RS Feva, Flying Eleven) however this is on a first-in-first-serve basis (contact Sailing Manager Peter Walsh).

The Silver Fleet is coached by an accredited Yachting Australia Dinghy Instructor to improve both sailing and racing skills. Sailors will have the opportunity to meet other Junior sailors who are at a similar level in sailing. While all kids are welcome, please note that parents are required to assist their child prior to sailing with rigging and launching, and post sailing with de-rigging.

Mission Statement: The Silver Fleet aims to develop basic sailing and racing skills to prepare novice sailors for transitioning into Junior Fleet racing. The Silver Fleet promotes inclusive and adaptive learning for sailors of varied skill levels. This course involves both group and individual learning and uses appropriate and simple language. The Silver Fleet encourages competition and constant improvement however also aims to promote the welcoming, supportive and social sailing culture of Gosford Sailing Club.
Course Dates: To be advised (September Period)

Registration link: Will appear here once confirmed
Cost: $65.00 + Junior Club Membership (Once enrolled, please pay/organise membership through the front office of the sailing club asap)
Three key words: Communication, Anticipation, Teamwork

The Silver Fleet: Each sailing session will have a focus topic. However, individualised advice will be given to sailors according to their skill level and progression through the course
Week One

Week Two

Week Three

Week Four

Welcome to the Silver Fleet

- About the Silver Fleet: Sign on/off procedures, briefing & debriefing, transition into the Junior Section, responsibilities of all sailors, chartering responsibilities.

- Revision of sail trim, points of sailing

- Introduction to the Junior Section triangle course

- Starting procedure

Sailing Upwind

- Balance

- Points of sailing

- Tacking

- Anticipation

- Tell-tales

- Communication

- Port and starboard (windward & leeward)

Sailing Downwind

- Sail trim

- Gybing

- Balance

- Anticipation

- Communication

- Centreboard

Starting

- Time management

- Sailing on the start-line

- Observation of Junior Fleet starts

- Stopping the boat

- Rules: penalty for breaching the line in the last minute, port and starboard.

- Anticipation (wind awareness)

Week Five

Week Six

Week Seven

Week Eight

Heavy Wind Sailing

- Depowering the sails

- Balance

- Looking at Wind Forecasts

- Capsizing

Light Wind Sailing

- Sail Trim

- Wind awareness

- Position in the boat (balance)

Rules

Lifts & Knocks

- Buoy Room

- Hitting a mark

- Collisions

- Lifts & Knocks

- Protesting

Revision

This session is an opportunity to revise skills learned over the previous seven weeks in the Silver Fleet, refine these skills and address/discuss individual room for improvement.
Debriefing: Debriefing is an important time for self-reflection. During the debrief, sailors must each come up with one positive experience or thing learned, and one thing they can improve on for the next sailing session. This is also a good time to discuss issues experienced by sailors for the benefit of the entire group, and to answer questions about the day's sailing.

Course: The Silver Fleet will race on the same racecourse as the Junior Section although the Silver Fleet will only complete a triangle. The duration of races is usually around 20-30 minutes. The number of races held will depend on the Junior Fleet racing, usually 2-3 races are held per Saturday.
Starts: The Silver Fleet will have three-minute starts commencing straight after the Junior Fleet start.
3 minutes Class Flag UP (or yellow flag) Horn Sounded
2 minutes Blue Peter UP Horn Sounded
1 minute Blue Peter DOWN Horn Sounded
0 minute Class Flag DOWN (or yellow flag) Horn Sounded
(start)
On the water signals: The sound of a whistle =.sail towards and circle around the coach boat and wait for instructions.
A stop hand signal = stop the boat by releasing the sails and pointing the boat into irons, wait for instructions.
Prior to starting sequence: It is important for the Silver Fleet to stay close to the starting area to be ready for the starting sequence and to be able to watch the Junior Fleet starts. To avoid colliding with other boats on the start line, Silver Fleet sailors should stay to the right of the start-line when waiting for their starting sequence to begin. This is also the area where sailors who have finished a race should wait to steer clear of other sailors still racing to the finish.
Please direct further questions to Peter Walsh at peter@gossail.com.au