Wyndham Suns Auskick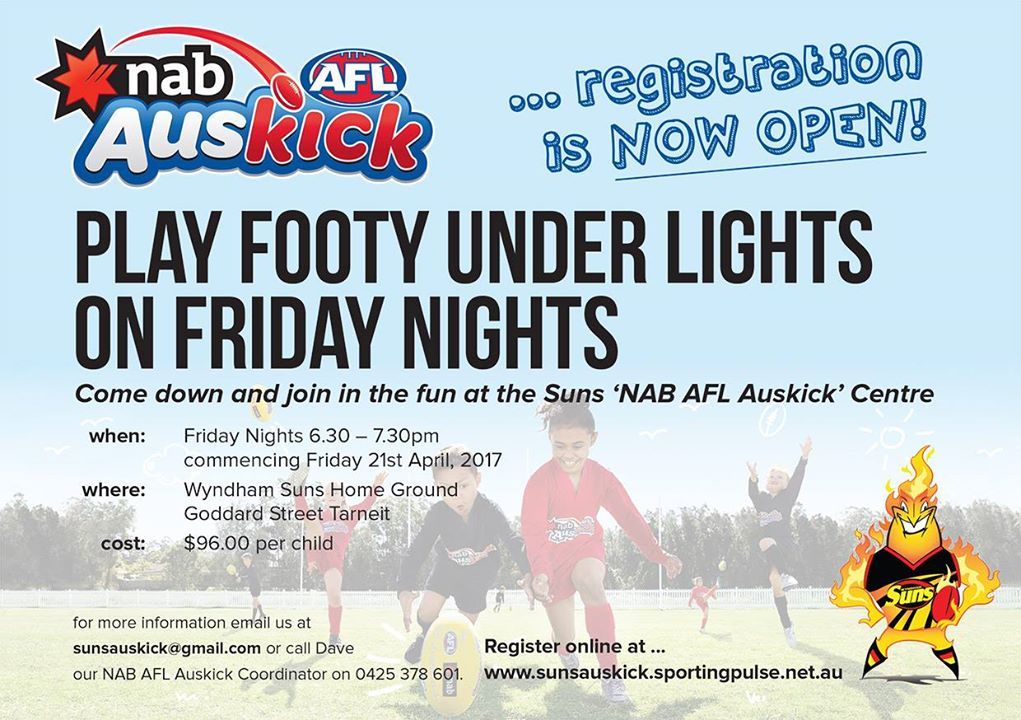 Wyndham Suns Auskick is located at Goddard St Reserve in Tarneit. The centre runs on Friday nights from 6.30pm - 7.30pm .
Auskick is for all boys and girls from prep through to grade 6. It's a fun way to learn the skills of Australian Rules Football, stay active and healthy and meet lots of new friends. You may even have the chance to play on the MCG or Etihad Stadium!
Auskick is great fun for parents too. The program can't run without parents help so come down ready to jump in and help the kids have fun.
If you'd like more information or you'd like to volunteer to help out please drop us a note at sunsauskick@gmail.com
We look forward to seeing you at the Suns Auskick in 2017
more -->

If you have boots that your child no longer uses or fits in too, we ask if you could donate them to the Suns Auskick Footy Boot Drive.
These boots will be made avaliable to other members of the club. The boots will then be sold for $10 a pair with all the money raised to be put back into the centre to purchase more equipment.
Please contact auskick@wyndhamsunsfc.com.au, if you have some boots to donate.
more -->