The 1980's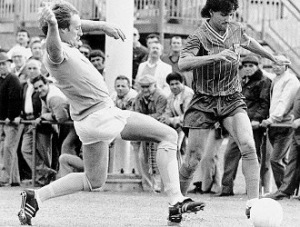 Frank Bate
The tall and powerful Frank Bate was one of WA's most dynamic strikers in a golden five-year spell before a serious knee injury brought a premature end to his sparkling career. Born in Selby, Yorkshire (England) in 1964, Bate emigrated with his parents in 1974 and joined Kingsway as a junior. He first made a telling impact in 1989 when he won the Golden Boot as game's top marksman with seventeen goals for Stirling Macedonia. He set a club record of seven goals in the 10-0 D'Orsogna Cup win over Albany in 1990 and commenced a two-year stay in the national league with Wollongong Wolves later that year. Perth Italia lured him back to the west in 1992 when he scored fifteen goals in fourteen appearances for the club. In 1993 he bagged twenty-eight goals in twenty-six games as Italia won the league title. A knee operation at the end of that season was a severe blow, and Bate played only a handful of games in 1994 before retiring at the age of 29. He played nine times for the State team, scoring three goals.
Pictured: Allan Pottier (right) is challenged by Graham Normanton
Ronnie Campbell
A dynamic scoring midfielder, Ronnie Campbell arrived from Scotland in 1980 and served Azzurri for his first three years in his new homeland. He was part of the side that won the First Division championship in 1981 - the first of six championship medals to his credit. He moved to Stirling Macedonia in 1983, winning three First Division championships in succession. He was to win to further championships with Floreat Athena (1990 and 1991). He also won one D'Orsogna Cup, one Night Series and one Top Four Cup. His personal pinnacle was reached in 1985 when he won the Rothmans Gold Medal for the 'Fairest and Best' player in the state. He moved to Victoria to play for Preston in the national league, making 63 appearances for 15 goals. He later coached Preston and then had a season with Heidelberg before returning to Perth in 1990 and joining Athena for more accolades. He represented the State on thirteen occasions and scored the winning goal in a 2-1 victory over the Socceroos in 1983.
Jeff Curran
A Scots-born defender, Jeff Curran moved to WA in 1987 and in four short years stamped his presence into the state's rich soccer history as a talented player of the highest order. He gained much of his experience with Scottish side St Mirren and also had a few seasons in Hong Kong. During his time at Athena the club won one First Division championship (1988) and three D'Orsogna Cups (1987, 1988 and 1989). Curran underlined his quality by winning two 'Fairest and Best' awards as the player of the year in 1988 and 1989, and added the D'Orsogna Medal as the best player in the 1989 Cup final. Because of dwindling opportunities on the international stage at the time, Curran gained only three selections for WA, being appointed captain of the side that lost 2-1 to Moscow Torpedo.
Robbie Dunn
Robbie Dunn, born in Scotland, is Western Austrlaia's second most capped international with forty-four appearances for Australia, and one of the nation's most outstanding defenders. He started his career with Kwinana United, moved to North Perth Croatia before travelling east as a 17-year old to join West Adelaide which was followed by spells with Preston Makedonia and Melbourne Croatia in an 168 game, 54 goal national league career - quite an achievement for a central defender! He scored five goals for Australia, two in World Cup qualifiers, and played in the 1988 Olympic Games when Australia made the quarter-finals. Five times he won the club 'Fairest and Best' award while in Melbourne. It was back to WA in 1989 to play for Perth Italia followed by two seasons with South China (Hong Kong) and another with Sarawak (Malaysia). Dunn played only once for WA, that being against English club Milwall in 1989. He ended his playing days with North Perth Croatia in 1992 as player/coach, followed by a short comeback with Second Division Cockburn United in 1995.
Alistair Edwards
Born in South Australia to Scottish parents, Alistair Edwards' family moved to Kwinana where he joined the local juniors and then represented WA in the team that won the 1986 Australian Under-18 title. He made a couple of appearances for the State senior side at the age of 17 before attending the Australian Institute of Sport in Canberra. The tall, lean striker had a spell with Glasgow Rangers before joining Sydney Olympic and scoring the winning goal in the 1989 national league grand final. He then tried his luck in Asia, where he turned out for the Singapore FA, Jahor, Selangor and Sarawak. Edwards then moved to England, making one first-team appearance with Brighton and Hove Albion and four with Millwall. He briefly rejoined Olympic before linking up with Perth Glory for whom he played 93 times and scored 24 goals. In all, he made 173 appearances in the national competition. Edwards won twenty-two caps for Australia, scoring five goals. He is currently coaching with Australian Under-19 women's team.
Kevin Elliott
Born September 1958 in Bishop Auckland (England), Kevin Elloitt is one of the finest strikers ever to grace the playing arenas of Western Australia. His fondest memory is his debut for Hartlepool against Lincoln City in front of 8,000 fans which preceded stays with La Louvire (Belguim), Edgeworth (New South Wales) and Eastern (Hong Kong) amongst others. He arrived in Perth to play for Spearwood Dalmatinac, Perth Azzurri and Stirling Macedonia during which time he won an astonishing five D'Orsogna Cup medals and two D'Orsogna 'Fairest and Best' medals (1985 and 1994). He was also top scorer in the State League in 1984 and 1986. Yet, he says the honours which give him the greatest satisfaction are the three Player's Player of the Year awards for seasons 1982, 1983 and 1984. Elliott played twice for the State.
Tony Franken
Tony Franken tasted the big time as a member of the Australian side that played Mexico in front of over 100,000 spectators at the Azteca Stadium in the World Youths Cup finals. A product of the East Fremantle Tricolore youth system, he accepted a place in the Australian Institute of Sport after starring for the State Under-16 side. He first played national league football with Canberra City and later turned out for Parramatta Eagles, Apia Leichhardt, Sydney Croatia and Sydney Olympic before being tempted back home in late 1997 to join Perth Glory. When he retired in mid-2002 Franken had made a total of 278 national league appearances, making him one of the competition's longest-serving keepers with sixteen successive seasons. He also played for Australia's Under-20's and the Olyroos, as well as making fourteen appearances for the Socceroos. Modest and likable, Franken is currently the goalkeeping coach with the Olyroos and Socceroos. His father, Frank Franken, was also a notable keeper in Western Australia.
Ross Greer
Ross Greer played for six different local clubs, in England, Hong Kong and Malaysia, and represented the State thirteen times in a colourful career. His dynamic runs and goalscoring feats allowed Greer to break into East Fremantle Tricolore's ranks as a teenager, a short spell with English club Chester City followed, before he starred in Floreat Athena's league title win of 1988 and their minor premiership success two years later. He joined South China and was Hong Kong's player of the year in 1991 before linking up with Eastern for five seasons. He played at representative level for Hong Kong against the likes of AC Milan, Sampdoria, Tottenham, Chelsea, Sweden and USA. Greer had brief guest spells with Dalmatinac and Bayswater before joining Sorrento in 1997 and figuring in the club's success in the 1999 Top Five Cup and the 2001 Premier league championship before ending his professional career at 36 with Leeming Strikers.
John Hunter
Scottish-born John Hunter, a big, burly striker, easily rates in the top bracket of goalscorers in the local game. He had a good turn of speed and his ability to find the back of the net appeared effortless. He started his WA career with Macedonia in 1986 and the following year topped the goalscoring charts with 19 goals. Three seasons later he again ended on top by notching up 31 goals from only 17 games with Floreta Athena which included two hat-tricks and three four-goal hauls. It was the best scoring performance in WA since 1972 and, not surprisingly, Hunter was awarded the 1990 Gold Medal for the 'Fairest and Best' player of the season. His decision in 1991 to play in the Malaysian league for a number of years, and the fact that international visits to and from Perth had dried to a trickle, clearly affected his opportunities to play for WA. He gained just one selection for one goal in a 1-2 loss to Moscow Torpedo in 1990. On a personal level he won four First Division championships - three in succession with Athena (1988, 1989, 1990) and one with Inglewood - two D'Orsogna Cups and three Top Four Cups.
Willie McNally
A goalkeeping legend of every sense of the word, the evergreen Willie McNally was playing up until his 48th birthday in 2003. Born in Northern Ireland, he arrived in Perth via New Zealand and joined Olympic before figuring in Azzurri's remarkable unbeaten championship side of 1981. He then linked up with Adelaide City for seven seasons, winning the national league crown in 1986, and returned to WA to again play for Olympic where he won another league title. He played for Macedonia, Athena, Sorrento, Wanneroo, Swan I.C., Bassendean Caledonian and Sorrento again, along the way collecting First Division titles with Swan and Caledonian. He captained the State team in the Marah Halim Cup, all up making nineteen appearances in WA colours. At the age of 37, his reflexes were as sharp as ever when he was a key figure in WA's famous 3-2 victory over European kingpins Werder Bremen in 1992.
Peter Murphy
Scottish-born striker Peter Murphy joined East Fremantle Tricolore in 1984 as a 23-year old and made a quick impact with his prolific goalscoring. He joined Perth Italia and, in 1990, equalled the State record with a nine-goal haul in a 10-1 league win over Kwinana. He starred in the Italia side that won the 1990 and 1991 Super League grand finals and got the winner in the 1992 Night Series triumph. He also featured in the 1993 League win, Top Four title success and scored in Italia's 1993 D'Orsogna Cup final win. A clever player with lively feet, Murphy was the league's top scorer in 1995 with seventeen goals for Swan I.C. at the age of 33. He got both goals in Stirling Macedona's 1996 D'Orsogna Cup final win over Sorrento, and had spell with Fremantle City - and in the national league with Melbourne Croatia. In all he played seven times for the State.
Matt Pearson
English-born Matt Pearson was one of those players who got on with the job, driving his team - Spearwood Dalmatinac - from midfield with vision and authority. His partnership with Dalmatinac coincided with the club's golden era in the 1980's when Pearson picked up two First Division championships (1982 and 1986), between which came three runners-up placings for the club. There were also three D'Orosgna Cup medals (1983, 1984 and 1985) while he also has in his trophy cabinet a Top Four Cup medal from 1982. It is no surprise that Pearson was selected in the State side on twenty-three occasions, and gained the ultimate accolade when he appointed captain of the side against Queens Park Rangers in 1982. He also captained the side which competed in Thailand's Kings Cup in 1983 in which WA finished third, beaten 2-1 after extra-time by Indonesia in the semi-finals.
Allan Pottier
South African born midfielder, Allan Pottier joined Cracovia on his arrival in WA in 1980 and from the start it was difficult to categorise his position. He played equally effective in defence, midfield or in attack where his ability to read the game and his pace left many an opponent in his wake. His transferred to Gosnells City in 1982 and did much to win the D'Orosgna Cup for his new club that year, scoring the first goal in a 2-1 victory over East Fremantle Tricolore and laying on the second. In 1983 he moved to West Perth Macedonia for four seasons, helping the club win three consecutive First Division championships before he decided to try his luck with the Sydney club St George, making more than 70 appearances for seven goals. He signed for Perth Italia in 1990 and was instrumental in bringing many awards to the club over an eight-year period. He made his State debut for WA in 1981 with a four-match tour to the Marah Halim tournament, and added a further twenty-one matches to his State record for three goals. In all he was a member of five First Division championships, three D'Orsogna Cups, one Night Series and five Top Four Cups.
John Spanos
Born in Leeds (England) in 1961, John Spanos played for Ascot before collecting the 'Best First Year Player' award at Morley Windmills as a 16-year old. The eastern states then beckoned the talented utility player in 1980 and he didn't hesitate in making an impression with Sydney City. He won the national league's 'Under-21 Player of the Year' that same season and rates his debut against Heidelberg as his greatest highlight, scoring on debut. Spanos won three national league titles (1980, 1981 and 1982) with the Sydney club, and later played for Heidelberg, Marconi and Blacktown City for a total 138 appearances and eight goals. He represented the Australian Schoolboys and Under-20 sides before gaining his first A-international cap against Indonesia in 1980 and made two 'B' appearances against Dynamo Zagreb not long after. He closed his playing career in the South Australian local leagues with Port Adelaide and Adelaide Cobras. He played twice for the State, scoring one goal.
Norrie Sutton
This diminutive Scot was a midfield dynamo and holds the unique record of winning the Gold Medal for the season's 'Fairest and Best' twice - a staggering fourteen years apart but with the same club, Kiev, in 1982 and 1996. For Norrie Sutton the first medal was a sensational start to his WA career, having arrived in Perth from Hong Kong club Eastern. Between his stints with Kiev Sutton played for Azzurri, Athena, Macedonia and Croatia. He went on to be part of Athena's three successive First Division championships (1988, 1989 and 1990) and Macedonia's two in-a-row championships of 1994 and 1995. He captained Inglewood to its first league title in 1996. He also won two D'Orsogna Cups, six Night Series and four Top Four Cups - a remarkable record. He was picked eleven times to represent WA including two trips to Asia for a three-match tournament in Indonesia and the Kings Cup of Thailand, both in 1983.
Robert Zabica
Robert Zabica, one of Western Australia's greatest ever goalkeepers, played forty-two times for the Socceroos. Born in Spearwood in 1964, he started his career with Cockburn and had spells with Dalmatinac and Macedonia before joining Adelaide City for seven seasons, winning National Soccer League crowns in 1992 and 1994. He played for Australia in the qualifiers for the 1994 World Cup finals, losing narrowly to Argentina. A nagging knee injury forced his international retirement, but he made a comeback in 1995 with Dalmatinac with whom he won the D'Orsogna Cup. He made his State debut at the age of 31, captaining the side that beat West Ham United in 1995, and went on to play a further five times for WA. He returned to national league level in 1997, making seven appearances for Perth Glory and taking his career tally to 202 games. He had a three-match spell in England with Bradford City in late 1997 and returned to Perth to play for Bayswater City, Inglewood United and Fremantle City.
Last updated 20th April, 2009