The 1970's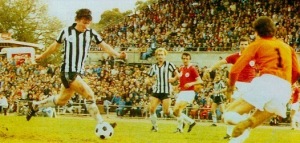 Lee Adam
Lee Adam arrived from England in late 1976 and the following year commenced a productive four-year stay with Kiev, winning D'Orsogna Cup and Night Series medals in 1977. He ventured east to join Wollongong in the National League in 1981 and would make more than 80 appearances with the club before returning to Kiev in 1984 to end his playing career. Any player who wins two Rothmans Gold Medals for the 'Fairest and Best' player of the season must have consistently shown something special on the field and Adam certainly could be called 'Mr Consistency'. The tall blond midfielder earned his first Gold Medal in 1978 and then completed his double two years later. He made his State debut in 1979 playing in the centre of the defence against English club Norwich City. He made a further five appearances in WA colours, scoring a goal against the Combined Australia Croatian touring side in 1979.
(Pictured: Gary Marocchi charging in on goal for Adelaide City in the 1979 Phillips League Cup final against St George).
Denis Barstow
Born in Halifix (England), Denis Barstow started his Australian playing career in Sydney before moving to Perth to join Cottesloe. He signed for Morley Windmills in 1972, a club to which he remained loyal for twelve years. In that time he gained thirty-two caps for the State side, being appointed captain on fifteen occasions. He has one First Division championship as well as three D'Orsogna Cup successes and one Night Series Cup. In the D'Orosgna Cup win of 1974 he was named 'Man of The Match'. He moved from Windmills for a short stint with West Perth Macedonia when he was offered the position of player-coach and then rejoined Windmills to do the same job.
Arno Bertogna
Perth-born Arno Bertogna was a State representative, an Australian youth international and a quality senior Australian international playing the centre of the defence. As a 16-year old he signed for Azzurri in 1976 and played in their senior side for three years before moving east. In that short time he earned a First Division championship medal abd helped the club to victory in the Top Four Cup, both in 1976. In New South Wales he played in the national league for Newcastle, Woolongong and Apia Leichhardt, playing 228 games and captaining Apia for two seasons. Bertogna played for WA on five occasions including the 1977 Indonesian Marah Halim tournament. Internationally, he made fifteen appearances in the Australian Under-23 side, fourten as captain, and gained thirteen caps for the Australian senior side. He ended his career as coach of Apia (Sydney) in 1998 and 1999.
Sandra Brentnall
Born in England, Sandra Brentnall emigrated to Perth in 1974 and broke down the gender barrier at her school when selected for the boys team which she would captain at the age of 10. She started her senior career three years later with Kiev, ending her debut season as the club's top goal scorer and runner-up in their 'Fairest and Best' award. In a twelve-year senior career Brentnall would play with only two clubs, her time shared equally between Kiev and Olympic Kingsway and winning 'Fairest and Best' awards in each of her seasons as well as being leading goal scorer. For eight years (1977-1984) she was a permanent fixture in the State side and in 1987 made a comeback to captain the team. In 1976 Brentnall was selected in the national up and coming squad and was then picked for the senior national side for the next eight years. In 1979 she was in the Australian side for the Women's World Cup tournament after which she was voted the tenth best player in the world.
John Davidson
Born in Aberdeen, John Davidson represented Scotland at youth level. He started his local career as an 18-year old in 1970 with SMA Cottesloe and fifteen years later ended his playing days when a head injury suffered during a match threatened his life. In between those dates he had a short breaks with Sydney's Western Suburbs, Albion Leyland in Victoria and a six-month stint with Carline Hill in Hong Kong. He had six seasons as club captain with Inglewood Kiev, joined Third Division Sorrento for the 1983 season and finished his career with Azzurri in 1985. In 1974 he was picked in the Australian Under-23 side for a seven match international tour of Asia, playing all games. In addition he was selected twenty-one times for the State and scored a number of memorable goals, especially the one against his former club Aberdeen. Davdison one premiership, one D'Orsogna Cup, one Top Four Cup and two Night Series'.
Reg Davies
Born in the Welsh valley town of Cymmer, Reg Davies boasts a stellar football career which includes playing alongside and against some of Britain's finest. He was a talented right-footed forward and made 41 appearances with Southend United before joining Newcastle United where, at one time or another, he played in no more than five positions alongside such luminaries as Jackie Milburn. He played 157 games for the Magpies and six times for Wales, being a teammate of the great John Charles. Davies also lined up for Second Division side Swansea, where would later receive a Legend tribute, before moving to Carlisle, Merthyr Tydfil and finally with his brother John at Kings Lynn in the Southern League. It was there he suffered his first serious injury (knee) but it didn't stop him playing, despite doctors recommendations. In 1971, Davies headed to Perth where he played for Bayswater United, Ascot and finally East Fremantle Tricolore, whom he coached to a D'Orsogna Cup in 1978. He represented WA in January 1972 at the remarkable age of 42, however, it wasn't the debut that he would have preferred, after breaking ribs and puncturing a lung during a friendly with German side Hertha 03 Zehlendorf. Among countless memories, Davies swapped shirts with Manchester Uniteds' Duncan Edwards after a Wales-England game not long before Edwards lost his life in the Munich Air Disaster. That shirt is now on display at Old Trafford, while Davies' top is on show at the Edwards museum in Dudley.
Len Dundo
A product of WA and born in Midland in 1946, Len Dundo carved out a twenty-two season First Division career to stamp his authority as one the leading goal scorers in the history of the game in this state. He started his senior career with Swan Valley in 1961, ten years later joined Inglewood Kiev and then moved to Kingsway Olympic in 1976 before ending his playing days with Osborne Park Galeb in 1983. In between he finished on top of the goal-scorers list an astonishing seven times - 1972, 1973, 1974, 1976, 1977, 1978 and 1979. He was selected eighteen times for State honours which included tournaments to Asia, and he helped the clubs he was with to two First Division championships, three Top Four Cups and one Night Series.
Ernie Hannigan
Born in Glasgow in 1943, Ernie Hannigan's resume portrays him firstly as a footballing nomad before gaining the reputation as one of the best outside-right's Western Australian fans had seen during the mid-to-late seventies. He made his debut at Queen of the South in 1961 as a 17-year old, moved to English Second Division outfit Preston North End in 1964 and tranferred to First Division club Coventry City for £55,000 three years later. In 1971 he had a spell with New York Cosmos and landed in Perth to join Stirling City. In 1975 he won a D'Orsogna Cup with Morley Windmills, was the recipient of the D'Orsogna 'Fairest and Best' medal and came runner-up in the Rothmans 'Fairest and Best' Medal. Hannigan made the first of twelve appearances for the State in May 1974 against touring Scottish side Aberdeen at Perry Lakes Stadium.
Ray Ilott
A Londoner born in Highbury in 1948, Ray Ilott emigrated to WA in 1970 and joined SMA Cottesloe where his speed, skills and goalscoring ability had a huge impact. During his nineteen-year career on the local scene, fourteen of them as a player, Ilott played five times for Australia. He was picked to play for WA on thirty-two occasions at a time when WA finally emerged from the dark ages and started to win major tournaments in Asia. He played with SMA Cottesloe, Rockingham, Floreat Athena, Forrestfield, and Balga, while he coached with some success at Forrestfield, Wanneroo, Hammersley, Stirling Macedonia, and Kingsway Olympic. As a player he enjoyed five major trophies, winning two First Division championships, two Night Series and one Top Four Cup. Ilott won the 1974 Rothmans Gold Medal as the top flight's 'Fairest and Best'.
Sauro Iozzelli
Born in Perth, Sauro Iozzelli made an impact from his junior days and gave every indication that he would go all the way in the game. And in a fifteen-year senior playing career, most of which was spent with Azzurri but also included a short time with Osborne Park Galeb, he did just that. He was selected thirty-seven times for the State and was an integral part of the WA team's success in overseas tours, including winning the Indonesian Marah Halim tournament in 1976. He was appointed State captain on three occasions, and twice gained selection for Australia while playing in an eleven-match spell with Brisbane City in the national league. In his local career Iozzelli picked up winners medals for three First Division championships, two D'Orsogna Cups, three Night Series and one Top Four Cup.
David Jones
Fremantle-born in 1955, David Jones was the perfect example of local talent emerging and shining at the highest level in Australia. He gained selection in the Kwinana side at 16 and stayed with the club until 1976 when he moved to East Fremantle Tricolore for one season. Jones then went to South Australia where he played in the national league for West Adelaide and Adelaide City, and then to Melbourne, where he appeared with Preston. The highlight of his career was his selection for the national side on five occasions for the World Cup qualifiers. He was also picked for the State twenty-four times which included two trips to Indonesia for the Marah Halim tournament, both of which WA won. He returned to Perth in 1984 to play for Azzurri and two years later he retired. His loyalty to Kwinana and his eastern states sojourn probably cost Jones the chance of major trophies in club competition having only one D'Orsogna Cup with Tricolore in 1976. However his value can be gauged by the fact that he won the Gold Medal in 1975 with 51 points, one of the highest tallies recorded in the prestigious individual award.
Nick McCallum
Born in the highlands of Scotland, Nick McCallum emigrated to Australia in 1968 and joined Victorian State League club George Cross. During the next three years he was twice selected for Victoria and picked in the 1969 Australian World Cup training squad. The same year he transferred to Melita Eagles (New South Wales) for a then record transfer fee of $6,000. After a compassionate return to the United Kingdom in 1970 he returned to Perth and played for East Fremantle Tricolore, Windmills and Kiev. McCallum was picked in the 1975 State side that won the Indonesian Marah Halim tournament where he collected the tournament's best player and leading goalscoring awards, an achievement he repeated a year later when WA successfully defended their title. McCallum played seventeen times for WA and his 16 goals still stand as the highest tally since the war. Four times he picked up D'Orosgna Cup medals, three Top Four Cups, two Night Series.
Gordon McCulloch
Gordon McCulloch was brought over from Scotland to play for Azzurri by coach Mal Brown in 1974. An aggressive, skilful midfielder, McCulloch was a significant contributor in the club's successive championships of 1975 and 1976 as well as one Night Series (1975) and two Top Four Cups (1974 and 1976). He was also a dominating presence in the West Perth Macedonia side from 1980 for four years with who he won one First Division championship (1983), a D'Orsogna Cup (1980) and a Top Four Cup (1983). McCulloch also enjoyed a three-season spell in the natioal league for West Adelaide. On fourteen occasions he was called up into the State side and was a tower of strength in the midfield when WA won their second successive Indonesian Marah Halim tournament in 1976.
George McMillan
A dynamic striker who was born in Scotland in 1952, George McMillan played with the strong Azzurri club for three years after arriving in Perth in 1974. He won the top goalscorer's award in 1975 to go with numerous team trophies with the Blues. He scored some classy goals in the Marah Halim Tournament in 1976, and found the net in WA's famous win over Glasgow Rangers during his nineteen gmes for the State. McMillan headed east the following year to play three seasons for Preston (Victoria) before turning out in the national league between 1981-1985 with Preston for a total 124 appearances and 13 goals. The sharp-shooter then returned to the Melbourne local leagues the following year with Thomastown until 1989.
Saverio Madaschi
Saverio Madaschi, who was born in Perth, made an impact when he was a junior with Bayswater United, a club he joined in 1970. As a 15-year old he made the first of two seven-match tours of Indonesia with the WA State Under-17 squad, being named 'Man of the Tour' onhe second visit. >From Bayswater he moved to Sydney in 1973 to play with Western Suburbs before returning to sign with Inglewood Kiev in 1975. He then joined Azzurri in 1978 where he stayed for the next five seasons, and then it was on to Spearwood Dalmatinac, Forrestfield United and finally one season with Balga. In that sixteen-year career he played twenty-eight times for WA which includes three tours to the Indonesian Marah Halim tournament, and was part of the legendary side that beat Glasgow Rangers at Perry Lakes Stadium. He participated in one First Division championship, four winning D'Orsogna Cup finals, two Night Series victories and two successful Top Four Cup campaigns.
Gary Marocchi
Born in WA, Gary Marocchi is the quintessential product of Australia's post war immigration policy. He is also one of the true icons of the game in WA and became the first player inducted into the West Australian Institute's 'Hall of Champions'. He enjoyed twelve seasons in the First Division (1971-1988), all but one of them with Azzurri. He moved to South Australia to play with Adelaide City in the national league for six years. Marocchi was selected on twenty-two occasions for WA and played three times for South Australia. On fourteen occasions he wore the colours of Australia (1975-1978) and reached the pinnacle of his career when named captain for a friendly series against Greece. In WA he figured successfully in three First Division championships, three Night Series cups, three Top Four Cups and two D'Orsogna Cups. He later coached Italia to three League championships (1991, 1992 and 1993), the Perth Kangaroos to the Singapore League championship (1994) and the State side to victory against Werder Bremen (Germany) and Iraklis (Greece). He was the inaugural coach of Perth Glory (1996-1998) and led Swan I.C. to a maiden Boral Cup victory in 2003.
Gary Mateljan
Gary Mateljan, WA born and bred, moved seven times from his original club, Swan Athletic - but only ever on loan. He was the heart of the defence in his seventeen appearances for WA and his outstanding ability saw him selected on three occasions for the Australian Under-23 side that played three matches in Asia, winning all three by the odd goal. He was invariably named among the top three players in his matches for WA, which included outings against visiting sides such as Manchester City, Moscow Dynamo, Wolverhampton Wanderers, Stoke City and Legia Warsaw, and was prominent in numerous tours to Asia. Despite his State record Gary found honours in WA's local competition hard to come by, having played for unfashionable clubs such as Osborne Park Galeb, Balcatta Etna, Cracovia and Bayswater when they were past their prime. However he can point to two D'Orsogna Cup and one Night Series victories with Morley Windmills between 1974 and 1976.
Sharon Mateljan
Sharon Mateljan started her playing career as a schoolgirl in England and continued it with Azzurri when she came to Perth in 1972 by winning the club's 'Fairest and Best' award. She moved to Ascot in 1973 and participated in seven First Division championships and five Top Four Cup victories. She was selected for every State game between 1974 and 1987, captaining the side in 1976 and 1977, 1983 to 1985 and again in 1987, when she also took on the role of assistant coach. The national selectors spotted her talent in 1978 and she enjoyed a further six years in the Australian colours before she declined another selection in 1987, retiring from the game. Her international highlight was being appointed vice-captain of the Australian side in the 1978 World Cup in Taiwan, a tournament in which she scored two goals. In 1988 the Australian Women's Soccer Association presented her with a 'Roll of Honour' for her national and international achievement.
Brian Newell
An Englishman of extreme talent, Brian Newell joined Azzurri in 1970 on his arrival in WA and he became a pivotal midfield figure. During his initial four years with the club he was regarded as their best player, winning the Gold Medal in 1971 in the first televised account of a soccer award. Before the announcement of the winner there had been weeks of speculation as to which player would fill second spot such was Brian's odds-on favouritism. He was a member of the First Division championship team of 1971, a side that was considered the best Azzurri had fielded since the all-conquering 1953 combination. Newell also has three Night Series, two Top Four Cup and three D'Orosgna Cup winners medal to his name, including a man of the match award in 1973. He was selected eleven times for WA.
David O'Callaghan
Born in London, David O'Callaghan arrived in WA in 1970 and joined Second Division Croatia, but within a few months he was snapped up by Azzurri and was on his way to becoming one of the most devastating wingers to have played in WA. Nicknamed 'Skippy' for his quick hopping style of running, it was not long before he was picked in the State side and would play a record equalling forty-one times, including important overseas tours. After Azzurri he moved to East Fremantle Tricolore and then to Western Suburbs (Sydney) before returning to WA to play for Bayswater, Kiev, Windmills, Macedonia (Second Division), Windmills again, Macedonia again, Sorrento (Second Division) and finally Balga before retiring in 1985. He enjoyed success on the local front being a member of clubs that won two First Division championships, two D'Orsogna Cups, one Night Series Cup and one Top Four Cup.
John O'Connell
Born in Southport near Liverpool (England) in 1944, John O'Connell emigrated to Australia in 1965, testing the waters with short playing stints in Melbourne and Sydney before coming to Perth. His fourteen-year career included being selected a record fory-one times for WA - seven as captain. O'Connell was a handy goal scorer, always figured among the leaders for the 'Fairest and Best' award and was always a thorn in the opposing sides with his speed and skill. He played with Swan Valley for three seasons (1966 to 1968), Morley Windmills from 1969 and then made his biggest impression with East Fremantle Tricolore between 1972 and 1979. In that time he was a member of trophy winning sides on six occasions, including four D'Orsogna Cup successes with Tricolore. In the 1980's, 1990's and into the new millennium John O'Connell's passion for the game remains unabated, coaching at every level and promoting the game through his media interests.
Jim Sambrook
Jim Sambrook was an immediate success in WA after moving from his home town, Sydney, in 1970 to join Azzurri. The towering defender came to Perth with a reputation as an outstanding player with exceptional skills and the prior year had been selected in the Australian World Cup squad only to relinquish the spot when he was transferred in his employment for an extended stay in Western Australia. He made every post a winner in WA, initially with Azzurri and later with Bayswater Inter, winning one First Division championship, three D'Orsogna Cups - including a man of the match medal in 1971 in the 3-1 win over Olympic - and three Night Series. Sambrook was selected thirteen times for WA and it would have been more had he not been forced to decline invitations for inclusion because work commitments took him to all parts of the State.
Stephen Sceats
An Englishman, Stephen Sceats emigrated to WA when he was 18, and shortly after his arrival signed with Ascot, the powerhouse club of the 1970's. In a First Division career that lasted thirteen years he was capped a record equalling forty-one times for WA, and was appointed captain on twelve of those occasions. As a member of clubs such as Ascot, Olympic and Balga, the dynamic midfielder was a significant influence in winning three First Division championships, three Top Four Cups and two Night Series trophies.
Anna Senjushenko
Anna Senjushenko was born into a soccer family in Perth and started her playing career at the age of 12 in 1973. It was short, brilliant career that ended suddenly five years later when she was killed in a bizarre traffic accident while a passenger in a car in central Perth. Senjushenko was a beautiful woman, tall and elegant who took that style onto the field as a majestic central defender with the power to score goals from 30-metres with apparent ease. She represented WA in 1976 , 1977 and 1978 with national honours following in 1977 and 1978. In the 1978 Womens World Cup in Taiwan she was voted the best player of the Australian team and was was selected in the World Eleven after the Taiwan tournament. In 1979 she was named 'Youth of the Year' by the Bayswater Shire Council, and the Women's Soccer Association instigated the Anna Senjushenko Memorial Shield.
Steve Stacey
English born Steve Stacey arrived in WA in 1974 after a fourteen-season career as a professional footballer with the likes of Bristol City, Wrexham Town, Ipswich Town and Exeter City. A clever defender with style and grace on the field he enjoyed four seasons in the First Division with Floreat Athena and Rockingham United. He made fifteen appearances in State colours and was appointed captain of the side that won the Indonesian Marah Halim tournament for the first time in 1975. He holds senior coaching badges from the National and State bodies and guided Athena to a First Division championship and the Top Four Cup in 1975-1976. He held various administrative positions in WA through the 1970's, 1980's and 1990's including being a member of the executive of the Soccer Federation of WA.
John Sydenham
John Sydenham, born in 1939, was a Southampton legend. A champion left-sided winger he made 401 League and Cup appearances for the Saints as well as playing 58 times for Aldershot Town ahead of arriving in Perth in 1974. He stayed just for the one year, but in that time faced Chelsea with the State side in May and won a Top-Four medal with Floreat Athena before jetting back to England. He was lured back to WA in 1980 to take on a player-coaching role at Athena the following year, and succeeded in returning the side back into the State League as Second Division champions. His favourite memory is an England Under-23 International - he played twice for England - against Scotland, which ended 4-4. A young Denis Law netted all four goals for the Scots while Jimmy Greaves converted a hat-trick for the English.
Aldo Trinca
Born in 1957 in Perth, Aldo Trinca was a no-nonsense, though exceptionally dependable defender who was with the Azzurri club right through his playing career, and into the realms of coaching when he was in charge of the first team for two years. He made his State debut in the Marah Halim Tournament in April 1975, two weeks later had a stirring second-half performance against Middlesbrough ahead of facing the might of Manchester United at Perry Lakes Stadium one month further on. Trinca says rather than a particular game as a highlight, he believes the year 1975 was clearly the best in his long career. His home town debut against Middlesbrough and playing alongside World Cup champion Bobby Charlton, who played three guest games with Azzurri in 1980, were also standout moments for him. In all, he played sixteen times for the State. His swag of titles with Azzurri were numerous, including three Ffirst Division championships, one D'Orsogna Cup, two Night Series and two Top Four Cups.
Tony Witschge
Born in WA, Tony Witschge started with Ascot in 1975 but played most of his senior career with Spearwood Dalmatinac, later having a season with Kwinana United and then in 1985 joining East Fremantle Tricolore. His first of thirty-five State games began with selection in the 1975 Indonesian Marah Halim tournament. He gave an outstanding performance in the superb win against Glasgow Rangers and ended his outstanding international career against the University of Dublin in 1982. In the intervening years he played against such clubs as Manchester United, Rangers, Tottenham Hotspur, Sunderland, Red Star Belgrade and Norwich. In his twelve First Division seasons he appeared in sides that won three First Division championships, one D'Orsogna Cup, two Night Series and one Top Four Cup.
Last updated 20th April, 2009