Publications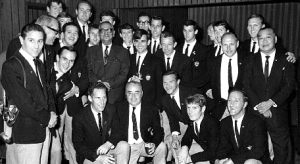 The Hall of Fame Newsletter
Fame Game #1, Spring 2006 (pdf, 680kb) - the Hall of Fame celebrates 10 years; WA's World Cup links; looking back at the Marah Halim Cup wins of 1975 and 1976; Golden Oldie: Bert Robertson
Fame Game #2, Summer 2007 (pdf, 440kb) - the push for a football museum gathers momentum; the 3rd Hall of Fame induction ceremony; WA's Socceroos get their caps; Frank Reid looks back on his career; the WA Media/Football Hall of Fame beat the English Ashes Media; Golden Oldie: Alex Manfield
Pictured: The WA State team players and officials pose with Malaysian Prime Minister Tunku Abdul Rahman (centre) on their arrival in Kuala Lumpur for the first Merdeka Cup Tournament.
Fame Game #3, Autumn 2007 (pdf, 434kb) - 40th anniversary of the Merdeka tournament; 30th anniversary of the State women's teams' tour of Asia; vale Bert Robertson, Jack Smethurst and David Schrandt; Golden Oldie: Bob Cherry
Fame Game #4, Winter 2007 (pdf, 1133kb) - Merdeka celebration; Dick Jones on coaching juniors in Collie; Golden Moments: WA 3 Werder Bremen 2, the museum quest continues
Fame Game #5, Summer/Spring 2007 (pdf, 445kb) - the Merdeka/Malaysia anniversary event; Golden Oldie: Bob Watson; Peter Mitchell's kind donation to the Hall of Fame; Roy Stedman talks about his career and sending off Denis Law
Fame Game #5 Insert, Merdeka/Malaysia Anniversary Picture Special (pdf, 387kb)
Fame Game #6, Autumn 2008 (pdf, 538kb) - Ron Tindall recieves an Order of Australia Medal; Doug Stewart looks back on his career; Golden Moments: WA 2 Australia 1; vale Alex Mansfield and Russell Whitson
Fame Game #7, Spring 2009 (pdf, 656kb) - the museum quest continues; the 4th Hall of Fame induction ceremony; vale Reg Davies, Dave Woodfin, Derek McKay and Dave Brady
Fame Game #8, Autumn 2011 (pdf, 3100kb) - Stan Lazaridis enters the FFA Hall of Fame; Alan Beale honoured by Football West; the WA Media/Football Hall of Fame beat the English Ashes Media; Frank Miller recognised by the Football Media Association (Australia); World Cup Wonders; vale Malcolm Brown, Willie Rutherford and Peter Loader
Fame Game #9, Spring 2011 (pdf, 1922kb) - Ben Buckley backs the football museum bid; Louis Prospero rubs shoulders with Fabio Cannavaro and David Beckham; Stan Lazaridis honoured by Football West; Football West embrace the games' Life Members; Sandra Brentnall reflects on playing for Australia
Fame Game #10, Autumn 2012 (pdf, 1892kb) - FIFA to attend Hall of Fame induction ceremony; Alistair Edwards appointed coach of Australia's under-17 team; salute to the Williams clan; vale Frank Miller and John Montagu.
Fame Game #11 Winter 2014 (pdf, 388kb) - Now we are weaving a web, New batch of Champions, Paying Tribute to Troy, Doug Stewart can't stop coaching, Sandra is World first, Better late than never for Theo and Final Farewell to some greats.
Fame Game #12 Spring 2015 (pdf, 2293kb) - 20th Anniversary Celebrations, RIP four of the best, Black Swan soars, Tricolore Memories, Top Jobs for Bobby & Gareth.
Fame Game #13 Autumn 2016 (pdf, 449kb) - A Big welcome to our New Sponsors, Let's have your nominations, Stan Lazaridis joins the WAIS Greats, Frankens buidling a Goalkeeping Dynasty, Our website is a hit, A touch og history in a frame, Precious Memorabilia, Catching up with Bernd, What a year for Anniversaries, Life member for Bob Brown, RIP Paul Sobek and Sergio Alfieri.
Fame Game #14 Winter 2016 (pdf, 548kb) - Les Murray Joins our Celebrations, How to beat the ticket Rush, Paying tribute to 120 years of Football, Title Memories for Willie, Eddie's Olympic Buzz, Glory's Heritage on Show, Doing the impossible.
Last updated 20th September, 2016