Home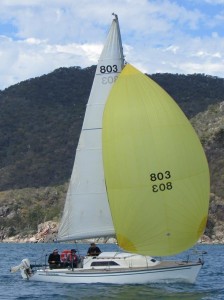 Welcome to the
Townsville Yacht Club Sailing website
The Townsville Cruising Yacht Club (TCYC) was established in approximately 1967. In the early 1980's the Townsville Cruising Yacht Club started operating from the Townsville Motor Boat Club (TMBC). In 1999 the TCYC was incorporated into the TMBC and collectively we are known as the Townsville Yacht Club (TYC). This website is dedicated to the on water Sailing aspect of the TYC. The goal and purpose of the club is to promote and encourage yachting on a competitive and social basis.
Our signature event is the Bluewater Classic Regatta held over the Easter long weekend. This race occurs offshore in the waters and islands around Magnetic Island and Townsville.
The TYC also hosts a regular racing calendar for yachts each year. Competition for the Commodore's Cup takes place between late February and late October and consists of a combination of offshore and inshore racing. Pictured above is "Chameleon", winner of the Commodore's Cup for 2016.
A regular social Twilight Sail is conducted each Wednesday evening. A short pursuit style sail on the waters of Cleveland Bay is followed by prize giving, socialising, and raffles at the TYC.
Find us on our active TYC Sailing Facebook page.
---
Townsville Yacht Club Sailing thanks the following sponsors:
Grand Mercure Apartments - Magnetic Island
Hot Ideas - Castletown
Magnetic Island Marina
Mickey Ink
Road Tech Marine
Rosshaven Marine
Stubbycooler.com
Townsville Yacht Club and Waterside Restaurant
---
(Chameleon photo courtesy of G Donnell)