Game 2 Match Report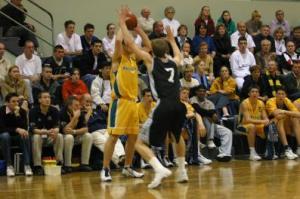 Penrith Basketball Stadium, Saturday August 10th
A vocal group of 700 spectators were in attendance to witness Australia wrap up their campaign to become the Oceania Qualifier for the 6th World Championship for Junior Men. They recorded a strong 112 to 50 victory over New Zealand in the second game of the series at the Penrith Basketball Stadium (Sydney, Australia) earlier tonight.
Both teams started the game a little nervously as they had the night before and this was reflected in low scoring for most of the period. With 2.32 left in the quarter the Australians held a 13 to 10 lead before a pair of free throws from Andrew BOGUT a field goal from Damian MARTIN then more Bogut free throws followed by a strong dunk took the score out to 21 to 10. New Zealand's only reply was a three from Joel Hart, but the Australians came back with a field goal and a free throw to lead at the first break 24 to 13.
As they had done the previous night, the Australians set about notching up their 25 or so points in the second quarter. What they did better tonight was restrict the scoring of the Kiwis - especially captain Lance Baker. At half-time he had only 4 points against his name despite more than 15 minutes of playing time. Joel HART & Willie COLLINS tried to take up the slack scoring 7 each in the half but a team total of just 26 in the half was just not good enough. Australia's Andrew BOGUT was in fine touch, registering 20 points at half time – 7 from 11 from the field and 6 from 7 from the free throw line.
The Australians continued their dominance in the third quarter. With 77% of the rebounds and a 88% conversion rate from possessions, fewer turnovers than their opponents and a strong contribution from the bench, they proved too much for the Kiwis to handle.
New Zealand's Baker made up some lost ground in the second half to finish with 15 for the game as the Kiwis leading scorer. Hart and MacLeod contributed 13 and 11 respectively. Australia's Andrew Bogut had a great night with 36 points. Rhys Carter, Mitch Selwood, Sam Harris & Anthony Labke all finished with double figures in the 112 to 50 final scoreline.
Australia win the Oceania Championship and as a result will represent the zone in the World Championship in Kuala Lumpur next year.