Welcome
Basketball skills and development in the Inner West - 2016
Register here for our Free Come and Try sessions Saturday 28th January 2017 .
Choose either 9.30am or 10.30am / Aussie Hoops or Pink Ball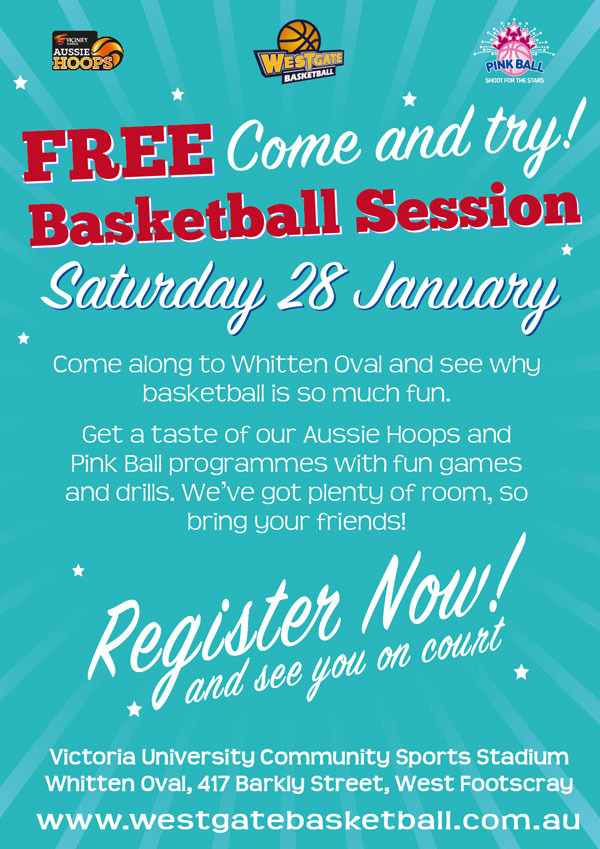 AUSSIE HOOPS - Term 1 2017 - Register here

Remember to Search postcode 3011 to find our programs
Skill sessions for 5 to 10 year olds.
Choose between sessions suitable for Rookie, Starter, and All Star on
Recwest Footscray: Wednesdays 4.00pm or 5.00pm,
VU CSS Whitten Oval: Thursdays 4.00pm or 4.45pm, Saturdays 8.00am or 8.50am, or Sunday 11.30am or 12.15pm

PINK BALL - Term 1 2017 - Register here

With assistance from the City of Maribyrnong She's Game grant program we are offering an all girl skills class for 5 to 12 year olds.
Choose between sessions on Tuesdays at 4.00pm, or Saturday 8.00am or Sunday 11.30am
Working With Childrens Checks (WWCC)