Home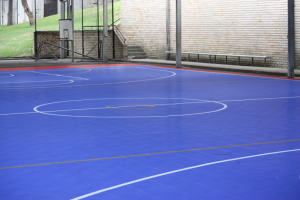 REGISTER NOW FOR SUMMER
Registration closes 1st October
Junior Competitions - U8, U10, U12, U14/U16
Senior Competitions - U18, Youth, Premier League, 35+
Mens, Womens and Mixed
Futsal Academy - U10, U12, U14, U16
Representative Opportunities - State Titles and Nationals, Premier and Super League
for more information
or phone: 0437 FUTSAL (388 725)
Introducing PowerGame Court System

PowerGame is the world's most technically advanced outdoor sports court surface.

It's nothing new. In fact, the PowerGame surface is the latest development in a line of products that have been continually improved since 1974.

Made by Sport Court in the USA using the highest quality materials, PowerGame and its sister products are installed all around the world, and approved for a staggering array of sports at the very highest levels.

It provides, at last, a court surface friendly to bodies of all ages - without compromising sporting performance. Key performance aspects such as ball bounce are as per the old painted hard courts, but with a full 16 mm construction height it provides significant biomechanical relief, and minimizes microtrauma injury risk for users.

The patented

"Lateral Forgiveness"

reduces stress on knees and ankles for sudden stops and changes of direction, prevalent in sports like Netball, Tennis and Basketball, and the

"Cool Flow"

technology reduces the court surface temperature by not allowing the thermal mass properties of the base to come into play.

Futsal / Soccer

Tired of playing on a hard, abrasive Futsal surface? Hoping to find a surface you can slide on without coming up covered in grazes?

Looking for a fast Futsal Court that is fast enough to allow you to develop players skills and find another option to slow synthetic grass? PowerGame is your answer.

PowerGame is the only outdoor surface approved by the AFC, this region's governing body for Futsal. It offers high levels of cushioning, but an extremely fast surface to promote fast ball movement and outstanding skill development.

It's free draining so there are no annoying surface puddles to stop the ball after rain, and is maintenance free.

And in our hot summer conditions, PowerGame will keep things in control. Its 16 mm elevated construction not only provides that cushioning, but also allows air to flow through the surface creating the Cool Flow technology. No more playing on baking courts.

PowerGame is the optimal outdoor Futsal surface..