News & Information
Coaching Position Applications
The Warragul District Basketball Association are happy to announce that the applications for Director of Coaching, Country Basketball League and Squad Coaches are now open for the 2017-18 season.

Please fill out the application form if you are interested and email it to;

secretary@warragulbasketball.org.au


Good luck to those applying!

Applications close at 5pm on the 21st of July 2017.
Special General Meeting
Warragul District Amateur Basketball Association will be holding a Special General Meeting on Wednesday the 2nd of August at The Baw Baw Skills Centre, atarting at 7pm.

There will only be one (1) agenda item for this meeting, being the voting in of the new constitution.

Light refreshments will be provided.

Please RSVP to the association by the 1st of August 2017 by emailing the association secretary at;
secretary@warragulbasketball.org.au

Please find attached a copy of the new consitution to be voted in.


Regards,

Warragul District Amateur Basketball Association Committee
Welcome to Courtside
Warragul District Amateur Basketball Association has been accepted as a BETA tester for the upcoming release of Courtside. The Courtside application has been developed by SportsTG, to replace the current computer scoring system, Stadium Scoring.

The Courtside application will be running at Warragul Basketball Stadium only for the remainder of the season as a test for Basketball Australia.

Please view the following video for instructions on how to use the Courtside application.


If you have any feedback on ways SportsTG could improve the application to make it simpler for users, please email;

competition@warragulbasketball.org.au

WADBA Committee.
CBL FINALS
Both our Men and Women's teams will be in finals for the first time in many years! Finals will commence on Saturday 28 January, 2017 venue tbc.
Our Men's team are first place on the ladder and are Women's team are in second place behind Traralgon.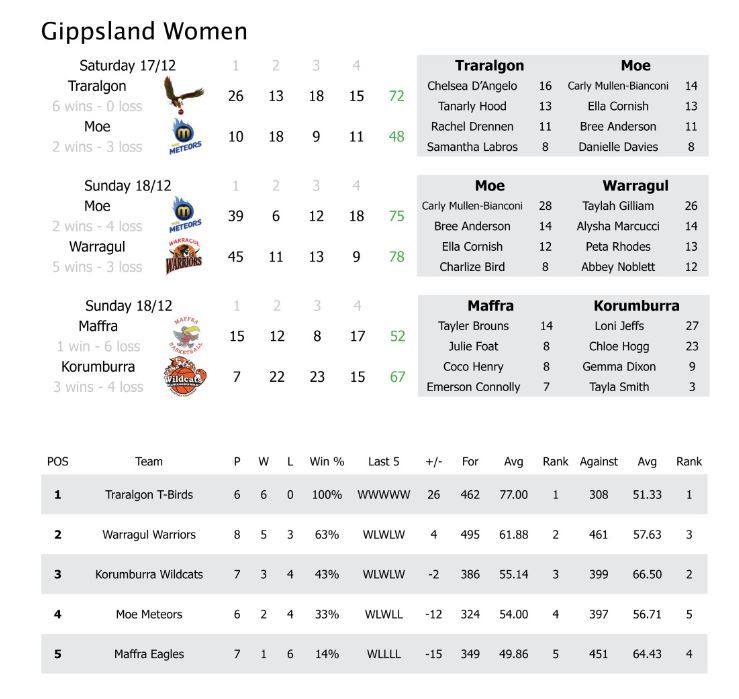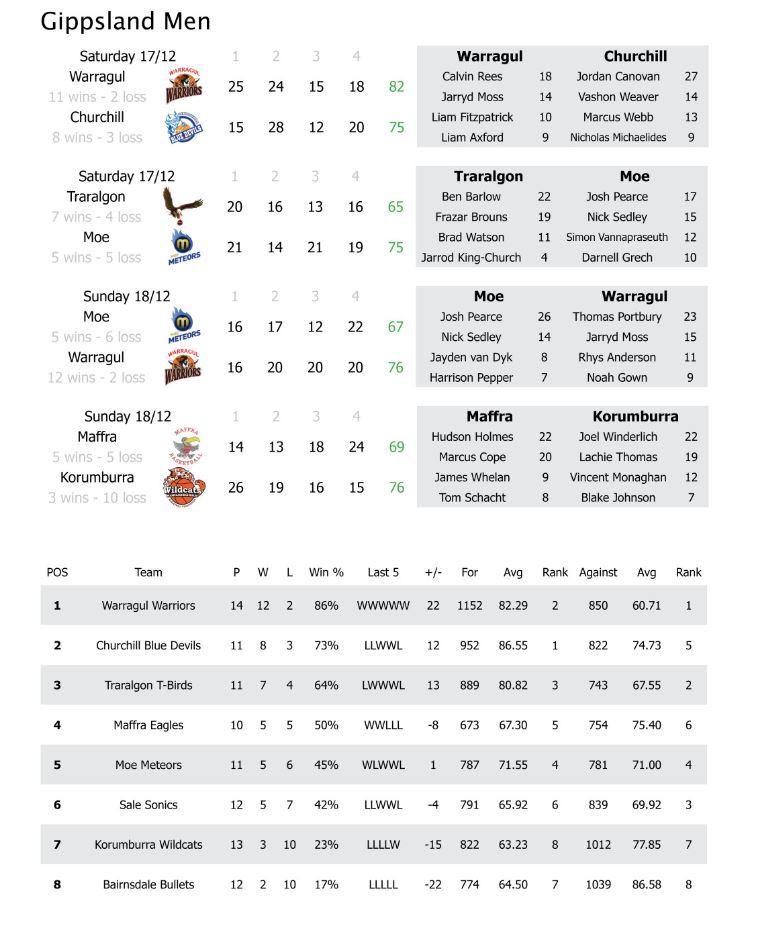 Door Entry Fee
Players are required to pay $4.00 door entry at each venue. At Warragul Leisure Centre payment is made at the office at the end of court 2. At Bellbird Park payment is made to a WDABA representative located in the foyer.
Players will receive a stamp on their hand once they have paid which will be checked by the referees at half time, any players without a stamp will then be required to pay before they take the court for the second half.
This initiative enables us to pay our referees on game night, something most other venues and associations do, and also enter the scores on game night.
To ensure we can implement these improvements we need your support in ensuring all game fees are paid.
Thank you for your cooperation.
WDABA Committee
Who are the Warragul Warriors?
Representative squad is about encouraging young basketball players to further develop their skills and to achieve to the best of their ability in all aspects of the game of basketball.
Squad Representative Sides are made up of players from all clubs registered with the WDABA.
There are approximately 100 plus players aged between 8-17 years involved in these teams, representing teams in age groups from U10's through to U18's.
These squad teams have been developed for all age groups to establish and foster skills development and succession planning for a wider range of juniors.
Parents
Squad representative basketball is a fantastic way for your child to further develop their basketball skills. It takes quite a commitment from both players and parents, which for a successful team should be encouraged and maintained even when you'd love nothing more than to stay home and not have another trip out the door.
Parents should show support to their child, and encourage team mates equally. Respect should be shown to the coach. Any issues which you may have regarding, team selection or games should be directed to the coach, well after the completion of training sessions or games.
Code of conduct is attached and must be read and signed by players and parents upon registration.
Parents are expected to score on rotation, so please familiarize yourself with the scoring system for both domestic and tournament games.
Coaches
Squad coaches should be passionate about basketball. They are leaders, with an ability to create a vision of where they want to take their team. Developing a clear picture of their goals and expectations for their team to provide motivation for players to work hard and reach their full potential.
Coaches should be able to clearly communicate on three levels,
• Practice and training structure for players
• Expectations for players' behavior
• Association administrators and parents general communication
Team rules and expectations as set out at the commencement of the season are to be adhered for the duration of the season.
Download for more information on the Warragul Warriors:
Interested in Refereeing?
Interested in Refereeing for the WDABA over Summer 2013/14?

New and experienced Referee's are need this summer, so if you are interested please fill out the Availability form below and return to Referee Administrator Bonnie Axford via email: referees@warragulbasketball.org.au

Starting next season anyone over the age of 18 will recieve $20 a game for both junior and senior competition. Senior referees are very important in our association. They help provide guidance and support to all our learning and up coming refs and we would love to see you all stay around for another season.

Also to all current Green Shirts, I would like to congratulate you on a great effort last season. It was great to see so many of you gain confidence and pick the rules up so quickly. We look forward to continue working with you over the next season.
2013 Referee Recognition Awards
The WDABA is proud to acknowledge the efforts and achievements of all it's Referees this season.

Especially those who have been acknowledge with Referee Recognition Awards.
Senior Most Valuable Referee: Troy Anderson
Junior More Valuable Referee: Nick Castle
Emily Brooker Encouragement Award: Ben McCarthy
Above: Senior Most Valuable Referee Award recipient Troy Anderson
Below: Junior Most Valuable Referee Award recipient Ben McCarthy