Closing Ceremony Celebrations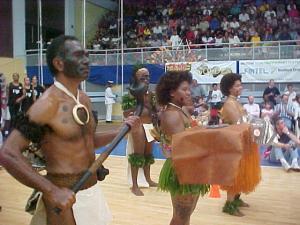 Tournament Website
This website was used during the event and was provided by
SportingPulse
so that results could be posted in real time. By clicking on the results tab on the left you will find the comprehensive stats for each player (and photos), team photos and full fixtures, results and ladders.
This information was all produced in the competition administration system
Sportzware
, which interfaces with the website. Sportzware runs all aspects of the competition in the venue like stats reporting, preloaded scoresheets, printed ladders and fixtures and with the push of one button, within minutes, reproduces this information onto our website.
To view data you must register as a member of our community, but it is free and only has to be done once.
Be sure to check out the comprehensive information and if you want to know more about the Oceania Basketball Confederation visit our new website at
www.oceaniabasketball.com
Final's Results and Tournament Placings
The Final's Day:
The final's day lived up to every expectation that the preliminary matches had forecast. The stadium was packed to the roof, with spectators enthusiastically cheering the high quality basketball played by all teams.
The women's bronze medal was a highlight in the women's competition, between Fiji and New Caledonia. Being 9 points down, 5 minutes into the fourth quarter, Fiji made an amazing comeback to be leading by 3 points with 10 secs to go. New Caledonia, in possession of the ball, had a game –time shot from centre court, to be fouled and placed at the free throw line for three shots, to level the game at full time. After cooly making the first two shots, New Caledonia missed the third, giving Fiji women the Bronze Medal. Much to the delight of the Fijian crowd!
In the Gold Medal Men's match, it was New Caledonia with a big lead for most of the first half. The coach must've made an impression with his half time address and with the crowd behind them, Fiji were able to draw level at three quarter time. It was neck and neck in the fourth until New Caledonia pulled out to a seven point lead with 3 minutes to go. Two brilliant 3 point shots from Earl Hughes and Adrian Bossley put Fiji to within a point but time ran out, and New Caledonia were victors by 1 point.
The presentations and Closing Ceremony were quite spectacular, finishing off what has been a most successful 5th Oceania Tournament.
A big thank you must go to the organising committee and all the volunteers who enthusiastically played their role in creating the success.
Every match, despite the score, was played out to the finish, with players, coaches, officials and supporters, delighted with their involvement.
Major Final's Results:
Women's Competition – Patricia Ramsay Trophy
Gold Medal Game: Australia 90 def Tahiti 60
Bronze Medal Game: Fiji 68 def New Caled. 67
Men's Division 1 – Al Ramsay Trophy
Gold Medal Game: New Caled. 81 def Fiji 80
Bronze Medal Game: Aus 97 def New Zealand 66
Merv Emm's Shield – Men's Div 2
Solomon Islands 82 def Tonga 67
Women's Overall Standings
Team Placings
Australia Patricia Ramsay Trophy/Gold Medal
Tahiti Silver Medal
Fiji Bronze Medal
New Calendonia Fourth Place
New Zealand Fifth Place
PNG Sixth Place
Vanuatu Seventh Place
Samoa Eighth Place
Nauru Ninth Place
Men's Overall Standings
Team Placings
New Caledonia Al Ramsay Trophy/Gold Medal
Fiji Silver Medal
Australia Bronze Medal
New Zealand Fourth Place
Samoa Fifth Place
PNG Sixth Place
Solomon Isalnds Seventh Place
Tonga Eighth Place
Vanuatu Ninth Place
Marshall Islands Tenth Place
Nauru Eleventh Place
Steve Smith
Secretary General OBC