Home Page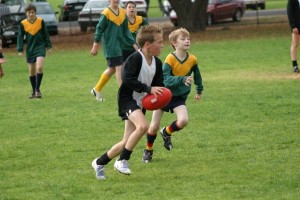 Naracoorte and Districts Primary School Football is played on Saturday or Sundays between teams from Naracoorte, Lucindale, Penola and the Border Districts - Apsley, Kyby, Hynam, Binnum and Frances combined.
Players from Grade 4 to 7 participate, with 2 full rounds of games played. Games commence on May 9, finishing on August 2.
A night carnival held at Kybybolite on Friday August 8 concludes the season.
There are byes on June 6, July 11 and July 18.
Games consist of 4 x 12 minute quarters.
The hometeam is to suppy an umpire unless pre-arranged.