Home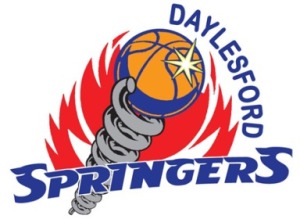 LATEST NEWS AND INFORMATION @ OCTOBER 2016
President - Carson White 0499 811 817 or springersbasketball@gmail.com
17th October 2016
Well they say one week is along time in sport...well so it is for Daylesford Basketball as well.
Since my last email a week ago we have managed to secure the referees needed to run both junior and senior men competition.
As of Tuesday 18th October, the following basketball competitions will commence and continue right through summer:
Under 10's (beginners) - 4pm to 5pm
Under 15's (intermediate) - 5pm to 6pm
Men - first game at 6.30pm. Second game at 7.20m
All interested players should attend as per the game times below. Teams will be created on the night for juniors.
Also, anyone with basketball tops from last summer are asked to PLEASE bring them along.
FEES:
As with previous seasons:
All players (junior and senior) are required to be registered with Basketball Victoria to be elgible to play. I will email out the link to register in the next week. This fee will be $45 for a full year.
Juniors - $50 per term (term 4 2016 and term 1 2017). Term fees will be once again done online. I will advise all junior parents when the link to pay is set up.
Men - $50 per team per game payable on the night.
Thanks to Tegan and Karina for sorting out the referees and getting basketball started again!
See you at the ARC.
Cheers
Carson