Home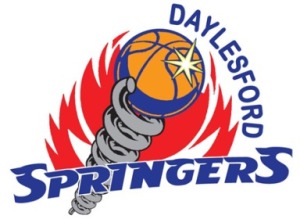 LATEST NEWS AND INFORMATION @ SEPTEMBER 2016
CURRENT and NEW players - all welcome (contact Carson White 0499 811 817 or springersbasketball@gmail.com)
***SUMMER BASKETBALL INFORMATION***
Interested in playing basketball this summer?
Interested in getting paid as a basketball referee?
Daylesford Springers basketball Association is hoping to run summer basketball in 2016/17
however we need…
PLAYERS
REFREES
VOLUNTEERS (scorers, coaches)
In order to make this happen!
We are proposing to run basketball again on Tuesday nights at the ARC for both juniors (U10, U12, U14 and senior men and women).

Our proposed start date is Tuesday 11th October 2016.
If you are a player, referee or can help as a volunteer please either email Carson White (President) springersbasketball@gmail.com or come along from 4pm to 5pm on the 11th October to the ARC to register your interest.
ANNUAL BASKETBALL VICTORIA REGISTRATION FEE:
It's a requirement that every player (junior and senior) is required to pay the Basketball Victoria Annual Registraion fee. This fee covers your insurance for the year. The fee is due at the start of October each year and is valid until 30th September the following year.
The annual fee is $45 and can made via the REGISTER HERE tab on the right hand side of this home page.
FACEBOOK:
Daylesford Springers have a facebook page. Please 'like us'. Just serach 'Daylesford Springers Basketball'.
Daylesford Springers home venue:
ARC Smith Street Daylesford