Home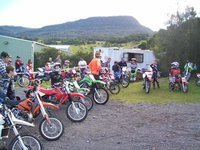 Get Excited, YELLOW ROCK MINI CYCLE CLUB has got a new home in nowra. we have 75acres and We are planning a ride day at our new home in Nowra on Sunday 27th May.


(http://www.facebook.com/pages/Yellow-Rock-Mini-Cycle-Club/205443127159#!/pages/Yellow-Rock-Mini-Cycle-Club/205443127159)or

email us at yrmcc@live.com.au


Yellow Rock Mini Cycle Club holds ride days for families where young riders can lean in a safe and friendly environment. Track Layout– 7 main tracks are used during normal ride days.
¨
Our club canteen sells: soft drink, bottled water, sausage sandwiches and snacks
Cost :
$30 for a family to ride
$20 for A child to ride
first ride day is FREE for new members/ Riders
Membership Starts Next ride $50 for the whole family for the year (our membership will runf from July 2012 to june 2013 runs through the financial year)
Gear Requirements:
Helmet, goggles, gloves, boots, long sleeved shirt and long pants. Bike must be properly maintained and in a sound /safe condition. Bar ends must be plugged. Body armour is optional, but advisable.
Club Address: Just to inform you that

Yellow Rock Mini Cycle Club

is NO longer located at

Reddalls Road Kembla Grange

. and we ARE NOW LOCATED IN NOWRA!.
Postal Address: Yellow Rock Mini Cycle Club PO Box 24 Dapto NSW 2530