Home

Hanson Warragul and District Junior Football League
Big things are happening in the league. The new clubs are thriving in the competition with the older clubs solidfying the way they play. The Interleague competition has been played showing just how able our league is finishing with a championship and runner-up place.
We welcome Repco Drouin & Warragul as our Premier sponsor for season 2017

---
W&DJFL announce Hanson as Naming Rights sponsor
The Warragul and District Junior Football League have joined a long term partnership with Hanson Construction Materials.
The mutual trading relationships between the Warragul & District Junior Football League and its thirteen affiliated clubs, have entered into a partnership arrangement that can deliver our junior football program in the Warragul and surrounding area's.
---
UNDER LIGHTS FOR ROUND 1
We're under lights for Friday Night Football for Round 1 of the 2017 WDJFL Premiership Season.
ROUND 1 (Under 10s & 12s)
Friday April 21st
Warragul Colts v Warragul Blues (Western Park)
Neerim District v Hallora
Saturday April 22nd
Bunyip v Drouin Cobras
Caldermeade v Garfield
Drouin Jets v Ellinbank
Poowong-Loch v Longwarry
Sunday April 23rd
Yarragon v Warranor
---
The 2017 Warragul & District Junior Football League fixture is available here
---
Match Day Officials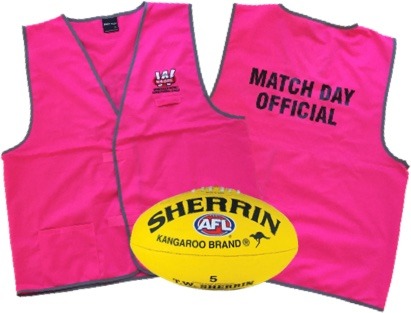 The W&DJFL have introduced a Match Day Official position in 2016. The MDO will be identified by a pink vest before, during and after each game. The MDO is a visible first point of contact to assist with any queries on match related matters for home and visiting club officials, parents, spectators, umpires, etc. Let's all give our support for the pink vest.
---
The Warragul & District Junior Football League encompasses 13 Junior Clubs in a geographical area between Garfield and Yarragon Towns.
Warragul Blues JFC - Marist Sion College, Warragul

Warranor Junior JFC - Logan Park Centre

Warragul Colts - Eastern Park, Warragul

Yarragon JFC - Yarragon Recreation Reserve

Garfield JFC - Garfield Recreation Reserve

Bunyip JFC - Bunyip Recreation Reserve

Hallora JFC - Hallora Recreation Reserve

Drouin JFC - Bellbird Park, Drouin

Caldermeade JFC - Catani Football Ground

Neerim District JFC - Neerim South Recreation Reserve

Longwarry JFC - Longwarry Recreation Reserve

Poowong-Loch JFC - Loch Memorial Reserve

Ellinbank JFC - Ellinbank Recreation Reserve
---
Reward & Recognition program Launched (see News)
The W&DJFL recently launched its Reward and Recognition program aligning its values and behaviours with a zero tolerance approach to anti social attitudes in a sporting environment.