2/2017 SEASON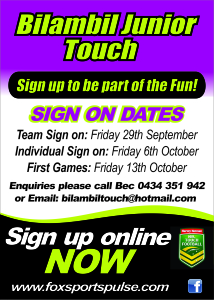 SEASON 2/2017 INFORMATION
Next registration at the club 06/10/2017 at 5.30pm
Registrations are now OPEN please click on the relevant REGISTER NOW BOX at the bottom right hand side of this page.
If you do not have a team please select individual looking for a team
Registration $60.00 per player
Please deposit Registration Fees into our bank account
124-387
20569210
Bilambil Touch Association
Please reference: PLAYER NAME, AGE AND TEAM NAME (if you have one)
SEASON DATES:
First game October 13th, 2017: Friday afternoon 5:30-7pm.
December 8th: Round 9- last game of year
Feburary 2nd, 2O18: Round 10 - games recommence
March 2nd: SEMI FINALS
March 9th: GRAND FINALS & PRESENTATIONS
Please note: dates are estimated only. Washout rounds are caught up at the end of season before semis begin.
If you have any questions please contact:
Bec May 0434351942
Natasha 0404833627
Jaymie 0433094776
Aleasha 0438151025